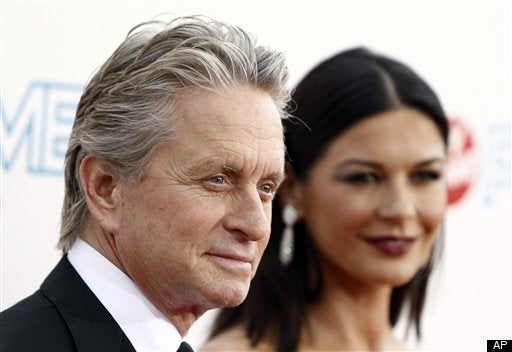 Michael Douglas is busy filming "Wall Street 2" and has given an interview to AARP magazine.
Douglas, 65, talked about his love of wife Catherine Zeta Jones and his second chance at being a dad.
He remembered how he was first smitten with Zeta Jones after seeing her in "The Mask Of Zorro":
And does his pulse still quicken the way it did in that darkened screening room watching Zorro? "Oh, yeah," he laughs. "At least in your head, your fire burns as brightly. Let's not kid ourselves. But God bless her that she likes older guys. And some wonderful enhancements have happened in the last few years--Viagra, Cialis--that can make us all feel younger."
They have two children, and Douglas also has a son Cameron, 31, currently in jail on drug charges.
Zeta Jones told the magazine that Douglas loves being an at-home parent when not working. "Michael tells me that [new fatherhood] keeps him agile. He's a terrific, extremely hands-on father."
Douglas acknowledges that wasn't the case when Cameron was young.
"I'll assume whatever responsibilities I have to. Would it have been better to have been around more? Absolutely. There were absences, and I was no angel."
"I think it's easier for me to be a good father. I'm not so concerned about my career," Douglas continues. "I like to be home a lot more now. I see the confidence my kids have got versus the struggle for confidence that I had or that Cameron might have dealt with."
Read the whole interview here.

Popular in the Community