Many may be surprised to find an often irreverent men's brand that claims its razors "are f***ing great," actually has a soft side. Almost hidden on the Dollar Shave Club (DSC) blog is how the company does its part to make the world a little better and gets its members involved in the process. I spoke with DSC's co-founder and CEO Michael Dubin about two ways they think about corporate responsibility, starting with an initiative dubbed "DSC Sponsors Your Thing."
In February 2013, DSC received an email from one of its members asking the company to sponsor his charity softball team. Dubin remembers thinking, "It would be really rewarding to help our members in their causes to do good, whether it be raise money for a cause or accomplish a personal goal." DSC has funded a mustache pretzel business (pictured below), sponsored a team traveling across India for their charity and supported a teacher's travel expenses to tournaments so his students could compete at different robotics events.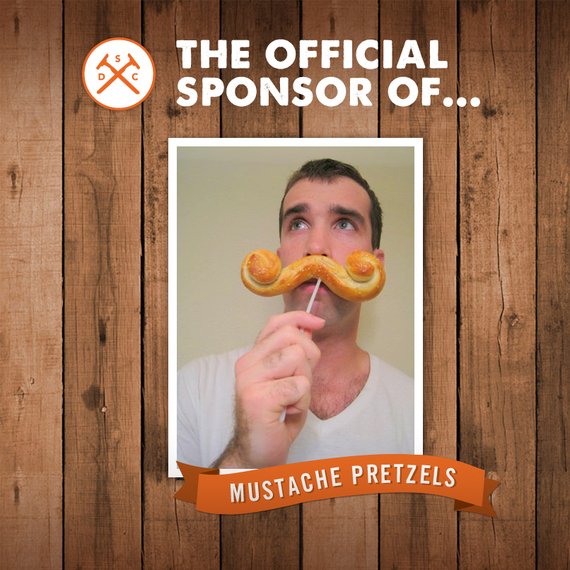 Out of the 100 to 200 submissions they receive each month, the DSC staffers choose two members with the most compelling applications. The company often chooses a member's charity to sponsor and a member's small business to help launch. Those initiatives are then featured in the monthly magazine, which Dubin described as "lite reading for the can." The magazine, which is appropriately titled "The Bathroom Minutes," made for a nice transition into our next topic: Butt-wipes.
The video for One Wipe Charlies has earned the company another 2.4 million YouTube views to add to its wildly successful launch video in 2012, which has topped off at just over 15 million views. The flushable and biodegradable wipes come in a gentle peppermint scent, and the sales page claims it's the "softest, cleanest, fastest, manliest way to wipe."
Dubin said the second way the company gives back is by "supporting legitimate causes through innovative marketing." For instance, they were an official sponsor of the Colon Cancer Alliance (CCA) and Dubin bravely live streamed his colonoscopy on YouTube to promote that the procedure isn't something to be embarrassed about or people should be afraid of. For the entire month of March, they donated 5% of One Wipe Charlies sales and donated a dollar for every retweet that mentioned their support of CCA. In total, Dubin said the company reached 23 million people regarding the importance of getting screened and raised $10,000. He mentioned he has a family history of Colon Cancer.
According to Dubin, DSC has more than 800,000 members un-boxing their new batch of razors every month. Upon checkout new customers are prompted to try their other products, which are Dr. Carver's Easy Shave Butter and Dr. Carver's Magnanimous Post Shave. The product expansion is in line with Dubin's long-term vision.
"The goal of any lifestyle brand is to have a mission of a higher order than just to sell products," Dubin said. "I believe we're doing great and we'll be doing even better as we continue to roll out our line of men's grooming and skincare products over next several months and years." The Venice, Calif.-based company will soon broaden its appeal with editorial content online and improvements to their hardware and software technology to save their members time and money.
According to reports and information on a startup database Crunchbase, DSC has raised $22.8 million in funding to accelerate their growth. The early investments allowed the company to launch its services in Canada and Australia. As of late last year, Dubin didn't have plans to expand to different markets just yet. One could assume that this year's holiday season presents an opportune time to open up distribution throughout Europe and other developed markets. When asked in a previous interview, he said "I would love to get to other parts of the world."
In the immediate future, Dubin focuses on growing his employee base. "We've done a great job as a small company, but to become a really big company, you really need to find a great supporting cast," he said. Like most tech-enabled startups, he's on a quest to find the best engineering talent.
On the product front, Dubin's company plans to further its pursuit of "owning the bathroom" by launching new products near the end of this year and the beginning of 2015. For women who are wondering when they might be able to join the Shave Club, I tried asking on your behalf but Dubin wasn't willing to divulge much: "I can't say exactly what are plans are to service the women's market are, but I will tell you it's a huge opportunity that we just can't ignore."
Popular in the Community