 Dating -- it has been compared to a battlefield, a hypnotic trance and to dessert. For actor Michael Ealy, his latest role in the forthcoming movie "Think Like A Man" casts the mysterious dance of love as a game to be won.
Based on Steve Harvey's best-selling book, "Act Like A Lady, Think Like A Man," the Tim Story-directed flick follows four friends as they plan to get even with their girlfriends when it comes out that the women have been using the book's advice in their relationships.
During a recent interview with The Huffington Post, the Golden Globe nominee discussed preparing for the role, relationship advice and his return to Broadway.
What are your thoughts of "Think Like A Man" after watching it for the first time?
As an actor, to watch yourself on that big screen the first time that I see it, I'm always a big critic of what I've done. But what I really got out of it was watching the dynamics between the other couples, which really kind of made the movie so much fun to watch. You really fall for these characters and that's a testament to good performances and good directing.
How would you describe your character, Dominic?
Dominic is the dreamer, and he finds himself in love with Lauren, who is a very career-driven woman, and basically is having a really hard time finding his focus and his drive to execute what he wants out of life. In meeting his muse, who's played by Taraji [P. Henson], the character of Lauren, he finds the execution, he finds the self-motivation. It's just a great character arc.
Did you incorporate any past dating experiences into the role?
I definitely paid homage to a few people that I dated in my past who I've met and felt like, "Okay, you're a dreamer, you just don't have the execution right now." There's something very beautiful and compelling about someone who has ambition and someone who knows what they want, but it can get a little frustrating at times, so I understand that. I have sympathy for that. And so I tried to play him accordingly, I tried to give him a little bit of vulnerability and a dreamer's sensibility. He's just one of the boys. He's not a standout guy, so he listens to his boys for all kinds of bad advice. But don't we all? [Laughs]
In your opinion do you think more women should think like men?
Not really. I think women should have insight as to how men think. Just like men should have insight into how women think. One of the things that this movie does is, everybody looks at the dating game as just that: a game. But with this movie we bring you through that with the gamesmanship and "I'm doing this and you're doing that," and all of that chess-playing back and forth. But what brings this movie home in the end is the fact that everyone feels a sense of connection with the other person, which surmounts the gamesmanship. And everybody is able to put the games away and be themselves and that's where they find the true connection.
With the movie being based on a relationship book, have you sought out any books in the past to help step your game up?
No, I wasn't smart enough to read relationship books when I was coming up. I learned everything the hard way. And I, like Dominic, would listen to my dumb-ass friends. At a certain point you're like, "I got this, thank you!"
Next month marks the premiere of your new USA series, "Common Law," what can fans expect?
They can expect to see a little bit more of the action/comedy mixture. Obviously there's a little bit of drama because we are detectives and we are doing cop work. But my detective partner and I are in couple's counseling, so there's a certain amount of vulnerability and hi-jinx that just ensues. But ultimately what you'll realize in watching this series is that all relationships are pretty much the same. And the kind of issues that we face as detectives are similar to what the other married couples out there are facing, or the brother and sister, or the brother and brother are facing. Relationships are universal.
Earlier in your career you had a brief stint on Broadway. Can fans expect you to return anytime soon?
Yes. I will try to get back there within the next year or so. I'm trying to find a way to get back to Broadway, I am.
What dream role would you like to play on stage?
[Laughs] I could say it, but it'll be in conflict with what's coming out on stage right now. And what has happened already on Broadway. But there are three roles that I wanted to do.
"Think Like A Man" hits theaters April 20.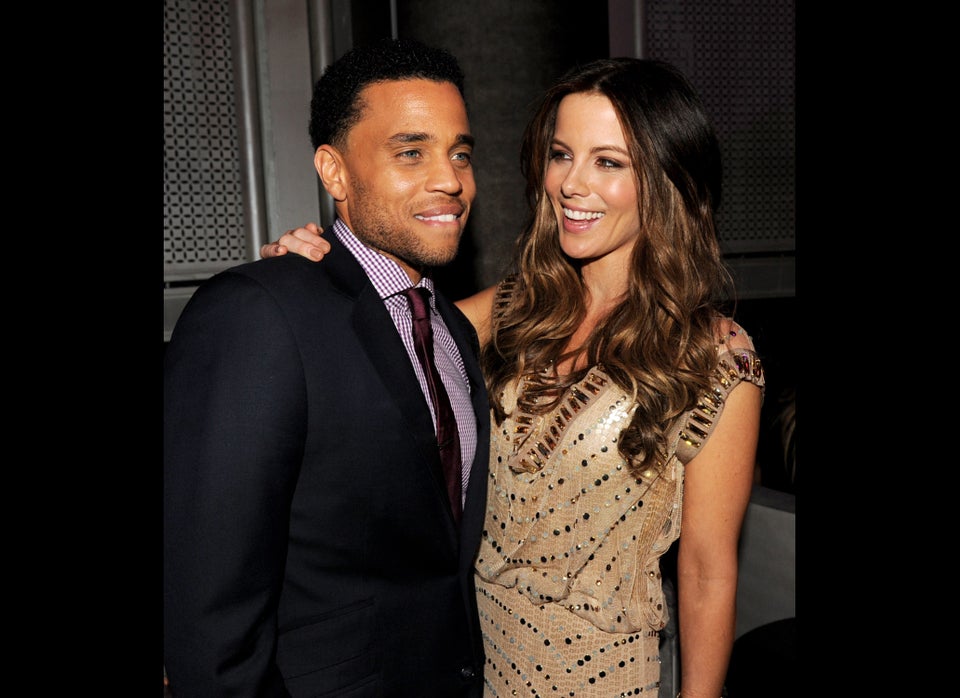 Michael Ealy Photos
Popular in the Community