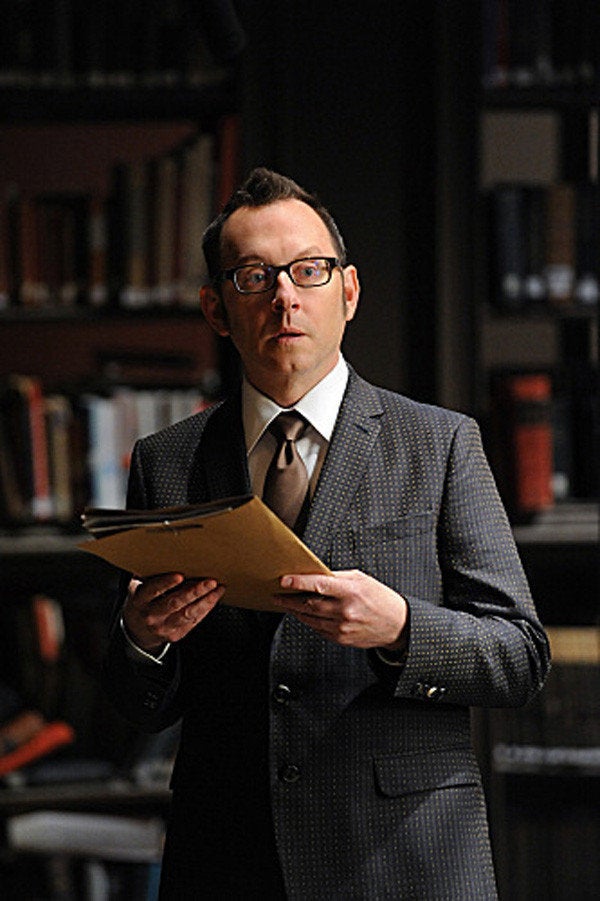 The supremely talented Michael Emerson, who certainly has the 'creepy guy' role down, is back on the small screen in the new CBS show, "Person of Interest."
In person, Emerson is thoughtful, articulate and unabashedly proud of his wife, "True Blood" actress Carrie Preston. The Iowa native started acting relatively late, supporting himself as an illustrator before finding success as an actor. His hard work eventually paid off, leading him to a breakout role on ABC's "Lost" before landing his new, technology-filled gig.
J.J. Abrams is the executive producer of "Person of Interest." That's pretty neat.
It's a cool idea for a show. I think, so far, it's being executed in a cool way. I think of it as a high-tech vigilante thriller for the surveillance age. It brings together a number of things we have anxiety about: justice, terror and electronic surveillance. We do things with cell phones on the show that would make your hair stand on end, and you think, 'Oh my God, it's that easy.' Sometimes I worry that we will encourage a whole new breed of electronic pranksters. Our show is very well researched. I think the things we are showing can very easily be done.
Do you think it will make people want to get rid of their cell phones?
Nobody is going to go off the grid. Unless you plan to go and live in a yurt and grow your own food, I don't see how you can stay off the grid. Technology has definitely outrun us. It's gone beyond our expectations and our ability to handle it.
Do you constantly check your phone when you go out to dinner?
No, I try to be reasonably off grid. I try to give it a secondary degree of importance. Business can always be answered later. I have been with people who are constantly checking. I've never said anything, but I formulate my own judgment during those interminable moments.
Why do you think you often get cast as a creepy character?
It probably has to do with things I don't even know about or my impact on people -- the quality of my voice or the look of my face or the way I carry myself. The simple answer is I'm able to give writers and directors whatever quality it is that they're looking for; I have access to that set of characteristics. It seems my TV career has been consistent in a way. I have almost always played a character that is a little unknowable, a little dangerous. They've all been serious and a little bit alarming. I'm happy to provide thrills and chills for viewers, it's fun.
Ever feel like saying 'I'm not really creepy!' to people who approach you?
People always announce that to me. They come up to me and say, 'You're not really so scary.' I say, 'You're right, of course!'
You're married to actress Carrie Preston, who plays Arlene on "True Blood."
I love that character. I love that she's human [on the show]. Her comic timing is perfect, I think. She just tickles me.
Do you get verklempt watching her?
I think, 'God there's my wife! Look at her frickin' go!' I always knew that she was a great performer. I knew it even before I saw her perform. I knew it when I heard her voice.
Boy, you're very articulate. You're no dummy.
It's not a craft for dummies, I would have thought.

Related
Popular in the Community