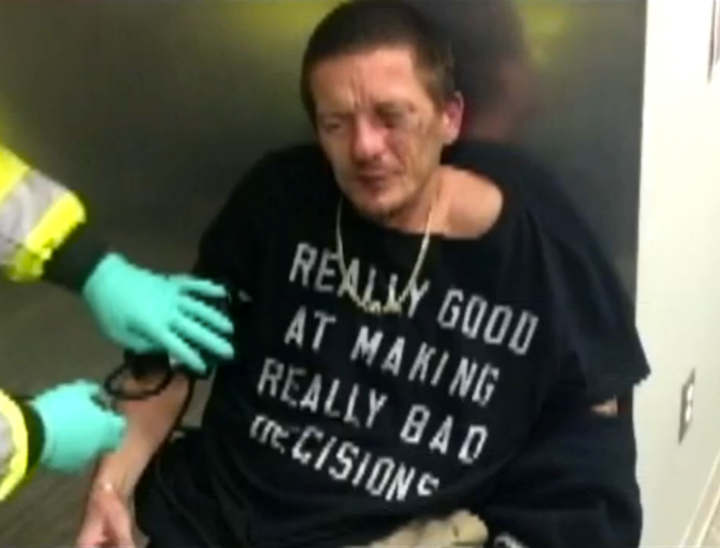 Clothes not only make the man, they can make ironic commentary on the person wearing them.
That seems to be what happened to Micheal Emrick, who was arrested Tueday evening for various felonies while wearing a t-shirt with the words, "Really good at making bad decisions" on it, WPXI TV reports.
The incident began when police in Baden, Pennsylvania, responded to a report of a retail theft at a convenience store.
When officers arrived, they saw the 36-year-old suspect in a white pickup drive.
When Emrick refused orders to get out of the truck, officers used a taser on him only to find it "ineffective," according to The Smoking Gun.
"[Emrick] backed up, hit the gas hard, and a Harmony Township Police officer, who was backing us up at the time, kind of got caught in the window or by the mirror, and was thrown from the vehicle," Baden Borough Police Chief David Christner told CBS Pittsburgh. Emrick was also allegedly throwing "drug paraphernalia" out the vehicle windows."
The officer was not injured.
The chase lasted about 15 minutes and ended when Emrick crashed into a shed in the back yard of Frank Roppos' home.
"I was just going down to sleep and then I heard a big boom and looked out and saw it," Roppos told WPXI TV.
Police arrested Emrick and said he was found with suspected heroin needles and drug paraphernalia.
Emrick has been charged with felonies and misdemeanors, including aggravated assault, criminal mischief, receiving stolen property, reckless endangerment, theft, and fleeing police.
He is in custody at the Beaver County Prison in advance of a February 11 District Court appearance.
Emrick's choice of shirt puts him in unique company as the gallery below demonstrates.
PHOTO GALLERY
People Arrested Wearing Ironic T-Shirts
Calling all HuffPost superfans!
Sign up for membership to become a founding member and help shape HuffPost's next chapter