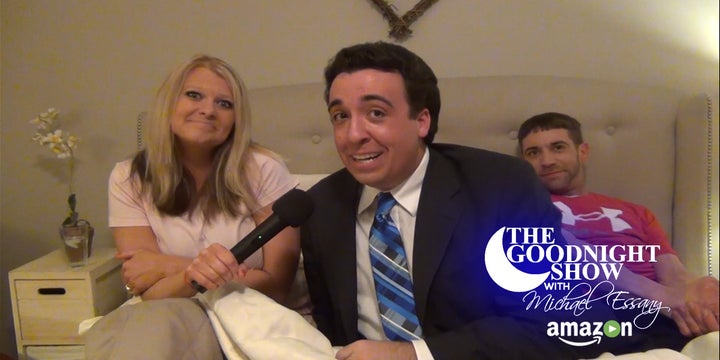 Michael Essany's 'Goodnight Show' is Ready to Soothe America's Parents to Sleep on Amazon Prime
Toss out the sleeping pills and log in to Amazon Prime. If you're a stressed-out parent, Michael Essany and his "Goodnight Show" are here to tuck you into bed.
Innovative television may be hard to come by, but for Essany, a well-liked TV host and former E! star, innovation in the medium of television comes naturally. And now he's unleashing his pioneering prowess on the estimated 79 million American households with subscriptions to Amazon Prime.
Essany is at the helm of what's aptly billed as a funny and informative new late night talk series for America's most sleep deprived and anxiety-overloaded families.
Make no mistake about it, "The Goodnight Show" with Michael Essany isn't another run-of-the-mill attempt at after-hours humor in the same mold as traditional late night talk programming.
Essany, 34, envisioned a series that would make parents "think, laugh, and feel better" about issues of concern to millions of moms and dads.
Intelligent and quirky, Essany's new program once again showcases the trademark charm and comfort in front of the camera for which the native Indiana comedian and interviewer became internationally known on E!
Though Essany's broadcasting chops and gravitas carry the show, he still manages to put the full weight of The Goodnight Show's spotlight squarely where it belongs -- on the stressed and sleepless parents at the center of each episode.
This novel approach gives the Midwest-focused program a refreshingly widespread appeal and relatability to families.
As for the show's structure, each installment features one set of parents and focuses on a corresponding "source of stress." The first slate of episodes covers everything from hypochondria to social media-induced anxiety.
"Through comedy, interviews, and insight from healthcare and education professionals, the show addresses and attempts to soothe the underlying concern that is keeping the featured parents awake at night," a provided media release explains.
Garnering positive reviews out of the gate, Dr. William W. Forgey, M.D. calls Essany's latest offering a "winning show of purpose, intellect and humor."
"I love the format and the topics," Dr. Forgey writes in an online review for Amazon.com. "Michael Essany has his ear to the ground and is able to hear the plights of the common family, and besides the seriousness of these situations also finds a humorous slant."
Essany, a perpetual cheerleader for his home state of Indiana, says that when an opportunity to do the show in L.A. presented itself in early 2016, he wasn't willing to leave the Midwest to make it happen.
"I like L.A. but I love Indiana," Essany says, contending that he wants to highlight on his new show the people and communities he is still most proud of after all these years.
"I've never liked the way Indiana is portrayed or thought of by most," the Valparaiso University graduate admits.
All segments of The Goodnight Show have thus far been filmed in Northwest Indiana and Chicagoland.
"We continue to hemorrhage youth and talent," he says of Indiana. "I bristle when I hear from high school or college graduates who are chomping at the bit to flee from Indiana because they feel more opportunities lie beyond our state. It's not enough to tell them that they can build great opportunities for themselves here. We have to show them how it's done."
If truth be told, Essany's been "showing them" for nearly two decades.
As a teenager, Essany produced and hosted a late night comedy series from his parents' Valparaiso, Indiana-based living room. After a fabled five-year run on local public access television, "The Michael Essany Show" made the leap to E! Entertainment Television, which was a herculean feat of achievement in the pre-YouTube and instant Internet fame days of the late 1990s.
Back then, actual talent carried the day.
Logging TV credits along the way everywhere from The Tonight Show to Oprah, seemingly overnight Essany became an icon of sorts among underdogs for his relentless ambition and robot-like work ethics. Veteran television producer and Emmy winner Leeza Gibbons (executive producer of Essany's E! series) once hailed the Hoosier youth as "the Rocky Balboa of late night" during an interview on EXTRA.
Speaking with Essany, there's an unshakable confidence in his words when he discusses his work and how he wants to help people. He's a content creator for whom "meaningful work" matters more than viral YouTube clips or style-over-substance programming.
"It's never been easy to inform, inspire, and entertain equally and simultaneously in 30-minute increments," Essany confesses, explaining that his motivation for The Goodnight Show is to remove some of the excessive anxiety that he believes is crippling a generation of stress-laden insomniacs.
"Fear is an easy thing to sell," Essany articulates. "And we've been sold a lot of it. Now, I'm no expert, but I say this; stress will take you down before Ebola will. I can promise you that."
Essany also promises to inject some educated insight into the discussions we're all having – discussions that keep us up at night worrying endlessly and, in most cases, needlessly.
"There's no question that we have become a very anxious nation," Essany says. "We may not be able to agree on much, but everyone is in favor of a good night's sleep. For more of us to experience that, we have to work together and breathe new life into the refrain 'we have nothing to fear but fear itself.'"
"The Goodnight Show" with Michael Essany is available now for instant streaming through Amazon Prime.