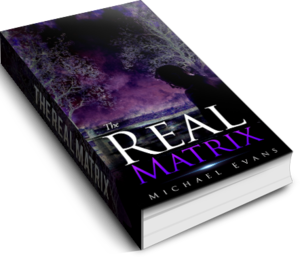 Michael Evans was ready to end it all. In his first semester of college he had the suicide note written. On a cassette he recorded a goodbye message to loved ones. He hoped that the hell he was living would finally be over. Then one early morning on the Long Island Expressway Service Road, everything he believed about himself and life came to a crashing halt.
As he was driving about 60 miles per hour he approached an intersection with a traffic light. His light was green, but as he neared the light something inside him told him to let go of the accelerator. At that exact moment a car with a driver asleep at the wheel came speeding through a red light and crossed his path. Had Evans not slowed down, he would've been killed. Whatever happened in that moment, he says who he was died, and he never looked back.
He began a spiritual journey and gravitated toward the teachings of Carl Jung, Ralph Waldo Emerson and Wayne Dyer. Today at 41, he's a self-made millionaire and the CEO of USPA, a worldwide security company. In his new book, The Real Matrix, Evans wants to share the wisdom he's gained over the years to help others overcome their suffering to live a better life.
"The real matrix is the virtual reality that people are living in their minds," Evans says. "It's an actual movie in their head. Sometimes it's happy. Sometimes it's sad. People don't realize that with their thoughts they are changing and creating the movie that in return creates the reality they see out in front of them."
It's been a long journey for Evans. Growing up in very poor family in Long Island with two brothers, Evans' father was physically abusive, which lead him on a path of harboring hatred in his heart and internalizing his emotions---always believing he wasn't good enough.
"I had one outfit every day. We didn't want people coming to our house. I didn't feel worthy. I told myself I wasn't good looking. I wasn't in good shape. I was never going to do anything. I had the worst grades, so I told myself I was stupid," Evans recalls.
Once Evans realized he was telling himself lies, he went on to achieving the highest grades in several police academies and college degree programs. Now as the father of two boys and a girl, Evans is at peace. While some assume it's easy to feel free since he doesn't have to worry about finances, Evans says his happiness has nothing to do with how much money he has made. He notes that nothing was handed to him. He picked himself out of the depths and was willing to work hard and sacrifice. Never forgetting where he came from, all of the proceeds from The Real Matrix will be donated to a children's charity.
"Success is having choices in life and being happy and fulfilled," he says. "I'm proud of the effect I have on people---all the people I've helped and will continue to help."
Popular in the Community