Los Angeles art lovers, if you haven't had a chance yet to visit Boîte Noire Gallery in West Hollywood's Pacific Design Center, you should head over there soon. The recently opened gallery's fascinating inaugural exhibition, Wild Nights, closes on September 26. These gorgeous large-scale photos, never before seen in LA, are the creations of Canadian artist Michael Flomen. "A Brassai of the backwoods," as he's been deemed by art critic John K. Grande, Flomen's work is included in such esteemed collections as those of LACMA, NYC's Whitney Museum, and George Eastman House.
For the last 15 years, Flomen's been creating photograms -- photos made without a camera, but with the use of photographic material -- outside in nature, both in snowy urban areas and in rural fields in Vermont and around Montreal. With the aid of disparate light sources, such as fireflies, the moon, or a handheld flash, this Montrealer uses large-format film and photographic paper to record his absorbing views of nature by harnessing the power of natural elements, among them wind, snow, and rain, to create his massive, gorgeous, and distinctive images of nature.
I spoke to Flomen about his work while he was vising Los Angeles. He told me:
In the end, my work is about reconnecting the viewer to some of our primordial roots and our deep and profound connection to Nature. Since 80 percent of North Americans live in cities, we are increasingly divorcing ourselves from nature, and that new human deficiency has recently been scientifically acknowledged as having a huge effect on our youth, just for starters. Universal truths are what I am most interested in presenting with my work. As Joni Mitchell once wrote, 'We are all stardust.'
Check out some of Flomen's photograms, along with his commentary, below.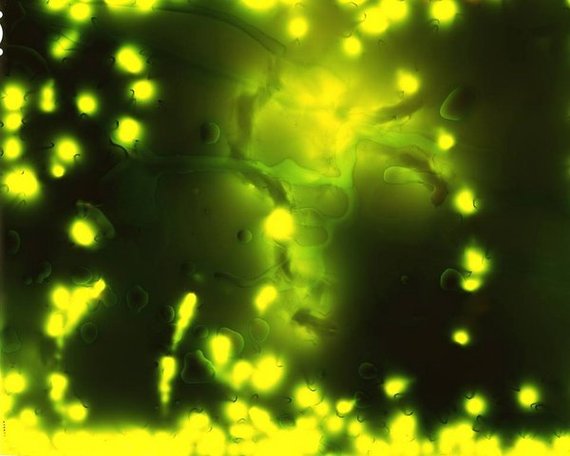 "Runner," 2001 (Printed in 2014), Chromogenic Print, 91.5" x 71.5"
"These images were created by fireflies walking on film at night. I'm in deep grass and the female fireflies are deep in the grass, pulsating, while the males are flying around. It's a whole mating dance. Sex is definitely involved here."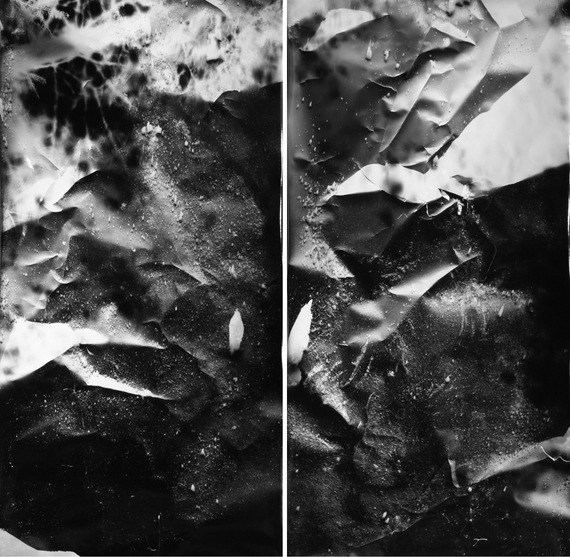 "Fallout No. 3," 2011, Unique Photogram, Gelatin Silver Toned Print, 94" x 100"
I made this piece, Fallout, during 2011 Fukishima. The Canadian PM said we should feel safe, but of course there are jet streams being brought to North America. I'm interested in what happens to a raindrop when it falls 2000 feet to the ground and accumulates dust and pollutants and becomes more acidic and passes through bad vibrations of war, of fallout, of whatever. This is a winter photo incorporating snowflakes and moonlight, but I can't work under a full moon. I have to work under the shadows of the forest and the trees.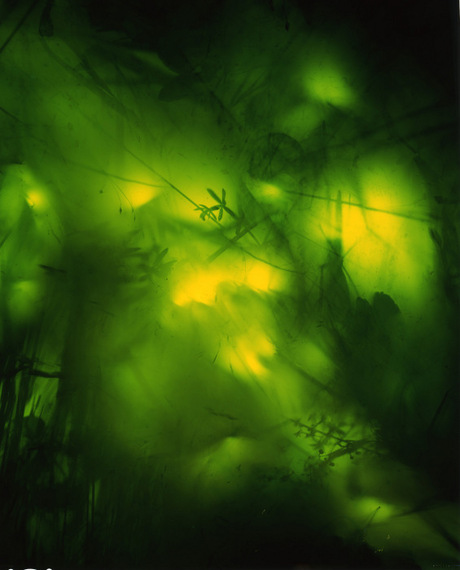 Under Ground, 2001 (printed in 2014), Chromogenic Print, 91.5" x 71.5"
"In the springtime I'm working with the primordial soup of spring that's really alive in the water and swampy areas."

"Double Trouble," 2001 (printed in 2014), Diptych, Chromogenic Print, 71.5" x 183"
"The fireflies all have different personalities." (Flomen points out an especially well-luminated one). "This one's light rarely goes out -- it's a teenager. Later, when I go into my darkroom to process the film, the worst thing that can happen is when a firefly pops out of my hair. The light of a firefly in a small room is like turning on the lights."
REAL LIFE. REAL NEWS. REAL VOICES.
Help us tell more of the stories that matter from voices that too often remain unheard.