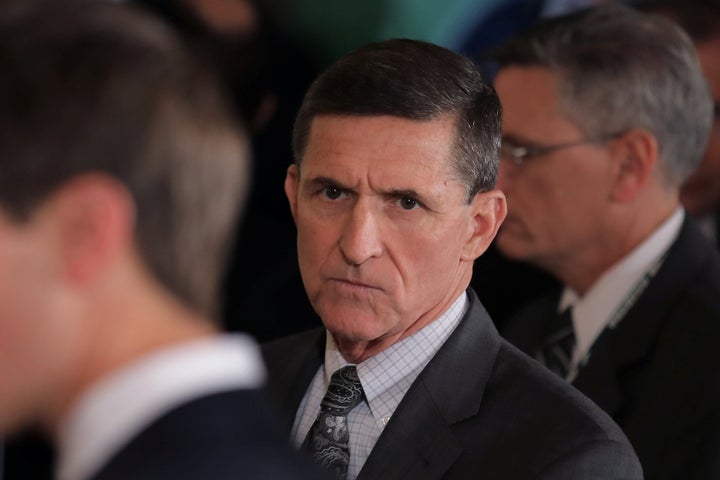 The Democratic members on the House Foreign Affairs Committee are calling for a separate investigation into President Donald Trump's former national security adviser, Michael Flynn, over revelations that Flynn discussed sanctions relief with the Russian ambassador to the U.S. prior to the inauguration.
In a letter circulated Tuesday night, the signatories say that it falls under the committee's purview to investigate the Flynn matter and that there's an urgent and profound public interest to do so. They call on Flynn to appear before the committee "under oath as soon as possible."
"Our country's national security, independence, and democratic institutions are at stake," the letter reads. "As the body within the House with jurisdiction over U.S. foreign policy, we would be negligent if we left the questions about this incident unanswered. We must investigate who from the Trump transition team was aware of contacts between General Flynn and Ambassador Kislyak, what was discussed, and what President Trump and Vice President Pence knew about this conversation and when they knew it."
The letter, which was sent to Committee Chairman Ed Royce (R-Calif.), reflects the desire of Democrats to find a way around what to this point has been uniform resistance among House Republicans to investigate the Flynn matter (Senate Republicans have been more open). But it seems likely to run into roadblocks.
A committee spokesman noted that Royce has held hearings on Russian aggression in the past and will again. But in a statement to The Huffington Post, the chairman suggested that on the specific matter of Flynn he would be deferring to others
"An intelligence committee will be looking into the issue involving Gen. Flynn, as it should, as part of the investigation of Russian meddling in our democratic process," he said.
An aide clarified that he was referring to the Senate Intelligence Committee and not the House committee, whose chairman, Devin Nunes (R-Calif.), suggested Tuesday that the leaking of Flynn's call to the Russian ambassador was more egregious than the substance of the call itself.
Though his name is not on the letter, Rep. Eliot Engel (D-N.Y.), the committee's ranking member, said through a spokesman that he supported the call from his fellow Democrats. Engel, his spokesman added, would encourage Royce to consider opening an investigation in the days ahead. 
"Mr. Engel has called for an investigation himself, and he supports the members' request to Chairman Royce," said his spokesman Tim Mulvey. "He'll take it up with the chairman tomorrow. The ranking member prefers dealing with his counterpart directly on matters like this but encourages all the committee's members to remain vocal on this issue." 
Calling all HuffPost superfans!
Sign up for membership to become a founding member and help shape HuffPost's next chapter
BEFORE YOU GO
PHOTO GALLERY
Michael Flynn Tweets