WASHINGTON ― Former national security adviser Michael Flynn is so far not cooperating with the Senate Intelligence Committee, which has issued a subpoena for documents related to his interactions with Russian officials.
Senate Intelligence Committee Chairman Richard Burr (R-N.C.) told reporters Thursday that Flynn's lawyers have yet to turn over any documents, although there "may be a day or two left" for them to do so.
"Michael Flynn has not cooperated with the committee up to this point," Burr said, adding, however, that he has not received a "definitive answer" on whether Flynn and his lawyers will comply.
Burr's office put out an official statement from the senator an hour later, confirming what he told reporters.
"General Flynn's attorneys have not yet indicated their intentions regarding the Senate Intelligence Committee's subpoena," Burr said in the statement. "Consistent with the Committee's position since the beginning of [our] investigation, I welcome their willingness to cooperate."
Flynn resigned in February, after it was revealed that he lied about whether he had substantive contacts with the Russian ambassador before President Donald Trump took office.
Burr declined to say whether he would recommend a contempt of Congress vote regarding Flynn, stating, "I'm not going to go into what we might or might not do. We've got a full basket of things we might want to test."
Flynn's lawyer did not immediately return a request for comment.
A bit flustered by the confusion surrounding whether Flynn's lawyers had responded to the committee yet, Sen. Mark Warner (D-Va.), the committee's vice chairman, said he believes Burr's comments that Flynn has more time to comply with the subpoena were correct.
"I think that is accurate. I believe that is correct," Warner said, adding that he needed to check with staff.
Warner said he hopes Flynn ultimately complies.
"My expectation would be with all of these stories about Gen. Flynn and challenges he faces I think it would be very appropriate that he comply," Warner said. "At some point either through the Senate Intel or through the Justice Department we're going to have to get these answers."
Sen. Ron Wyden (D-Ore.) didn't want to get ahead of the intelligence committee leaders, but said he plans to look into "tools" the Senate can use to pressure Flynn.
"I feel very strongly about this, and what I'm going to make clear to both the chairman and the vice chairman is that I'm really going to go to the mat to make sure that he complies with the subpoena," Wyden said.
Sen. Lindsey Graham (R-S.C.) said he wasn't particularly surprised that Flynn wouldn't cooperate, noting that if he's under criminal investigation, Flynn might not be able to comply with what Congress wants.
"If I were his lawyer, I'd probably be making the argument that if I'm under criminal investigation, you cannot force me to compromise myself," Graham said.
"If he's under criminal investigation ― I don't know whether he is or not ― Congress, we're not prosecutors," he added. "Probably a good example of criminal investigations stop congressional investigations."
Trump kept Flynn in the administration long after the White House had been alerted to his ethics issues. Before Trump's inauguration, Flynn had told the transition team that he was under federal investigation for secretly lobbying for the Turkish government during the campaign, according to The New York Times. Even with this information, Trump named him national security adviser.
Trump continued to keep Flynn on the job after Sally Yates, the acting attorney general, warned the White House that he could be subject to blackmail by the Russians for hiding his contacts with the ambassador.
The president is now under fire for reports that he urged FBI Director James Comey to drop his investigation into Flynn during an Oval Office meeting in February. Trump fired Comey last week and admitted that the bureau's Russia probe was on his mind when he did so.
The House Intelligence Committee also announced Thursday that it has requested documents from the Justice Department and the FBI related to Comey's dismissal and any conversations between Trump and the former FBI director.
On Wednesday, Deputy Attorney General Rod Rosenstein named former FBI Director Robert Mueller as the special counsel in charge of investigating Russia's role in the 2016 election.
According to a Congressional Research Service report, Congress has three methods by which it can deal with Flynn's non-compliance: It can (1) detain and imprison him until he complies, (2) refer him to the executive branch (in this case, the Department of Justice) for criminal prosecution or (3) seek a civil judgement from a federal court that would compel Flynn to comply.
Sam Stein contributed reporting.
This article, including its headline, has been updated with further comment from Burr clarifying earlier remarks regarding Flynn's cooperation, to indicate that the committee has yet to receive Flynn's response to subpoenas, not that he has refused to cooperate with them.
Before You Go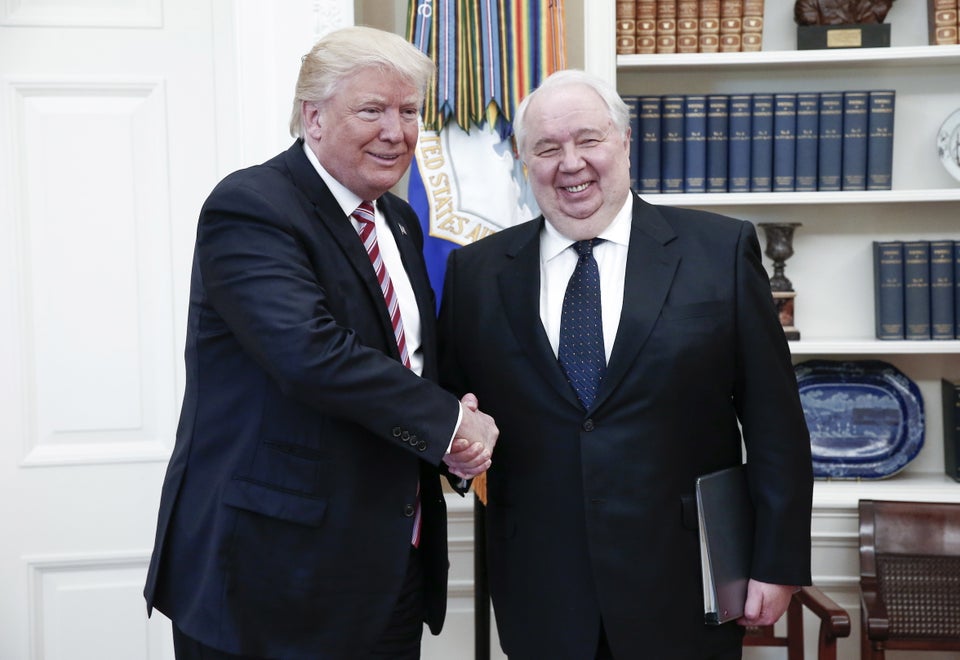 Donald Trump Meets With Russian Officials
Popular in the Community