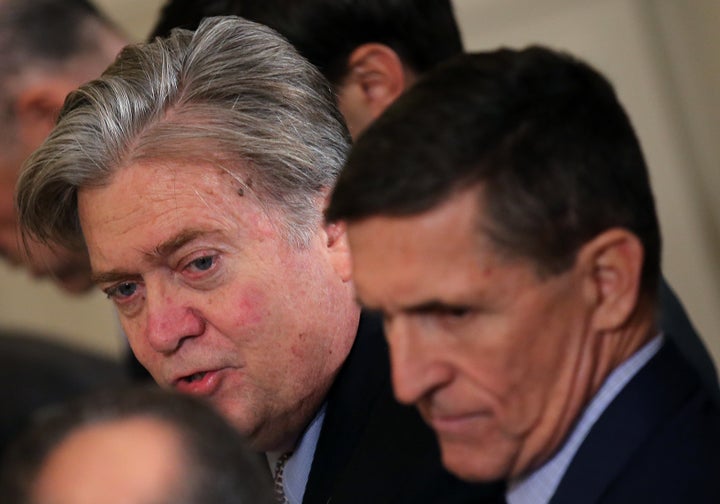 New Jersey Gov. Chris Christie (R) and White House policy director Stephen Miller both sought to insulate the White House on Sunday from revelations that National Security Adviser Michael Flynn discussed U.S. sanctions with the Russian ambassador late last year.
Speaking on CNN's "State of the Union," Christie said Flynn owes President Donald Trump and Vice President Mike Pence a "candid conversation" to "make sure that everybody gets the accurate story on this matter and that it's cleared up."
"I think that's the obligation of Gen. Flynn as National Security Adviser to have a candid conversation with the president and vice president, and they will act as they see fit given all the circumstances," Christie said.
Christie, a longtime friend and confidant of the president, is the first Trump surrogate to publicly suggest that Flynn still hasn't given the White House a satisfactory explanation for why multiple news outlets reported that Flynn discussed the sanctions.  
"Gen. Flynn has said up to this point that he had not said anything like that to the Russian ambassador," Christie told host Jake Tapper. "I think now he's saying that he doesn't remember whether he did or not."
"So that's a conversation he'll need to have with the president and vice president, so the White House can make sure they are completely accurate about what's going on," he added. "I've always been a person that believes you have one president at a time and that's the way things should be done."
Miller was also asked about Flynn on Sunday, but referred all questions to Pence or to White House Chief of Staff Reince Priebus. 
"I understand it's an important matter; I understand it's a sensitive matter, and I'm sure you'll have an opportunity in the near future to interview someone from the vice president's office or interview the chief of staff, who can elucidate further on this very sensitive issue," Miller said. 
Miller appeared on four different news shows Sunday. The fact that he did not have a prepared answer from the White House for the inevitable questions about Flynn only underscored the precariousness of Flynn's position within the Trump administration.
The FBI is currently investigating the conversations between Flynn and Russian ambassador Sergey Kislyak, which coincided with the Obama administration's announcement of new sanctions in retaliation for Russia's cyber campaign to influence the U.S. presidential election in Trump's favor. Flynn has long claimed that the sanctions did not come up.  
Calling all HuffPost superfans!
Sign up for membership to become a founding member and help shape HuffPost's next chapter