Former national security adviser Michael Flynn will not cooperate with a Senate intelligence committee investigation, invoking his Fifth Amendment right against self-incrimination Monday to avoid turning over documents lawmakers have subpoenaed related to his interactions with Russian officials.
Flynn resigned in February, after it was revealed that he lied about whether he had substantive contacts with the Russian ambassador before President Donald Trump took office.
In a letter to the leaders of the Senate intelligence committee posted by the Associated Press, Flynn's lawyer said that without "assurances against unfair prosecution," he would "respectfully decline your request for an interview and for the production of documents."
"The context in which the Committee has called for General Flynn's testimonial production of documents makes clear that he has more than a reasonable apprehension that any testimony he provides could be used against him," Flynn attorney Robert Kelner wrote. "Multiple Members of Congress have demanded that he be investigated and even prosecuted. He is the target on nearly a daily basis of outrageous allegations... [that] feed the escalating public frenzy against him."
"While we recognize General Flynn's constitutional right to invoke the Fifth Amendment, we are disappointed he has chosen to disregard the Committee's subpoena request for documents relevant and necessary to our investigation," responded Sens. Richard Burr (R-N.C.) and Mark Warner (D-Va.), the chair and ranking member, respectively, of the committee. "We will vigorously pursue General Flynn's testimony and his production of any and all pertinent materials pursuant to the Committee's authorities."
Trump kept Flynn in the administration long after the White House had been alerted to his ethics issues. Before Trump's inauguration, Flynn had told the transition team that he was under federal investigation for secretly lobbying for the Turkish government during the campaign, according to The New York Times. Even with this information, Trump named him national security adviser.
During the campaign, Flynn criticized the technology specialist who set up Hillary Clinton's private email server for invoking his Fifth Amendment rights during a court case.
Trump has also blasted Clinton associates for pleading the Fifth, arguing, "If you're innocent, why are you taking the Fifth Amendment?"
The Senate intelligence committee has also requested documents from former Trump adviser Carter Page, who is so far refusing to cooperate. He told Business Insider Monday that he has no plans to plead the Fifth because he's "never done anything wrong."
Trump continued to keep Flynn on the job after Sally Yates, the acting attorney general, warned the White House that he could be subject to blackmail by the Russians for hiding his contacts with the ambassador.
The president is now under fire for reports that he urged FBI Director James Comey to drop his investigation into Flynn during an Oval Office meeting in February. Trump fired Comey last week and admitted that the bureau's Russia probe was on his mind when he did so.
The House intelligence committee also announced Thursday that it has requested documents from the Justice Department and the FBI related to Comey's dismissal and any conversations between Trump and the former FBI director.
Last week, Deputy Attorney General Rod Rosenstein named former FBI Director Robert Mueller as the special counsel in charge of investigating Russia's role in the 2016 election.
According to a Congressional Research Service report, Congress has three methods by which it can deal with Flynn's non-compliance: It can detain and imprison him until he complies, refer him to the executive branch (in this case, the Department of Justice) for criminal prosecution, or seek a civil judgment from a federal court that would compel Flynn to comply.
"Congress has to enforce the subpoena," Sen. Marco Rubio (R-Fla.), a member of the intelligence committee, said Monday. "We don't have a police force here, so it would require the Justice Department and the courts to do it."
Burr declined to say last week whether he would recommend a contempt of Congress vote regarding Flynn, stating, "I'm not going to go into what we might or might not do. We've got a full basket of things we might want to test."
NBC News reported Monday afternoon that two former Trump associates, Paul Manafort and Roger Stone, turned over documents to the Senate intelligence committee.
Laura Barron-Lopez contributed reporting.
This story has been updated to include official response from Flynn and the Senate intelligence committee, along with responses from other Trump associates.
Want more updates from Amanda Terkel? Sign up for her newsletter, Piping Hot Truth, here.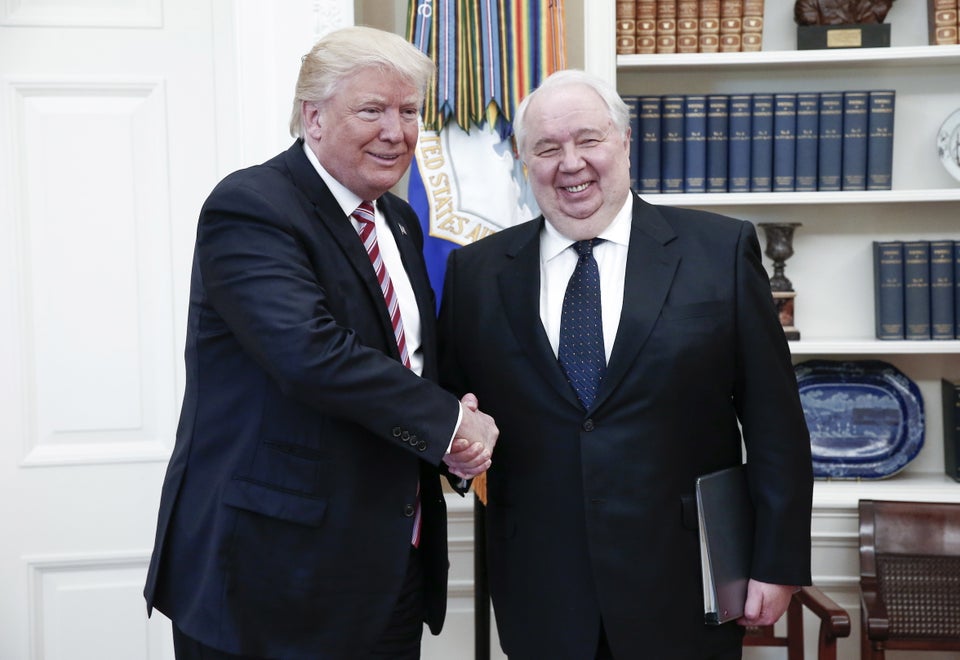 Donald Trump Meets With Russian Officials
Popular in the Community