Los Angeles County Museum of Art (LACMA) director Michael Govan and art critic Dave Hickey have convened in Las Vegas for a conversation about contemporary land art, focusing on Michael Heizer's "City" project in Lincoln County, Nevada. Standing at a podium on the Cabaret Jazz stage at the Smith Center for the Performing Arts, Michael Govan begins with a projected image of a 19th century painting of the Sierra Nevada mountains by German-American artist Albert Bierstadt. He suggests that painters and poets have helped shape our appreciation of the landscape, but describes Michael Heizer as seeing landscape in a different way, utilizing the land itself as canvas.
Having previously traveled the 50 miles north-east of Las Vegas to visit Heizer's "Double Negative" land art, I can visualize Govan's description of the "monumental absence" in this work. The double cleft on the edge of the Mormon Mesa measures 1,500 feet long by 30 feet wide and 50 feet deep. Heizer completed work on "Double Negative" in 1969, and Govan sees this innovative large-scale work influencing Robert Smithson's "Spiral Jetty" in Utah the following year, Walter De Maria's "Lightening Field" in New Mexico and the recent 9/11 Memorial where the Twin Towers once stood.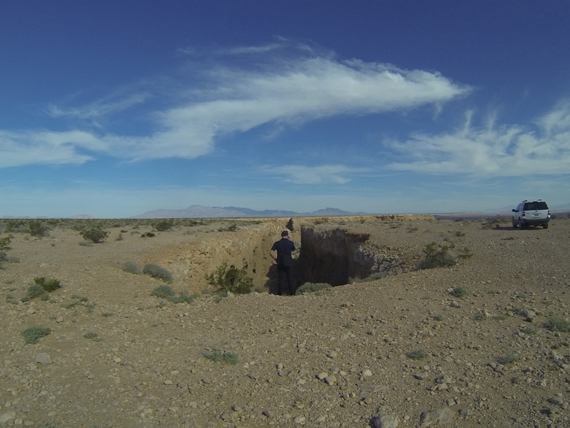 In his role as director of LACMA, Govan worked closely with Heizer on the "Levitated Mass" project completed in 2012. The artist conceived the idea in 1969, and decades later sourced a 340-ton boulder that was transported over 100 miles to be suspended above a 456-foot-long slot carved into LACMA's grounds. This must be one of the most photographed works by Heizer to date.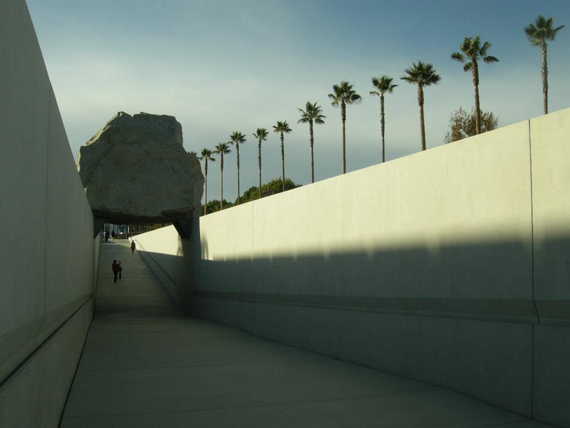 In contrast, there are few images of Heizer's current project under construction, as the site is not yet open to the public. Govan shows us two aerial images, one of the "City" site, and the other of the Washington D.C. National Mall. The dimensions appear identical. "City" is divided into separate concrete "complexes" designed to change in appearance as the viewer moves through the space. This is where art meets engineering and brings to mind ancient cultural sites such as Tenochtitlán in Mexico.
When Govan invites Dave Hickey to join him in conversation on stage, he acknowledges that many in the audience have been waiting to hear Hickey speak. The well-known writer and critic brought much attention to the arts in Nevada during his years in residence from 1990 to 2009. Although he is now based in Santa Fe, New Mexico, he has not been forgotten in Las Vegas, and this event, facilitated by the nonprofit Contemporary Arts Center, quickly filled to capacity.
Known for his acerbic wit, and a love-hate relationship with Las Vegas, Hickey earns a laugh from his audience when claiming he gambled away his MacArthur Fellowship prize money in the casinos of Las Vegas. Tonight, however, Hickey's focus is not on the city of Las Vegas, but on the city nearing completion in Lincoln County that he describes as offering a large-scale, unique art experience.
Artists are all the time trying to occupy ordinary spaces... But to do a city? That is really cool. It means that you can walk along one area and take a right and see some absolutely strange thing that you have never seen before, and walk along there until you see something else you've never seen before.
Govan agrees with the interpretation of "City" as a unique and important work, having described it as a landmark in both physical and art historical terms. He sees "City" as having the blend of simplicity and complexity that will ensure it is "re-owned and reinterpreted" by the next generation. Entirely privately funded, "City" has come under threat from fracking and proposed rail lines on surrounding land controlled by the Bureau of Land Management. In response, Nevada Senator Harry Reid has introduced legislation to protect the history, culture and habitat of the Great Basin area that encompasses "City." The Protect Basin and Range campaign foresees "City" recognized as "one of the most remarkable and famous American monuments of our time," and the #ProtectCity hashtag is circulating on social media.
Hickey is also adamant about advocating the importance of protecting "City" for the future, and sees Las Vegas acting as a portal for visitors to the site. He makes a succinct summary:
It would put Nevada on the map. This is a wonderful object. It does not take the form of anything you've seen before... It could be ours. We could not fuck it up.
Calling all HuffPost superfans!
Sign up for membership to become a founding member and help shape HuffPost's next chapter