Photographs by Eric Minh Swenson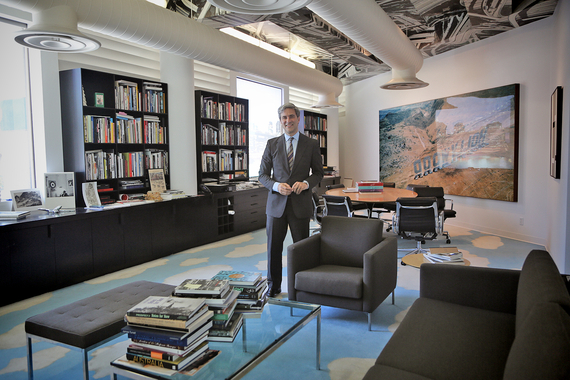 Introduction: Miracle Mile and Expansive Space
"A picture is worth a thousand words" because complex ideas can be communicated with just a single image. The image of a museum amidst an implosion of moving, cultural images must stand out as an iconic image to symbolize the high value of art.
Since Michael Govan became the director of the Los Angeles County Museum of Art (or LACMA) in 2006 ( after working as the president and director of Dia Art Foundation in New Yorkand deputy director of the Solomon R.Guggenheim Museum) he has breathed fresh air into a suffocating museum campus - giving it a new life. The sad museum, now revitalized under Govan's stewardship attracts huge crowds 24/7 and has become both a landmark and a popular communal space. The magical image of Chris Burden's Urban Lights entices people from tourists to teenagers to prom queens to lovebirds to wedding parties to movie shoots to guerilla Argentine tango milongas. This iconic image not only stands for the museum, it stands for Los Angeles.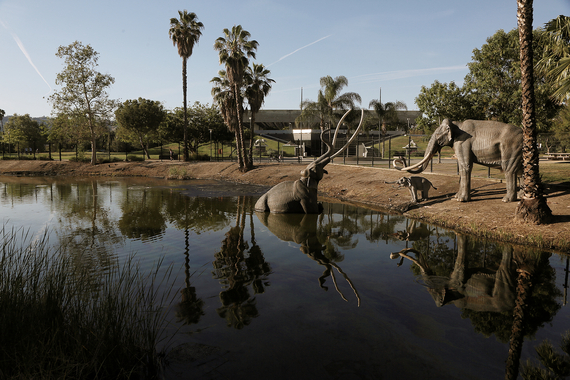 The genesis of this amazing urban artwork originated from a long-time friendship and dialogue between Burden and Paul Schimmel - who first saw the potential of the vintage couch lamps (which also define nearby Hancock Park). But it was Govan who saw the significance of leaving an open space between the museum buildings, like an Italian Piazza, with a major artwork as a "welcome statement" - an image which changes from day to night according to light effects which redefine open space. These are the defining qualities of "light and space" which not only led to SoCal's most original art movement, but can be seen throughout L.A. culture. L.A. embodies the mythology of a frontier culture which is defined by space exploration, from Griffith Observatory to the Jet Propulsion Laboratory to paleontological excavations: an experience of deep outer space, deep underground space and expansive ground space which changes with the distinctive Californian light.
Govan deeply understands the importance of symbolic use of space and the role of transportation in defining the way we move through space. The Miracle Mile ( La Brea to Fairfax) symbolized the era of the car: theWilshire Boulevard Grand Concourse. It was once Rancho La Brea where Angelenos could take "brea" ( tar mixed with sand) to waterproof roofs of adobe houses. Then it was re-created for the masses' desire to drive, by providing ample parking behind buildings, allowing pedestrians to move freely in what was a chic, urban center of in the heart of mid-city L.A, in the1920s and 1930s. In the centre of the surrounding areas north and south it became "museum row" including: LACMA, Peterson Automotive Museum, George C. Page Museum at the La Brea Tar Pits, Architecture and Design Museum , Korean Cultural Center alongside financial institutions and Hollywood studio offices - with the May Company as what Govan calls "the centre piece." This area fell into disrepair from the 1970s onward - symbolized by the fencing of the iconic post-world war two, Park La Brea garden apartments in 1977 ( as Govan insists.)
Gentrification began in the early 2000s, driven by the prime consideration of real estate: "location, location, location." The Miracle Mile location is both futuristic and prehistoric, within a timeline stretching back even earlier than the Ice Age with more Paleontological excavations into underground space leading to the discovery of more pre-historic artifacts than any other place on earth, now dominated by high tech, digital billboards.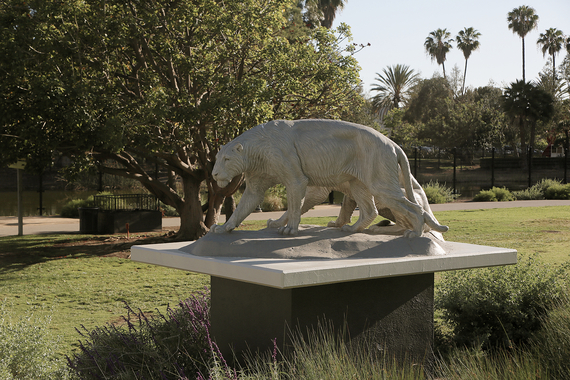 I myself live in the Greater Miracle Mile District, which fascinates me as a New Zealand-born transplant, because my homeland, Aotearoa, is made of very young volcanic islands created from underwater eruptions, hence no indigenous predators ( not even snakes - making it an Eden.) Now my neighborhood walks in this historic arts district are filled with daydreams of what the Miracle Mile area must have been like in the Pleistocene period with prowling saber- toothed cats and lumbering dinosaurs instead of today's hipsters and art lovers. L.A. is the perfect space for dreamers.
A Brief History of LACMA Architecture
LACMA originally opened near USC in 1913 as the L.A. Museum of History Science and Art known for " wagon wheels, dinosaurs and paintings." The art part of the museum split off to its current location in 1965, and immediately suffered many problems from tar seeping into water pools which later had to be filled in (compromising the design of the Armand Hammer) and warren rooms which were not user-friendly or suited to the way art is contextualized today. New galleries were added in the late 1990s and early 2000s: first with the atrium expansion of the Ahmanson, then with Renzo Piano's Broad Contemporary and Resnick Pavilion buildings- both praised for their innovative use of interior space, innovative ways of exhibiting art, and innovative ways for the public to interact with art.
But amidst these new, exciting spaces and the new narrative of LACMA established by Burden's iconic artwork combined with a new open-air entryway to an inviting outdoor space LACMA is no longer just one dreary room after another dreary room, inside stodgy, boxy buildings. Rather, it has evolved into a welcoming space brimming with real life and laughter - from an ethnically diverse array of children, adults and senior citizens. On Friday nights, the jazz attracts people who can sip champagne and eat gourmet bites at the glamorous Ray's and Stark Bar, or bring their own picnics to sit on the benches in Robert Irwin's Palm Garden. This fuses architecture, performing arts, visual art and outdoor landscaping - sending a message that a museum is both a cathedral for art and a place to hang out and have fun.
Unfortunately, the seismic problems of the older buildings have gotten worse and city building codes are much stricter, so the cost of bringing the existing spaces up to code (even if that were possible) exceed the cost of building a sexy new structure which reflects SoCal aesthetics of expansive horizontal space - instead of outdated East coast ideas of crowded vertical space. This also coincides with exciting new art gallery architecture on nearby La Brea and Highland avenues: Regen Projects, Kohn Gallery ( designed by Lester Tobias) Diane Rosenstein Gallery, David Kordansky Gallery ( designed by Kulapat Yanprasasp) and Kayne Griffith Cocoran. All of these galleries have repurposed vintage industrial buildings ( some gallerists purchasing these large spaces in a real commitment to this arts district.) They introduce new styles of SoCal gallery architecture that combine contemporary drought-resistant landscaped outdoor spaces in a high density, heavy traffic area. In addition, the L.A. branch of the global Spruth Magers opened across from LACMA earlier this year, in a repurposed iconic 1960s William Pereira building.
Interestingly, many of these architecturally refurbished, expansive " white cube" galleries
(a concept originated by Ace Gallery, which now fights legal battles) welcomed input from the artists they represent: James Turrell's skyspace and courtyard capture the indoor/outdoor SoCal aesthetic in the repurposed auto facility transformed for Kayne Griffin Cocoran; Dennis Hollingsworth's architectural suggestions for Kohn Gallery; Charles Fine's interior design suggestions for Diane Rosenstein Gallery. This exuberant spirit of artistic collaboration is characteristic of the free spirit of Los Angelenos, which in turn is influenced by the wide open space we inhabit. It reflects the way the metropolis is redefining its identity - rather than mimicking a stuffy, East Coast model of art hidden inside outmoded boxy buildings. This also reflects the futuristic architectural ideas for the new LACMA that better express the expansive growth of this miraculous city into an alive cultural metropolis.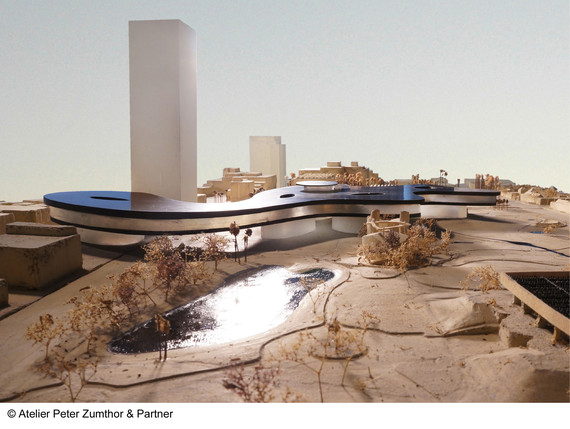 The Aesthetics of Museum Architecture
The greatest pleasure I find in Peter Zumthor's new LACMA design is that it uses biomorphic horizontal (feminine) space, rather than phallic vertical (masculine) space, inspired by the adjoining Tar Pits. This expansive approach to wide open space reflects the more expansive open-mindedness charactistic of a progressive city. As people drive under the fluid, floating organic-shaped building that will cross Wilshire Boulevard, they will catch a glimpse of the artwork seen through the transparent glass panels. The buildings are architecturally designed not only around the works of art presented inside, but also to meet the particular needs of Los Angeles, which is becoming more pedestrian friendly. This is also reflected by the construction of the new Metro Purple Line, which will connect disjointed urban space to LACMA, along with L.A. residents' increasing lack of car dependence, opting to use Uber and Lyft instead.
Larry Shiner, an architectural philosopher and distinguished author, defines the controversies that always surround museum architecture as a dispute between "spectacular and deferential" designs. In spectacular designs, "architecture triumphs over art," Shiner argues. His examples include: Centre Georges Pompidou, Paris; Santiago Calatrava's Spanish museums; Milwaukee Art Museum, Wisconsin; Art Museum Graz, Austria; Denver Art Museum. In these spectacular designs, "the wrapper is more important than the contents" so that "architecture triumphs over art." By contrast, Shiner's examples of deferential design include: Dia: Beacon, Dia Art Foundation, New York; the Resnick Pavilion at LACMA; the new Whitney Museum, New York. In these deferential designs, Shiner argues, "the architecture supports rather than defines the mission," because the priority is appreciation of the artworks.
Combining the symbolic and social purposes of museum architecture with art appreciation and communal use of outdoor space, is a complex task attracting the most innovative architects, deepest philosophical minds and visionary museum directors. Museum architecture as art can still be balanced with architecture for art as Zumthor's plan for LACMA demonstrates.
Interview with Michael Govan, Director of LACMA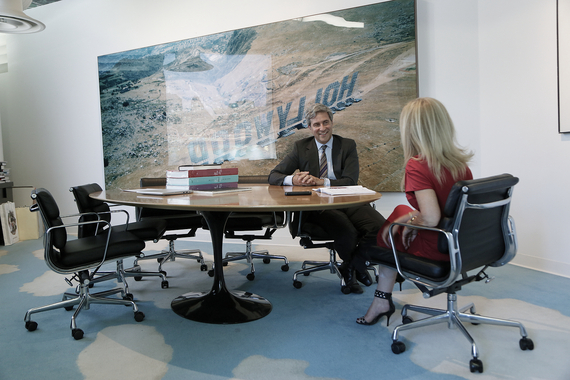 Lita Barrie: Is there really no way to save the old buildings - or at least the William Pereira , stylish 60s building?
Michael Govan: First, the integrity of the Pereira buildings was compromised a long time ago. Pereira had designed the original buildings to float over biomorphic pools punctuated by fountains, which Pereira hoped would elevate the experience. However, tar soon began to seep into the pools, causing them to be filled up and completely transforming the complex for the worse. The addition of the Art of the Americas building, designed by Hardy Holzman Pfeiffer Associates, in 1986, further compromised the aesthetic integrity of the original buildings. Moreover, these buildings, along with the Art of the Americas building, are currently in egregious states of disrepair, making them unsafe spaces to conserve and display priceless works of art. We studied renovation options, but they were not feasible, both from a cost and a circulation standpoint. For example, it would cost somewhere between $246M - $332M simply to bring the old buildings up to seismic and life safety standards, and that doesn't even include paint, lighting, improvements to circulatIon or other challenges that have plague the buildings for decades. There was little appetite from the County to support such a project.
LB: Will there be light inside the building for art viewing because it looks a bit dark outside? Or is that darkness to prevent vandalism?
MG: In a city like Los Angeles, excessively light colors on a building's facade can be too blinding (the Getty being a case in point). The new building is also designed to allow works to be displayed in natural light, which enhances the quality of experience of museum visitors, providing a connection to the outside world. Inside the new building, there will be three kinds of galleries that deploy light in different ways in order to best display the diverse artworks in LACMA's collection:
-- The 'meander' galleries are located around the peripheries: these will display art and sculpture best viewed in natural light.
-- The 'cabinet' galleries will display artwork that require minimal light such as prints and drawings and other light sensitive works.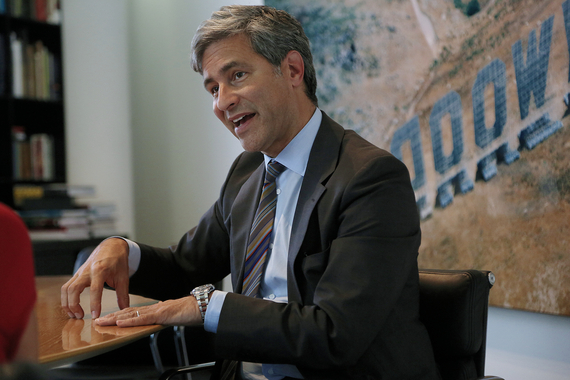 LB: Will there be special access for handicapped people - in an aging population of art lovers?
MG: Yes the new building will be ADA certified and have multiple entrances. Moreover, by designing the new building to be completely horizontal, it will be easier for visitors to navigate the museum without walking up stairs.
LB: During the construction which parts of the museum will still be open to the public?
MG: Three buildings on the LACMA campus -- the Resnick, the BCAM, and the Pavilion for Japanese Art -- will remain open throughout the duration of the construction. LACMA will continue to host public programs and activities both on campus and off-site.
LB: The new design has a smaller square footage than the existing buildings. Does the design use space more efficiently?
MG: Yes, the new curving shape is designed to optimize existing space without losing its connectivity to the city and the immediate environment. While the new, approx. 368,000 gross sq. ft. building will replace approx. gross 393,000 sq. ft. buildings that are inefficient and deteriorating, making for a net reduction of 25,000 gross sq. ft. there will be no reduction in gallery space.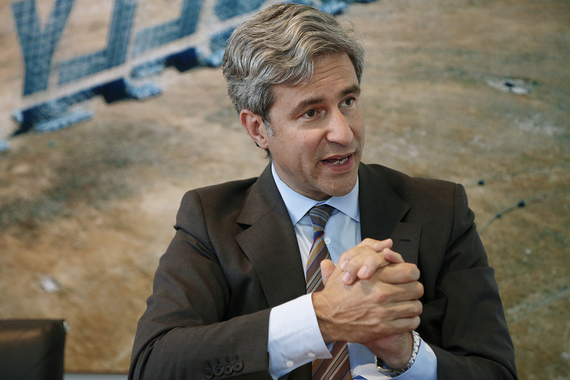 LB: Will this new design encourage people to donate more high quality art to build the art collection to a higher level?
MG: We have very good reason to believe so. In recent years, flooding, power outages, and other structural problems have plagued the four older buildings on the campus, causing us to temporarily close some of the galleries. Nor are the existing buildings up to seismic code, making it an unwise and unsafe place to store precious artworks that donors may promise to the museum. This isn't just speculation. For example, the Jerry Perenchio collection promised to LACMA last November--which includes at least 47 Impressionist and early modernist works estimated to be worth 500 million dollars--comes only with the condition that the new building is constructed.
Street life in Chris Burden's Urban Lights
Guerrilla Milonga: Argentine tango - Buenos Aires street-style - inside Chris Burden's Urban Lights. Video by Rose de Guzman on You Tube.
Related
Popular in the Community