I am having a show at a major gallery for the first time in a few years. It's a bit of a retrospective and it includes new work. I just realized I allow myself to be defined by the past as well as the present more than even a year ago. Labels like neo-expressionist, make sense to people so I embrace them. Perhaps that's why I embraced "Reconciled" when the curator at Georges Bergès gallery, the charming and bright Jessica Holburn, suggested it as the title for my show and said "critics and writers have used the word reconciled most often in essays about you". Sam Hunter, museum curator and art historian, used it, so did the author Michael Brodsky, and so did Lori Cole in her essay on my work and the Kabbalah in the Adirondack Review. Ok, so I am going to be reconciled at 61. I am ready for a religious experience as always.
My dealer, the renowned Georges Bergès, who the renowned Larry Gagosian said might be the next wave, stated he is "thrilled to announce the riveting solo exhibition by the renowned Neo-Expressionist painter, Michael Hafftka". I posted the same on all the forms of social media, which is now the modern equivalent of a rooftop.
Using traditional media like oil and linen, Hafftka's surreal portraits evoke the inherent chaos of the creative process. Hafftka's dreamlike explorations give form to the raw emotions that punctuate the human experience and, says Bergès, "transcend the purely visual impact." Bergès asserts that this acute power lies in Hafftka painting "people not necessarily as they see themselves but as he sees them - some find the experience positive while others are forced to look at themselves in a new light."
Ok, so now both my dealer and I are on the rooftop. Here is a painting I painted of Bergès for my show. It's kind of a private joke between us. I don't know if it will be hanging in my show, it's up to him to select which works will be framed, we shall see.
More from the wonderful press agent, the king maker, she says people are flying in for the show from Europe - God bless her! I am not one of the artists who pretends sales don't matter. Of course they do, all my peers will say the same. So I hope all artists get as lucky as me. I certainly know the difference, having spent many years with sale few and far between:

Michael Hafftka, has a way with paint, and he can pace his sometimes very large paintings in such a way that we want to see what will happen next.
-John Russell, The New York Times
Hafftka is a marvelously resourceful Neo-Expressionist in command of technique, subject matter and, most important, vision. He's also one of the best painters to have come along in a decade, without posturing or pretense or super evident jockeying for art-world position. Hafftka is too hideously virtuous for the latter; and, if virtue is its own reward, it is also, in this case, proof of an astonishing integrity of style.
-Gerrit Henry, Art In America
Hafftka is a humanist in the line of Walter Benjamin, Hannah Arendt and Myer Shapiro - his are wild notations in an inescapable flesh and fire. There is in him Soutine and Bacon, a space opened for the scream of creatures; He is not afraid of pathos and the nightmares of Goya.
-David Shapiro author of Mondrian's Flowers and Jasper Johns
Hafftka seems refreshingly unafraid of failure: his paintings are bold and fearless. No subject is too frightening, vast, or mysterious to be explored visually. Hafftka is one of those rare painters who use uncertainty to break new ground and propel themselves forward artistically. This sort of disenchanted skepticism and gritty realism is tempered by the fervent dreaming, the feverish visionary quality that comes through in Hafftka's work.
-Laura Beckman, Tikkun Magazine
I am loving these quotes the press agent has revived, I write her thank you letters!
Hafftka has been heralded by Art in America as "one of the best painters to have come along in a decade." His works are on permanent display in the The Museum of Modern Art, The Metropolitan Museum of Art, The Carnegie Museum of Art, and the National Gallery of Art, among others around the world.
This stuff is all great for a guy that spends most of his time painting. Sales are booming and I am infinitely grateful. Bergès gallery in SOHO makes one believe in the art world again. People walk in off the street, they just arrived from the airport, they buy a major painting for six figures and then continue to DKNY at 420 W. Broadway down the block. When Bergès told me the location of the new gallery, after years of doing pop ups, I was shocked. But in the short time he has been there (since June 2015) he has proven that proximity to Leo Castelli's old haunts is a smart move, and it sends the right signal to the world.
Last time I wrote here about Instagram and how it revolutionized the way to disseminate art for me and other artists. I now have ~4200 followers (@hafftka) and it grows every day! I love it. I finally found a way to share my work with artists and art lovers all over the world, and there is constant exchange and a large community. Suhayb Ibn M Zarroug, a young private art dealer, who met me through Instagram and made a movie about me with Andrea R. Osborn II (see my Instagram article), brokered last month a sale of a diptych of mine to a California art dealer. my adventures in Instagram Land clearly multiply.
I am very excited about this new show. I am trying to live up to the wonderful publicist's comment:
This exhibition of his new works embodies the pinnacle of Hafftka's talent - evocative visual feasts born from a true visionary and master of his craft.
I hope I can get even better.

Back to blurbs, I want to bask in their glory; here are some of my favorites-
Hafftka's explorations are so profound and his presentation of them is so strong that they take on something of the character of myth... Perhaps it is enough to say that his work is powerful, original, and superbly painted.
-John Caldwell, Curator, San Francisco Museum of Modern Art, Catalogue Essay
He transfers personal experiences and the universal pain of our species to his canvases with the compassion of a saint and the technical prowess of an Old Master.
-Steve Starger, Art New England
Thank you, I can relax now! After the show I am going to paint George Wayne, Vanity Fair's most creative writer, for the cover of his forthcoming book.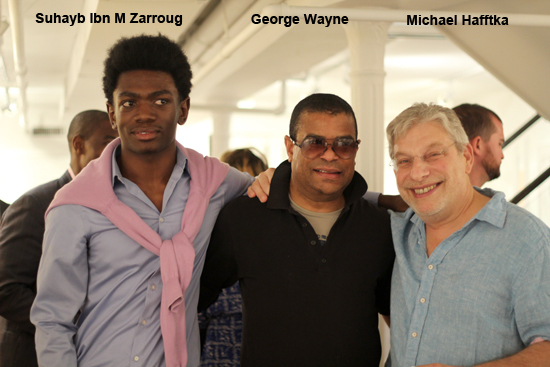 Popular in the Community