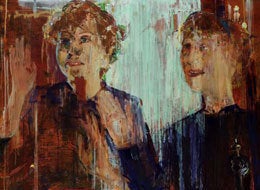 By now it's no news that the 2009 New York Film Festival, winding up this weekend, has taken a whipping from some critics and bloggers for the unrelenting grimness of its slate. Viewers have been treated to a parade of miseries ranging from wartime barbarism (Lebanon by Samuel Maoz), to childhood evil ("The White Ribbon" by Michael Haneke), to pedophilia (Life during Wartime by Todd Solondz), to couple meltdown (Everyone Else by Maren Ade), to official corruption (Police, Adjective by Corneliu Porumboiu). Okay, so it was no barrel of laughs (though gallows humor abounded). And despite their dark content, these films share a fidelity to their own vision and brilliance of execution.
Frankly, I find far more grim the studio dreck that panders to and dumbs down viewers with a movie-by-focus-group or barrage of deafening noise and action signifying nothing. It's also damn depressing to see the co-opting by Hollywood of promising young filmmakers. I'm thinking of Hungarian Nimrod Antal, who debuted in 2003 with the audacious, inventive "Kontrol," and has just signed on to direct the first in the "Predator" franchise.

It would be hard to imagine any such seduction of Michael Haneke, whose 2009 Palme d'Or winner "The White Ribbon" has marked a highpoint in the NYFF. Thanks to Sony Pictures Classics -- which, along with IFC and Magnolia, keeps the indie and foreign film sector afloat -- you'll be able to catch it in theaters December 30. This is essential viewing for both cinephiles, who will thrill to impeccable filmmaking, and anyone needing to understand the larger world. For the ambition of The White Ribbon is none other than to unearth the origins of Nazism.
Haneke's masterful drama unfolds in a rural German town on the eve of World War I, where the local schoolteacher comes to suspect that a rash of deadly accidents and violent acts may be the work of his own eerily secretive pupils. The story is framed by an unreliable narrator unsure of the accuracy of his memories. First the town doctor is thrown by a horse that trips on a wire mysteriously strung between trees. Shortly after, a farm laborer's wife dies in an accident possibly caused by the negligence of a baron who employs half the townspeople. Then the baron's son is attacked and traumatized, while a mentally defective child is mutilated. After trying without success to wring an admission from the stony-faced children, the teacher reports his suspicions to the pastor who orders him to shut up or ship out.
A master at orchestrating a sense of menace, Haneke has couched his tale as a thriller and whodunnit -- what violence will erupt next and who are the perpetrators? At the same time, Haneke is after larger game: the mindset that infects these children who will come to adulthood during the Nazi regime, and the roots of evil.
The prevailing Protestant ethic of the period, which promoted repression and corporal punishment, seems to feed the children's depravity. The local Pastor forces his son to wear the white ribbon of the title to remind him of purity and innocence -- while the boy's hands are tied at night to the bed by that same ribbon to prevent him masturbating. Meanwhile, hypocrisy reigns, with the village doctor indulging in carnal acts both cruel and incestuous.
Shot in black and white, which lends a distancing effect, the cinematography is exquisite. It captures the austerity of parallel buildings racing toward a vanishing point (which may reference the camps); bucolic scenes of harvesters in the fields and feathery branches against a snowy landscape; while the faces of children and adults seem resurrected from a vanished era. Typically, Haneke withholds clearcut answers to the explosive questions he's raised. This will madden some viewers. For others the open-ended denouement will resonate all the more.
Here's Haneke on "The White Ribbon" and his work in general, drawn from press notes and a post-screening interview:
"There are countless films that deal with the Nazi period, but not the pre-period and pre-conditions, which is why I wanted to make this film.
"Set in Germany prior to World War I, this is the generation that became adults in the Nazi period. But it's not just a film about a German problem. It's about the roots of evil -- whether it's religious or political terrorism. I wanted to depict the children who in their adult life would play a role in the fascist period, and these people were determined by Protestantism."
"In all my films I try to arouse a sense of mistrust in what you're watching. The White Ribbon is not a realistic film -- I'm trying to give the spectator the freedom to form his own conclusions about what's happening."
When Haneke was asked whether, to judge by his films, he harbors some abiding sadness, he replied: "I'm not a depressive. Ask my wife. Drama has the responsibility to deal with serious questions. I respect the spectator and want to take seriously issues that might be of concern to the spectator."
Asked why his films are always so disturbing, he said, "To function, art has to rub salt in the wounds. What interests me when I read a book or a movie are works that make me uneasy, that make me think of new problems, instead of those that reassure me."
Popular in the Community