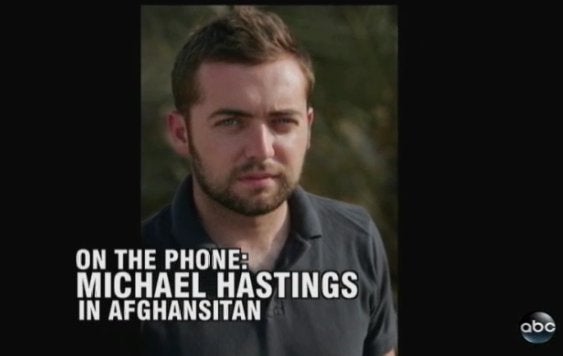 Speaking on the phone from Afghanistan to ABC's Diane Sawyer, Hastings said he think the decision speaks to McChrsytal's often reckless behavior:
"It was a sort of natural kind of recklessness that General McChrystal had, which has been with him through his entire career, as I understand it. And inviting me in, was a obviously a risk, as it always is when you invite a journalist in."
Hastings also said that he was shocked at how pessimistic many of McChrystal's senior aides are about the war's progress. Sawyer asked him about one passage in the piece, where an aide says that things are going so badly in Afghanistan that "if Americans pulled back and started paying attention to this war, it would become even less popular."
Hastings said he had to ask the man to repeat himself:
"I couldn't believe it...I said, 'well, you're saying if people looked into it it would be more popular,' and he said, 'no, no, no,'...and that's when I realized there were serious doubts and frustrations that went to the highest levels."
Earlier Tuesday, Rolling Stone editor Eric Bates also spoke out about the article, affirming that all of McChrystal's quotes were on-the-record and adding that McChrystal didn't dispute a single quote in the article.
WATCH:
Calling all HuffPost superfans!
Sign up for membership to become a founding member and help shape HuffPost's next chapter