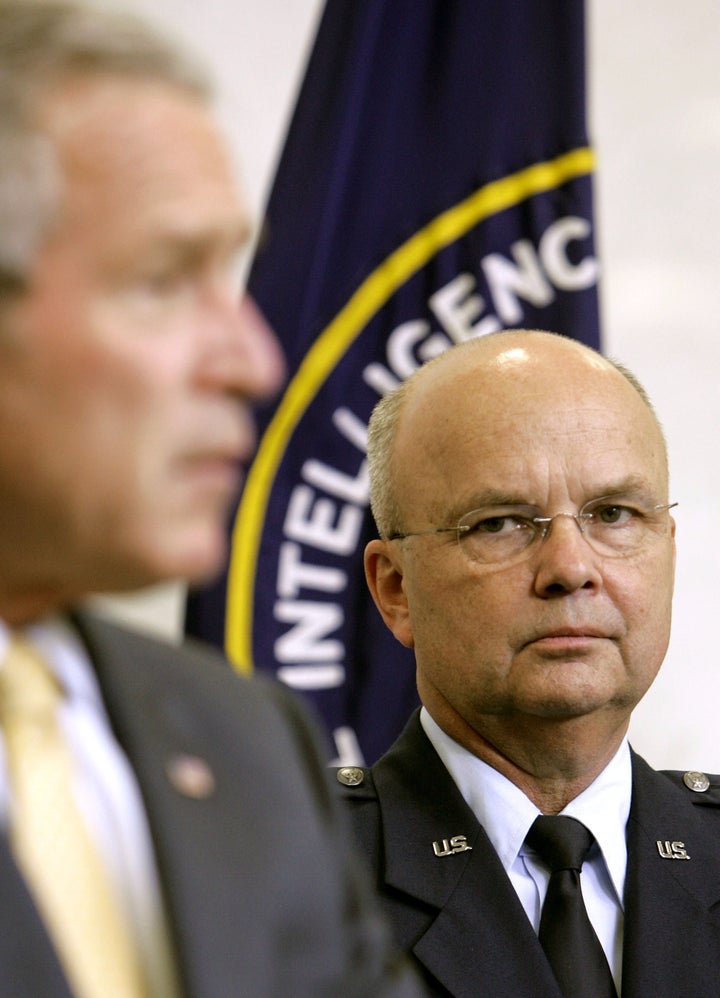 WASHINGTON -- Michael Hayden, former head of the National Security Agency and the CIA, has found a new audience. He's scheduled to open the 2015 United Fresh Washington Conference, a gathering of the United Fresh Produce Association.
Big Fruit, which meets annually with Washington movers and shakers, "brings together companies across every segment of the fresh produce supply chain, including growers, shippers, fresh-cut processors, wholesalers, distributors, retailers, foodservice operators, industry suppliers and allied associations."
That the fruit-and-veggie mongers are curious to hear from Hayden suggests that 61 years after the infamous United Fruit coup, the fate of the industry is still heavily intertwined with foreign policy and national security.
"We're honored to have General Hayden join us to examine the United States' role in today's dangerous and unpredictable world," United Fresh President & CEO Tom Stenzel said in a statement released Monday. "His unique perspective and insights into today's tumultuous global environment are important to every one of us, as business leaders and also as citizens."
Major fruit growers have historically been the focus of protest movements in less-developed countries, pushing for land reform, higher wages or better working conditions. To protect their cheap sources, those growers have aimed to exert heavy-handed influence over the local government, or even to run it entirely. The term "banana republic" originally referred to a corrupt regime dominated by a fruit company.
Six decades ago, the all-powerful United Fruit Company found allies in Foggy Bottom and Langley: Secretary of State John Foster Dulles and CIA Director Allen Dulles. The two brothers cut their teeth handling legal issues for United Fruit, and both maintained ties to the global company throughout their tenures in Washington.
The Dulles brothers were key to orchestrating a 1954 coup in Guatemala, a bloody battle waged to preserve United Fruit's corporate interests under the guise of anti-communism. As John Foster Dulles convinced Washington that Guatemala's democratically elected leader was building ties with the Soviets, Allen Dulles organized a CIA-led militia to overthrow Col. Jacobo Arbenz Guzman. As it turned out, Guzman wasn't a closet communist; he was, however, trying to reclaim some of the massive amounts of land held by United Fruit, Guatemala's biggest landowner.
Despite that victory in Central America, United Fruit eventually declined. After years of battling antitrust allegations and making one major merger, United Fruit's successor company became Chiquita Brands in the 1980s. Chiquita is, of course, a member of the United Fresh Produce Association.
Spies and fruit can apparently still find common ground.
"[Hayden is] presenting a geopolitical view of the world. It will be a macro approach to global intelligence, not produce specific," Mary Coppola, a spokeswoman for the trade group, said of its September conference. "He'll share his perspectives of the issues of today based on his experiences."
Hayden left the CIA in 2009. Now advising business at the Chertoff Group, the former chief spy led a vociferous defense of his former agency following last December's release of a devastating report on the CIA's George W. Bush-era torture program. He defended the use of waterboarding and rectal feeding -- in which at least one detainee was rectally infused with pureed hummus, nuts and raisins.
Calling all HuffPost superfans!
Sign up for membership to become a founding member and help shape HuffPost's next chapter