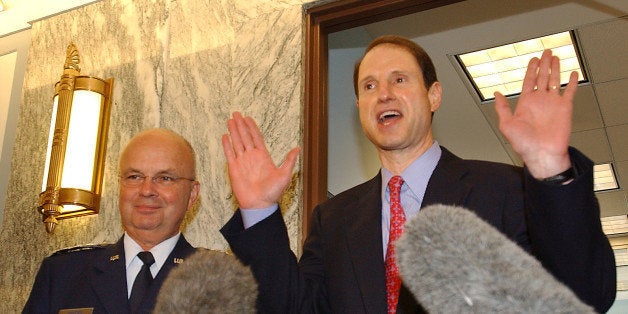 WASHINGTON -- In his aggressive efforts to salvage his reputation in the wake of a Senate Intelligence Committee report on the CIA's use of torture, former director Michael Hayden has offered a number of defenses for the agency's conduct.
Here's one more for the list: As Hayden sees it, he's being held to a much higher standard than his peers.
"I mean what are they doing—trying to score my public speeches? What's that about?" he said in an interview with Politico magazine. "You want me to go out and score Ron Wyden's speeches?
Wyden, an Oregon Democrat, is one of the Senate's most prominent civil libertarians and a leading proponent of surveillance reform. He has clashed with Hayden in the past, both over the Senate Intelligence Committee's report and the way Wyden questioned Director of National Intelligence James Clapper during hearings over domestic surveillance. So there's a bit of bad blood there.
Naturally, Wyden's close associates weren't pleased to see Hayden try and drag him down as he grappled for a lifeline in the aftermath of the torture report's release. Wyden's former top spokeswoman, Jennifer Hoelzer, emailed over the following:
1. That's really fucking offensive given that all of Ron's statements are directed towards informing the American people and exposing the [intelligence community's] attempts to mislead, while Hayden's all about the lying/misleading.

2 - While I'm no longer Ron's official spokesperson, I think I speak for everyone on team Wyden, when I say "Go the fuck ahead."
Hayden "is literally attempting to mislead people about the veracity of Wyden's statement while being asked about his propensity to mislead," Hoelzer added. "I really hope this report -- at the very minimum -- results in no one, ever again, believing a word that comes out of that man's mouth."
Hayden did not immediately respond to a request for comment.
Calling all HuffPost superfans!
Sign up for membership to become a founding member and help shape HuffPost's next chapter
BEFORE YOU GO
PHOTO GALLERY
U.S. Capitol Photos