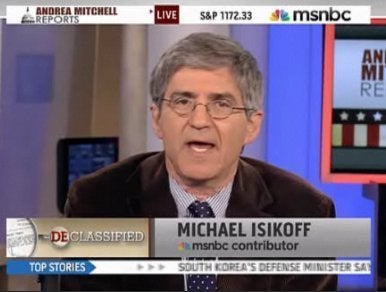 Newsweek may or may not find a buyer, but one of its star writers is jumping ship.
Michael Isikoff will join NBC News as National Investigative Correspondent. Isikoff has been an MSNBC contributor since 2009, but will now contribute across all NBC News platforms.
"Michael is one of the most respected and distinguished investigative journalists in the business," NBC News President Steve Capus said in an announcement. "I am extremely proud of our investigative team and having Michael join the ranks of Lisa Myers, Chris Hansen and Pete Williams makes our investigative unit the strongest in the industry."
Newsweek, where Isikoff has been an Investigative Correspondent since 1994, is on the block and at least four parties have formally bid for the magazine; the magazine says more secret bidders have formally expressed interest as well.
The New York Times' Brian Stelter notes that the Isikoff hire "will make the network news wars a bit more interesting, as all three have competitive investigative units."
Related
Popular in the Community