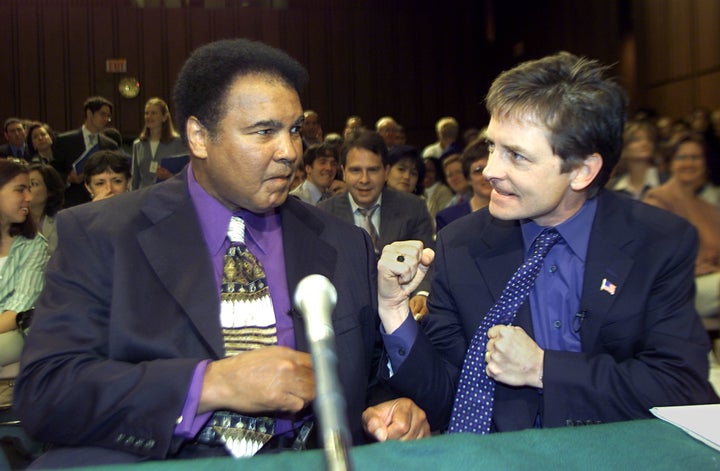 "When I grew up in the '60s, Muhammad Ali was one of those giants that lived in the world. I looked up to him and admired him," Fox said. "As I grew older, I understood the depth of his convictions and the things he stood for and I admired him even more."
Fox got a chance to speak with Ali, who lived with Parkinson's, after he himself was diagnosed with the disease. When Ali, known as "the greatest of all time," reached out to speak to Fox, the actor was understandably nervous. But he worked up the courage to call his idol back. 
"Finally, I called from the bathroom phone so I wouldn't be interrupted. One foot was up on the toilet lid, and the phone was up to my ear. You could tell on the phone he was very quiet at first, and you could hear him breathing. I'm thinking, 'That is Muhammad Ali breathing, and that's his phone,'" he said. "Very quietly, he said, 'I'm sorry you have this [disease], but with you in the fight, we have a better chance of winning.'"
Fox and Ali went on to film a PSA together for the actor's Foundation for Parkinson's Research. 
"When we were shooting our commercial in Arizona, I realized that no matter how famous you are, no matter how big a TV star you are -- or whatever flimsy kinds of fame I had -- you're invisible when you're with Muhammad Ali," Fox said. "You're anonymous." 
He added, "He was global. He reached every corner of the Earth. Every village, every household, certainly every television set and everybody in the Western world -- but also the Third World and some places that had nothing -- understood what he was and what he stood for; that he was a great boxer, sure, but that he was a great man." 
Calling all HuffPost superfans!
Sign up for membership to become a founding member and help shape HuffPost's next chapter
BEFORE YOU GO
PHOTO GALLERY
Unforgettable Images Of Muhammad Ali