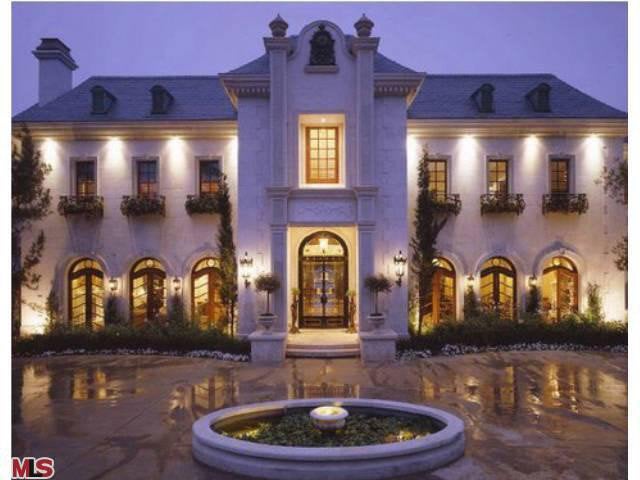 The owners of the mansion where Michael Jackson drew his last breath are suing 'Hot Star Maps' vendor Linda Welton for allegedly driving down the home's property value.
TMZ reports that the home's owners, Ed Hardy CEO Hubert Guez and his wife Rozanne, are having trouble selling the multimillion dollar home because because of Welton's operation. From the lawsuit: "potential buyers are bothered upon approach by the quite visible and annoying constant illegal stopping and/or parking of cars in front of the home on what otherwise would be a quiet residential street."
The Guezes allege that the traffic is due to Welton's "star maps," which reveal the address of the home where Michael Jackson died (as well as the addresses of other Hollywood actors and actresses). She peddles the maps just a few feet away from the Guezes' property.
Click here to hear Welton's side of the story, a TMZ exclusive.
According to public records, the Guezes bought the 16,000 square foot mansion in 2004 for $18.5 million. They put the home up for sale in 2008 for $38.5 million, but the eight-bedroom, eleven-bathroom home languished on the market until Michael Jackson began renting the property for $100,000 per month in December of that year, reports Luxist.
Six months later, paramedics were called to the home because Jackson had fallen into a coma, reports the Los Angeles Times. By the time emergency responders arrived, he was not breathing.
About one year after the singer's untimely death, the home was back on the market for a reduced $28.995 million, according to Perez Hilton. It was reduced again the following year in February of 2011 to $23.5 million.
PHOTO GALLERY
michael jackson home
REAL LIFE. REAL NEWS. REAL VOICES.
Help us tell more of the stories that matter from voices that too often remain unheard.