Michael Jackson had 3D scans made of his body in what may have been a plan to build a virtual reality double of himself, the Daily Star reports.
The 3D scan data of the "King Of Pop" was taken in 1997, when the star was 37 years-old, and was put on sale for over $1 million by an anonymous seller.
According to the Daily Star, the seller noted,
The thing about this data is it immortalised him at the age of 37, before his nose was disfigured and when he was in the prime of life.
The Daily Star reports that the imaging could be uses for a 'reincarnation' of Jacko, such as a "robot twin":
Now scientists say following his death on June 25, the eerie images could be used to bring him back in music videos, computer games and even movies.
3D scan data of Michael Jackson was posted for sale on eBay, although this was not confirmed to be the same data referenced in the Daily Star article.
The seller auctioning the item -- titled "Michael Jackson 3D Scan Data From 1996" and selling for $1.5 million -- included pictures of the scans, as well as this description:
The original 3D scan data of Michael Jackson. This scan data was collected when he was 37 years old in 1996 and Michael was in the prime of his career. It also includes the color map from this scan in either CPV or UV maps.

This data was collected using the same equipment that creates the data used to create video games and or CGI avatars to make him speak, laugh, sing or dance. To make him dance just add a body double avatar. It can also be used for the most accurate collectable memorabilia which can be manipulated to any expression or pose.
The seller also noted that "the sale of this scan data is subject to the purchaser agreeing to clear the proper rights with the MJ Estate before it is publicly used in a promotional or commercial manner."
The eBay item included these pictures with the listing, as well as a link to a video that is reportedly an animation made from the scans: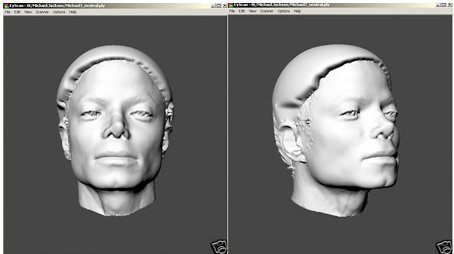 A fan from mjjboard.com found this eaby auction [sic] and took image number one and made a very nice animation of MJ singing just using the 2D image.
WATCH:
This isn't Jacko's first brush with creating robotic twins of himself. The Register reported in 2007 that the pop icon was "considering the construction of a 50 foot robot replica of himself."
Related
Popular in the Community