Recently, I looked around the house and could not find my three-year-old son, Noah. I searched his favorite hiding places, and asked my older son if he had seen his younger brother. Still, Noah was missing in action. I don't get overly anxious or nervous when I can't find one of the boys. Within a few minutes of calling their name, they usually appear wearing interesting costumes and/or carrying strange objects. So, I continued to call for Noah, and was relieved and not one bit surprised when I found him fully decked out in his Michael Jackson gear. He was in the garage trying to reach a cardboard box. He enthusiastically explained that he needed the box; it was going to be his stage, and could I reach it for him?

Now, to many of you, it might be funny, strange or even worrisome to find your son dressed head-to-toe in Michel Jackson clothes. But, around my house, we have gotten extremely used to seeing Noah embody the King of Pop. At least once a day, Noah will choose his Michael Jackson wardrobe (wig, glove, sparkly socks and all), and blast "Beat It "or "Billy Jean" throughout the entire house.
Noah first became interested in, then fascinated by, and ultimately, obsessed with Michael Jackson. My husband says it's his fault, explaining that "Around the time of Jackson's death, I would take Noah to Best Buy to play all of the instruments. As we were checking out one day, they were selling Jackson's greatest hits right next to the register. I bought one and played it in the car. Almost immediately, he started dancing (as much as a six-month-old could dance). So after that, every time we got in the car, I put on Michael Jackson. He still asks for 'Billie Jeans' when we get in the car."
My very fair-skinned, freckle-faced, redheaded child loves to watch and imitate Michael Jackson. Noah's charisma and impressive moves often cause quite a stir. People generally stop what they are doing, watch him and sometimes even ask if I have posted his imitation of Michael Jackson to YouTube yet. Not only do we now have a lifesize poster of Michael Jackson, but we also have his every wardrobe change, accessory and CD. (Trust me, I have spent many hours and more than a couple of dollars searching on Amazon for Jackson paraphernalia.)
Noah knows exactly what Michael Jackson wore for each song he performed. For example, a fitted black satin jacket I found at a costume store was met with great disdain and disappointment. Noah explained that the jacket MJ wore to perform "Billie Jean" needed to be sequined, and the sleeves need to be slightly rolled up. I was shocked that my three-year-old had paid such close attention to the pop star's look. Noah has just put me (again) on the prowl for a varsity jacket similar to the one he wore in his landmark 1983 "Thriller" music video. Noah loves to dance and sing along to Jackson's songs, but if he doesn't have the exact outfit, prop, and wig, we can expect a long delay (and tantrum) before he is able to perform. Noah clearly understands that Jackson's performances were just as much about his unique style and fashion sense, as they were about his lyrics and moves.

Friends on Facebook love to comment on the pictures I post of Noah dressed up as Jackson. When Noah transforms himself into his idol -- wig and all -- he has no problem grabbing his crotch and singing "Beat It" in front of anyone and everyone. He obviously looks nothing like Michael, and yet, he gets into character and performs hilarious and (quite accurate) renditions of Michael Jackson's greatest hits. My son's confidence shines, and his dance routines demonstrate coordinated (and rather impressive) dance moves. Whether it is the red and black jacket with the signature winged shoulders that the King of Pop wore during the iconic "Thriller" music video, or the exact way Jackson popped his shoulders or smirked for the camera.
After he plays his part, and takes off his costumes (sunglasses and microphone too), Noah goes back to being my sweet, gentle son. My oldest son, Dylan, does not share Noah's enthusiasm for Michael Jackson. Dylan can walk right past Noah's elaborate rendition of "Thriller," without a second glance. Every now and then, much to my chagrin, Dylan decides that he wants to tell Noah where Michael Jackson is, and why he will "never, ever" get to see him perform live. I try to preserve Noah's innocence, and ask Dylan to not shed light on Michael's whereabouts just yet.

So, while I never gave Michael Jackson, his wardrobe, or his moves much thought, I am glad Noah has taken such an interest. I grew up with Michel Jackson's stardom and stories, but I definitely took the pop phenomenon for granted. Noah was only six months old at the time that Michael passed away, and yet, he has revived the man, the music and the magnificence of Michael Jackson (well, for our family at least). So, today, just as Michael would be turning 54 years old, I hope he can look down upon Noah and smile. He should be proud to know that even in his absence, his music, fashion and incredible dance moves are resurrected and celebrated daily by my very fair-skinned, freckled-faced, redheaded child.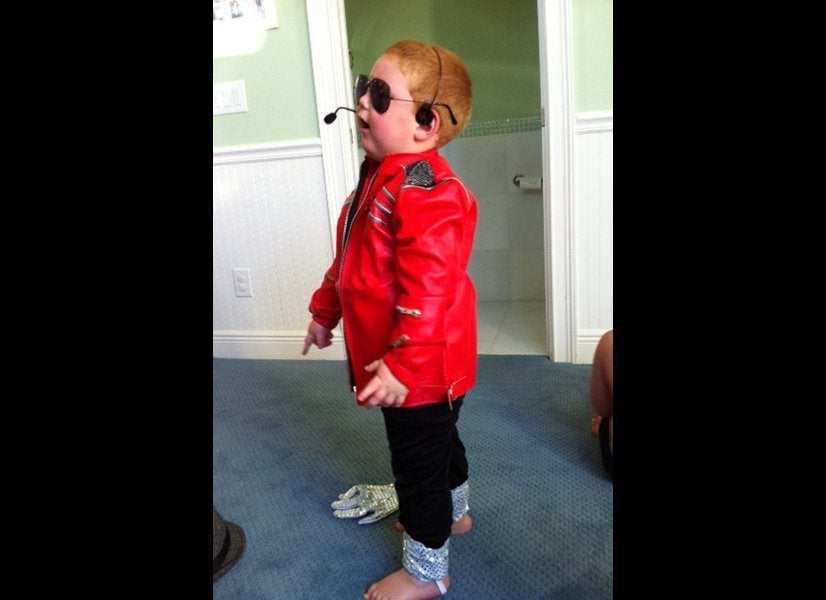 My Son Is Obsessed With Michael Jackson