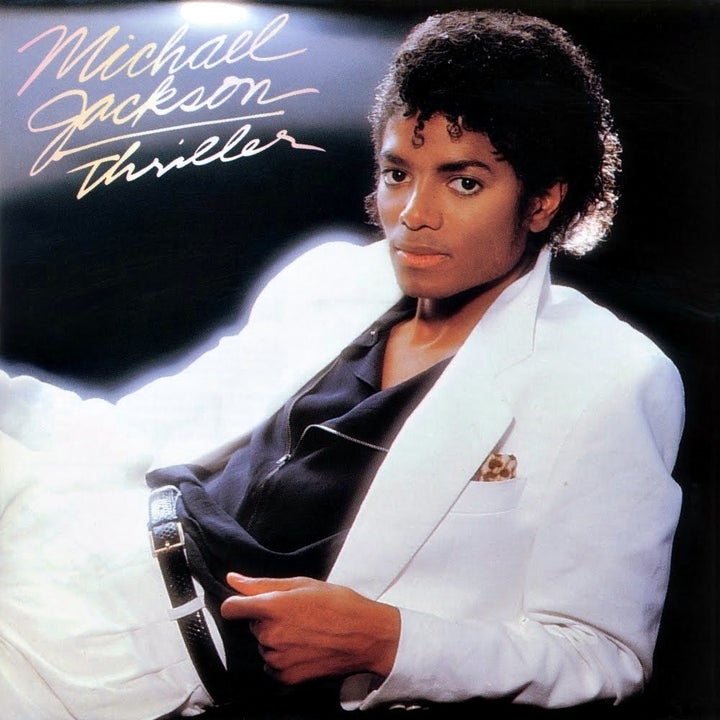 Thriller turned 30 a few days ago.
Michael Jackson's birthday was on August 29th.
My birthday is on August 30th.
The first album I ever owned was Bad. On compact disc. It came in one of those long cardboard cases that early CDs used to come packaged in. I vaguely remember, after having played that CD over and over and over again, my mom explaining to me that this musical god had produced another album that I wasn't even aware of. So I went out and got myself a copy of Thriller.
I'm sitting in a conference room at The Huffington Post right now, listening to Thriller. It made sense to me to listen to the album while writing about the album. "Wanna Be Startin' Somethin'" is the opening track on the album. THE album. The greatest selling album in the history of recorded music. It belongs to everybody. But the experience I'm having, and have had thousands of times before this, belongs to me.
"Wanna Be Startin' Somethin'" is my favorite track on Thriller. Now it is, but not always. I go through different favorite songs on Thriller as time goes by. One year it might be "P.Y.T. (Pretty Young Thing)." One year the title track. Right now it's "Wanna Be Startin' Somethin'." The euphoria of this piece of music. The mania. The frantic percussion. The guitar at 3:25 is from another universe. I am getting a special feeling of love, joy and excitement in my heart just hearing this. The synthetic keyboards and the blaring horns. Michael's passionate vocals. What a mind-blowing opening song. This album may have come out in 1982, but as far as I'm concerned, when the needle first dropped on Thriller, the 80s began. Something got started, alright.
"Mama-say mama-sah ma-ma-coo-sah."
I used to watch the "Making Michael Jackson's Thriller" VHS tape obsessively. It's the legendary John Landis-directed music video plus a making-of documentary. The video terrified me, and I loved it. During the documentary, there's Michael, on the Motown 25 special, dancing to "Billie Jean." It's the first time he performed the moonwalk on stage. An absolutely incredible performance. I can't think of a better example of the essence and genius of Michael Jackson than this performance. Please watch it if you haven't already, and if you have seen it, you might as well watch it again. Witness pure art and hypnotic entertainment.
As a kid, I mimicked his "Billie Jean" performance, by myself, in front of the television (minus the key move, the moonwalk. I never did get that part). It wasn't mimicking exactly. Really just an extraordinarily rough approximation of the moves of an artist who was so in touch with his music and his soul that the dancing was effortless and mesmerizing.
My parents didn't know where I had learned this dance when they watched me perform it in the 3rd grade Countryside Elementary School Talent Show. They'd never seen me do it. Then I performed it on Good Company, a local daytime TV show. They were having a karaoke contest, so my mom entered my name into the competition, knowing I'd relish the opportunity. I auditioned, and then a few days later, we got the phone call to let us know that I'd be on the show.
I sang the song as best as I could, and I danced with as much stagecraft as I could muster. This all happened at the Mall of America. Under the Camp Snoopy roller coaster. One of the judges was blind, so my dancing fell flat with 1/3 of the panel. I lost the contest. But that song. It's still with me. It's always going to be with me. A 4th-grade white kid from suburban Minnesota dancing to a song written by perhaps the most famous black entertainer in American history. A song about false paternity claims. I had no idea. What difference did it make? That kick drum. That bass line. It activates something in your soul. It's funky, it's menacing, it's even a little painful. And it's from Michael's heart. From his heart and soul to my ears. From his heart and soul to the world's ears.
I've owned Thriller on cassette tape, on compact disc (multiple copies), and on vinyl. Now I'm listening to it on Spotify.
This album is what religious people would call a "blessing." I'm not a religious man, but if there is a God, Michael's music was a gift from that Entity.
This album is beyond compare. It's not pop music. It's Michael's music. This album doesn't pander, it brings joy. Pure and simple.
I'm not going to stop listening to Thriller. Or Bad. Or Off The Wall. They're part of who I am.
Ultimately, we're all connected in this gigantic mysterious universe. Nowadays I have trouble remembering that. I feel disconnected. There's so much media stimulation. There are too many choices available on demand. It's too easy. But do yourself a favor after reading this. Hit play on "Wanna Be Startin' Somethin'." Listen to it uninterrupted, from start to finish, and focus just on the music. Forget the chart-busting statistics. Forget the impact this album had on the music business. Forget everything you associate with this album. Just listen. And feel connected to the millions that came before you. Feel the music. Feel the joy. Feel the rhythm.
Let this musical document free you.
Rest In Peace, Michael Joseph Jackson. Thank you for your music.
P.S.
I'm sorry this post is a few days late (the album's 30th anniversary was on November 30, 2012), but better late than never. And it's worth noting some of the other geniuses who were instrumental in making this album what it was. Notably producer Quincy Jones and recording engineer/mixer Bruce Swedien. There are countless others who contributed to this masterpiece, so please forgive me for neglecting to include all of their names.
Calling all HuffPost superfans!
Sign up for membership to become a founding member and help shape HuffPost's next chapter