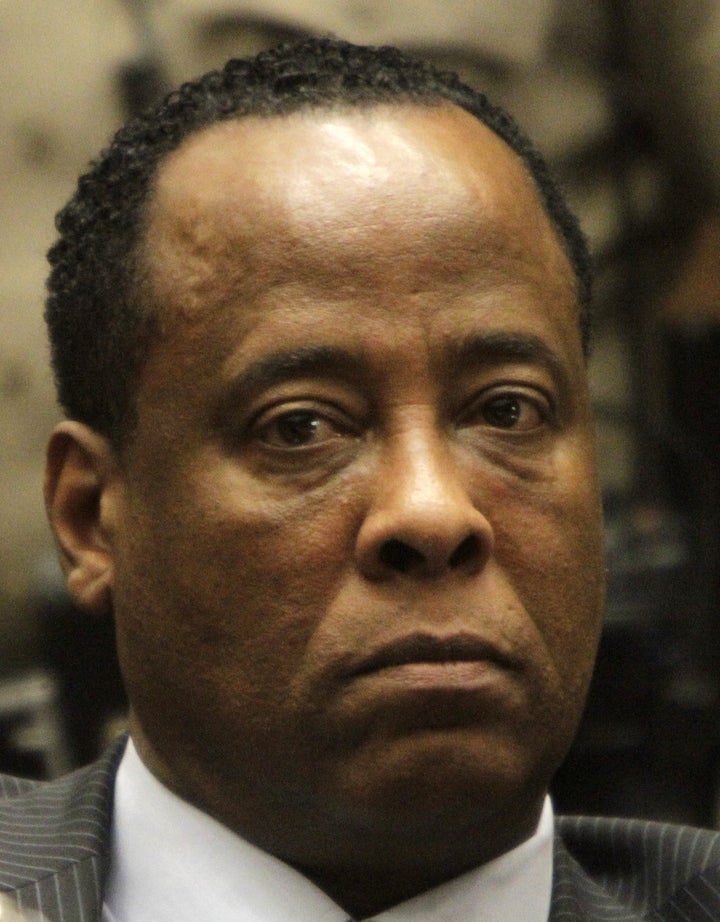 Day 1:
Dr. Conrad Murray vs. The State of California (Michael Jackson)
Over the past 15 years there have been numerous high-profile, celebrity trials. What makes this trial different from the other trials is that the celebrity is dead. Michael Jackson, quite arguably the greatest entertainer of all time, is not sitting in the courtroom accused of causing the death of another like O.J. Simpson, Robert Blake, Jayson Williams or Phil Spector -- he is the dead party in a high-profile, celebrity trial.
Tuesday, September 27, 2011, was the first day of the State of California vs. Dr. Conrad Murray trial (more aptly known as the Michael Jackson trial). The prosecution began by showing a sad, yet powerful photo of Michael Jackson, dead. Their belief is that Dr. Conrad Murray was grossly negligent, and consequently caused the death of Michael Jackson. Their opening statement was fragmented into three parts: Michael Jackson, Dr. Conrad Murray and Propofol. The prosecution's theory is that Dr. Murray gave Michael Jackson a deadly mixture Propofol combined with other drugs that caused a fatal overdose. The prosecution's most dramatic tactic was audio of Michael Jackson's slurred voice on which he could be heard in a "high" state. On this recording, taken from Dr. Murray's iPhone, Michael Jackson told Dr. Murray that he wanted to give his fans the greatest show they had ever seen. His weak voice declared that he wanted to build a hospital for one million children called the Michael Jackson Hospital for Children. My very intelligent friend, Sherri Sneed, sent me a Facebook message, "Powerful opening statement from prosecution. Wow. Glad I'm not on the jury. Guilty!" I agree, the opening statement was powerful and I equally agree -- it's a good thing that she is not on the jury.
Next up, the defense's opening statement. They told of their theory that Michael Jackson killed himself by consuming drugs when Dr. Murray left the room. The defense believes that Michael swallowed eight, 2 mg pills of lorazepam and injected himself with a dose of propofol that created a "perfect storm" that killed him. The defense contends that Dr. Murray was trying to wean Michael off of propofol and ultimately help him sleep with other sleep aids. The defense will put Michael's financial circumstances, his alleged drug addiction and desperation for a successful tour in the forefront of this trial. The defense's evidence will attempt to show that Dr. Murray was a skilled physician who helped many patients and wanted to cure Michael of his drug dependency. The defense has thrown plausible theories on the wall; we will all have to wait to see what sticks.

On stage, Michael Jackson had the power to evoke emotions of euphoric joy and unexplainable tears from his adoring fans. He was able to garner profound respect from his peers, and with his spellbinding performances over his 45 year career, captivate the entire world. To Michael's fans, he was not a superstar, he was in a galaxy all to himself. For that reason, from across the globe, fans descended on the Clara Shortridge Foltz Criminal Justice Center on West Temple Street in downtown Los Angeles to show their love and support for Michael Jackson.
Dr. Murray, the defendant in this trial, had a handful of supporters holding signs declaring his innocence. Dr. Murray's mother attended the trial and I can only imagine how the pride in her son's accomplishments is now overshadowed by a fear for his immediate future. Upon seeing Dr. Murray close-up, I was surprised at how tall (approximately 6-foot-4) and handsome Dr. Murray is. I've seen him in numerous pictures and on television, yet, seeing him in person -- well, he is an impressive looking individual. His suit hung on his broad shoulders like a hanger, his hair was immaculately coiffed, and his skin was smooth, without blemish. Despite Dr. Murray's red eyes and sullen demeanor, he had a quiet air of confidence that exuded as he towered his team of lawyers and court appointed security personnel. I believe that Dr. Murray will get stronger, not weaker, as the trial goes on.
Michael Jackson's family arrived as expected, to sit in seats, not envied by anyone. Mrs. Jackson, the matriarch of the family wore a lovely blue and white polka dot thigh length jacket and a long blue skirt. She was gracious and accepting to fans' well wishes. She was dignified and clearly the leader of the Jackson dynasty. As the entire family walked in and out of the courtroom, surrounded by four security officers, Mrs. Jackson was in the center of what felt like a funeral procession. Latoya walked in the front, with her head high, smiling with the supporters that lined the hallway. Her very small frame held a smart, perfectly tailored black suit, ruffled white blouse and white pocket square, reminiscent of Marlene Dietrich. She wore sunglasses indoors to hide eyes that filled with tears during the prosecution's opening statement showing Michael Jackson's dead body on a grey, cold gurney. Rebbie, in a pretty and simple peach suit, walked closely with Mrs. Jackson. You could feel that Mrs. Jackson and Rebbie have a very special relationship. Janet Jackson, the baby of the family, was visibly distraught. She wore sunglasses, and her sorrowful spirit led her body as she walked in the rear of the somber human convoy. Janet had a mystical presence about her and unlike the other family members, her head was down and her shoulders sunken. She was flawlessly elegant in a short sleeve, scooped neck black dress. Her 5 inch Christian Louboutin heels with a gold zipper up the back almost made me forget my very serious job there. She finished her "by the way, I'm fabulous" outfit with a black Hermes bag, casually unclasped. The Jackson men, Joe, Tito, Jermaine and Randy all dressed in dark suits, filled the other four of the eight seats reserved for the Jackson Family.
The small courtroom for this enormous trial could not hold everyone who desired to attend. Approximately 50 people, fans of Michael Jackson and supporters of Dr. Conrad Murray, arrived at the courthouse as early as 6 a.m. in hopes of being one of the six people selected for lottery seats held for the public. The remaining seats would be for the media and families of Michael Jackson and Dr. Conrad Murray. Goward Horton, a 30-year-old early education aid, and his mother, have come to numerous preliminary hearings and attended Michael's child molestation trial in 2005. They watched many days of that trial, but they were not one of the lucky ones today. Goward, who impersonates Michael Jackson as a part-time gig, met Michael when he was 12 years old and has been a fan for life. He desperately wanted to show me how much he adored Michael by singing and dancing for me -- right where we stood, on the 9th floor outside of courtroom 107.

During the one hour lunch break, I took the time to meet "the people," many of whom took a day, or week off from work to attend this trial. People came from all over the world! I sat with Cansu Balli, a beautiful 20-something young lady from Berlin, Germany. Cansu, a professional hairstylist, arrived in the United States 10 days ago, and will depart in three, "all for the Michael Jackson trial" she stated in a heavy accent. Although her German friends think she is crazy for traveling so far for a trial, she felt that she had no choice but to come. Cansu has been a fan since she was four years old and her favorite song is "Liberian Girl." Outside of the courtroom, she watched the trial on her traveling companion's laptop. Next to her were about ten 20-something American girls watching the trial on their smartphones. I was taken aback a bit. Just eight years ago, when I sat on the family row of a high-profile trial, no one sitting in the lobby could watch Court TV's coverage on their computers and/or phones. Today, everyone was immersed in the trial, almost mesmerized -- Michael Jackson was doing it to all of us again!

On The Streets
Outside on the street, there were signs and posters and pictures of Michael Jackson. Many fans held yellow sunflowers, which I learned was Michael's favorite flower, as a symbol of unity. There was a makeshift shrine erected over the wall of the courthouse. Everyone was civil yet passionate. Dr. Murray had a handful of supporters who believed in his innocence. What surprised me most on day one of the trial, was the repeated opinion from devout Michael Jackson's fans that he was killed for money. I heard over and over again, different theories on Dr. Murray's actual understanding of the "master plan to kill" Michael Jackson. But what many people inside and outside of the courthouse, fans of Michaels' and supporters of Dr. Murray's continue to say is that Michael Jackson was killed because he was worth more dead than alive. "People wanted the Beatles catalog," declared Brian Ciram, a 25-year-old, private banker from San Francisco.

I spoke with too many supporters to highlight them all in this article. However, a few special people stood out. Ms. Briston Clayton, a very stylish African-American young lady in her 30s who came to support Michael Jackson, but showed me so much love when I arrived. After we took a picture, she handed me her card and her book Sex & Celebrities -- The Truth, The Whole Truth and The Naked Truth. I was left speechless but intrigued to know more about her via her website. I then ran into a young lady from The Moore TV on Youtube who represents a boys group that performs Jackson 5 songs and routines. She showed me their pictures and told me of their showcases. She desperately wants to get them involved with the tribute concert. I have no connections to make this happen but I promised her that I would mention her in my blog. There was networking happening on every level. Business cards and phone numbers were exchanged as if it was a L.A. job fair. I thought it was great to see -- strangers becoming friends, if only for the moment.
There are celebrity trials and reality TV and then there are real trials involving real people not airing on TV. To the family who was waiting on a verdict for their nephew, uncle, brother and father of 4 boys; charged with murder, God bless you. For the family, whose son, brother and fiancé fell from his wheelchair as he tried to wheel his paralyzed body from the witness stand after testifying against the individual who caused his paralysis with a bullet and car crash. I pray that justice is done.
This Is It! Michael Jackson has the world's attention once again. Only this time, there will not be an encore!
Calling all HuffPost superfans!
Sign up for membership to become a founding member and help shape HuffPost's next chapter