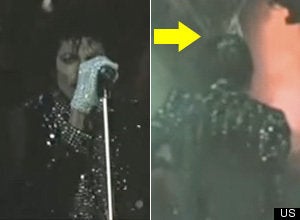 Us has obtained video of the 1984 Pepsi commercial shoot with Michael Jackson that had a tragic pyrotechnic accident, resulting in Jackson's head catching on fire.
The burns and hair loss associated with the accident have been cited as the beginning of Jackson's painkiller addiction.
The video below shows two takes - in the first the explosion goes off as planned, after Jackson is out of the way. In the sixth the explosion goes off too early, while Jackson is standing right there.
Jackson's head is engulfed in flames, which he at first does not realize as he continues performing. Handlers then rush out to put out the flames.
Popular in the Community