The mysterious contents of Michael Jackson's art collection became the subject of purported disputes after his death. Rumors floated about that several individuals, including Cirque du Soleil's Guy Laliberté, were interested in purchasing the estimated $900 million collection. But Jackson's art does not consist of Picassos or Rodins, but rather the pop icon's own creations, which were meant to be exhibited 18 years ago, only to be hidden from the public eye after pedophilia allegations marred the pop star's image.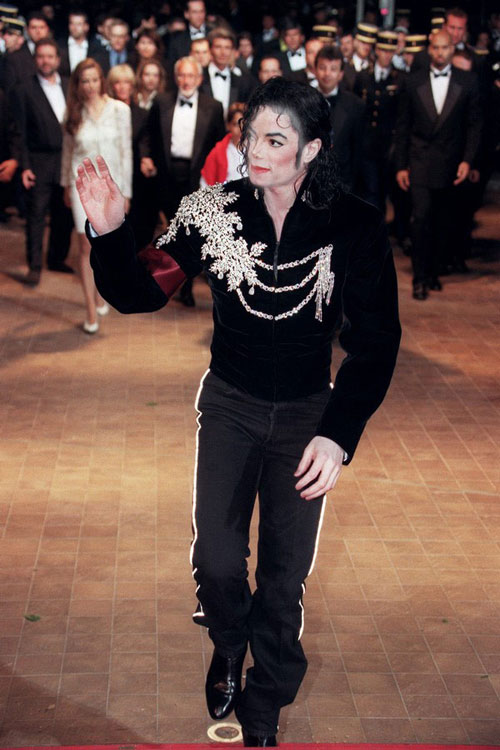 Michael Jackson's mysterious art collection contains original works of art by the pop icon himself.
/ AFP/Getty Images
At the invitation of Jackson's art mentor Brett-Livingstone Strong, who owns the collection in conjunction with the Jackson estate, L.A. Weekly visited the top-secret location, a Santa Monica Airport hangar that held Jackson's art, doubling as the studio where he made his work.
What the alt-weekly discovered was a proposed interactive monument of Jackson that the pop star -- who was completely self-taught -- thought was perfect for Las Vegas: a huge interactive structure featuring a giant bronze sculpture of himself, where couples could get married. Strong, an Australian builder who specializes in such structures, co-designed the monument-cum-chapel with Jackson.
"He wanted his fans to be able to get married at a monument that would have all of his music [in an archive, and playing on speakers], to inspire some of his fans," Strong explained to L.A. Weekly. Jackson had intended for fans who bought his sketches to get a card that could be used to hear personal messages when visiting the monument.
Jackson had also left behind numerous wax pencil sketches displaying several consistent themes: "chairs (usually quite baroque), gates, keys, and the number 7," L.A. Weekly reoprted. Jackson even did a portrait of his beloved pet monkey Bubbles's face melded into a chair. "He loved chairs," Strong told L.A. Weekly. "He thought chairs were the thrones of most men, women and children, where they made their decisions for their daily activity. He was inspired by chairs. Rather than just do a portrait of the monkey, he put it in the chair. And you see, there are a few sevens -- because he's the seventh child."
Jackson also favored human subjects: He created several self-portraits and images of George Washington and Paul McCartney.
Some of the wax pencils Jackson used for his drawings still remain in the hangar, stored in plastic bags. Strong also showed the paper a white feathered quill and white glove the singer used while drawing. "He did do a lot of watercolors, but he gave them away," Strong told L.A. Weekly. "He was a little intimidated by mixing colors."
Jackson used art as an outlet amidst his child sex abuse controversies. "His interest in art, in drawing it, was just another level of his creativity that went on over a long period of time," Strong said. "It was quite private to him. I think he retreated into it when he was being attacked by those accusations against him."
Strong and Jackson had planned a fundraising campaign with the art to benefit Walt Disney's Big Brothers of Los Angeles (now Big Brothers Big Sisters), but Disney canceled the project after the scandal broke out.
Strong, in conjunction with the Jackson Estate, will reveal more of Jackson's work in the future, and an exhibition at L.A.'s City Hall is in the works. Strong mentioned negotiations with museums for a posthumous retrospective featuring the pop star, and perhaps even building a museum dedicated to his work.
Popular in the Community