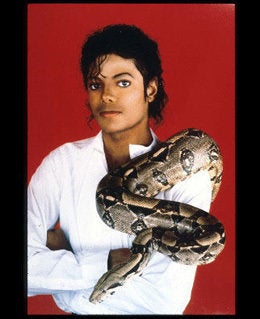 Media frenzy. Pop icon Michael Jackson left us the same way he came to us.

But as rumors and conjecture about his financial situation, the welfare of his children and his past eccentricities swirl around the media universe, here's hoping the media follows the lead of his legion of fans. Let's shine a proper light on Jackson's unparalleled musical legacy.

Jackson flashed onto the scene in late 1969 when he and older siblings Jackie, Tito, Jermaine and Marlon, billed as the Jackson 5, claimed their first No. 1 R&B and pop hit with the debut single "I Want You Back." Eyes were glued to television sets across America when the group appeared that December on Ed Sullivan's Sunday night variety show, especially in the African-American community, where seeing fellow black people on television was still a rare, exciting novelty and heartwarming accomplishment.

From that point forward, all eyes focused on the 11-year-old diminutive dynamo who stole the spotlight from his brothers with his expressive tenor/falsetto, electric dancing and natural charisma. Even at that young age, Jackson possessed that elusive "it" factor. Who else could sing a song about a rat, "Ben" (Jackson's own 1972 No. 1 R&B/No. 5 pop hit), and turn it into a compelling ballad?

A child of television's burgeoning global impact, Jackson embraced the tenets of that exposure and teamed it with other lessons gleaned from sitting backstage at Harlem's famed Apollo Theater, watching legends like James Brown and Smokey Robinson do their thing. All of which set the stage for the intuitive singer's next explosion centered at the crossroads between the video and CD revolutions.

Catapulting Jackson into the eye of the maelstrom was his explosively creative pairing with another multi-faceted industry legend, Quincy Jones. It was Jackson's own "control" moment; the chance for him to formally step out of the Jackson 5/Jacksons shadow and define who he was becoming as an artist. The first result of that epic pairing was 1979's "Off the Wall."

Fans would always savor the bubblegum and later dance-edged pop of the Jacksons. But "Off the Wall" found Jackson sonically bridging the rock and soul realms in a pulsing concoction of beats, rhythms and memorable hooks/lyrics.

The Jackson/Jones partnership reached its zenith on the singer's 1982 mega-selling "Thriller." And it brought together the total package: a cutting-edge melding of pop, rock and soul; a memorable pairing of old and new school (Jackson's duet with Beatle Paul McCartney on the No. 1 "The Girl Is Mine") and, most important, expanded the boundaries of the video art form. Jackson single-handedly demonstrated how videos could be used to tell a cohesive short story, tied together by strong melodies and visually rich lyrics. "Thriller," "Beat It" and "Billie Jean" (which jump-started Jackson to new heights with his moonwalk performance of the song on the TV special "Motown 25") paved the way for such eye-arresting videos for subsequent hits as "Smooth Criminal," "Man in the Mirror," "Black or White" and "Remember the Time."

Yes, Jackson's next several albums never approached the sales stratosphere of "Thriller." But there's still no denying his enduring legacy. His influence and consummate showmanship are reflected in such contemporary artists as Kanye West, Usher, Justin Timberlake and Chris Brown. And who else musically in this day and economic climate could have sold out 50 concerts as fast as Jackson did‹without a current hit single to lean on?

Jackson embodies what every music artist hopes to attain: outside-the-box creativity, longevity and global impact. Unfortunately, there will never be another like him.
For full ongoing coverage of Michael Jackson's life and legacy, including his full chart retrospective, visit Billboard.com.
Popular in the Community