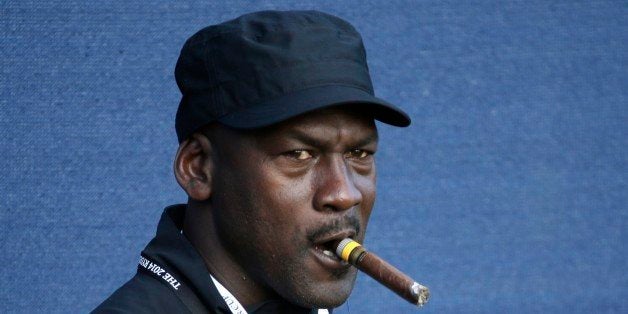 It may be hard to believe, but it's true: The man who is quite literally the Michael Jordan of basketball has only now even earned the title of billionaire and is still tens of billions of dollars away from even getting close to making the global financial playoffs. In fact, there are 1,740 people standing in his way of his "richest person in the world" title -- which begs the obvious question: Michael Jordan is only the 1,741st richest person in the world?!
To add insult to injury, 289 people not named Michael Jordan earned the exact same "new billionaire" distinction just this year. This sort of pedestrian play is obviously not what we have come to expect from the greatest to ever lace them up. But with Jordan, 52, past his financial prime and entering the twilight years of his business career, it appears he may have never come close to earning the title we can only imagine he so desperately covets: world champion of money-making.
The Jordan camp is already dismissing the rankings, referring to them as nothing more than "financial guesstimates" in a tersely worded statement provided to ESPN.com, which is just so perfectly Jordan-esque, is it not?
Really, it's not hard to imagine the ultra-competitive Jordan scrolling through the Forbes rankings at this very second and jotting down the names of the NBA owners ranked above him underneath the phrase "ENEMIES LIST," which we assume would be scribbled in blood. (Jordan owns nearly all of the sort-of-good Charlotte Hornets.)
No word from Jordan's financial team about if they will tank during the upcoming financial season in order to earn a higher draft pick in next year's draft.
Calling all HuffPost superfans!
Sign up for membership to become a founding member and help shape HuffPost's next chapter