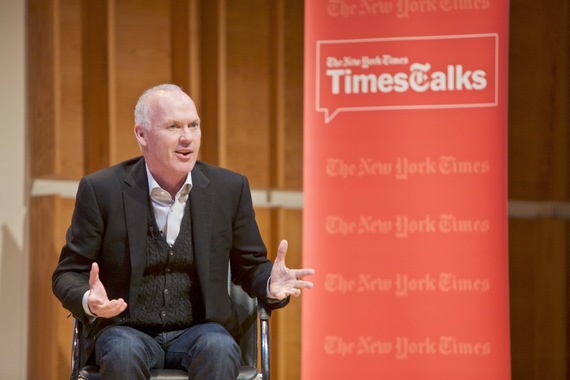 Michael Keaton hates talking about himself. This is why he's never been able to understand politicians. "They talk about themselves for years, move the truth around for years, only to win an election and do it for more and more years," he says to the New York Times culture reporter Cara Buckley at a recent TimesTalk. "It takes a really interesting type of person to do that."
Which is why he doesn't really entertain the idea that he is in any way his character Riggan Thomson in Birdman, a Hollywood actor struggling to make a comeback after starring in a blockbuster superhero trilogy. It's not about him or his story at all, according to Keaton. "All the characters are versions of [Birdman director Alejandro González Iñárritu]," he says. Birdman is not a proxy for Batman. "If that was your reading of it, it'd be pretty superficial," Keaton says.
For starters, Riggan is what Keaton describes as "mean and narcissistic," two qualities Keaton, a humble, salt-of-the-earth type, does not possess. "I wouldn't want to hang with him a lot," Keaton says of Riggan.
More than anything, Keaton relates to Riggan as a human being, not a Hollywood actor. Keaton hasn't "taken the pill," as he told NPR Riggan has, believing that he is as wonderful as the press says he is, the attention of an audience his lifeblood. But he understands where Riggan's coming from.
"People always make these generalized statements about Hollywood, and there's all kinds of people in Hollywood," he tells me backstage in the green room minutes before he takes the stage. "It's all larger than us. It's a giant machine. People are human, they believe certain things, and they want to believe certain things, and then they want things so badly, and that leads to desperation."
But Keaton isn't desperate. He isn't hungry for a "comeback" because, as he sees it, he hasn't gone anywhere. "I've done a lot of things that are stupid and I'm horrible in them, but I keep moving toward art," he says to an audience member during the TimesTalk. "Generally, I move in the direction of art."
Birdman is obviously a work of art, and more than that, it's a comedy, a fact that Keaton, who started his career as a standup comedian in Pittsburgh, couldn't be happier about.
"I'm so glad that people are paying attention to something that's a comedy, because comedy doesn't get its due," he says. "People when they talk or write about comedy, they don't really get it. When you look at this accomplishment of Alejandro and the cast, it's really extraordinary. I love that it's technically a comedy. I'm very proud of that."
While Keaton may not be Birdman, he's confirmed on many occasions that he is most definitely Batman.
During the Q&A after the TimesTalk, a fan approached the microphone and told Keaton he was addressing the question to "Michael, not Bruce Wayne," to which Keaton responded with a grin, "How do you know?"
Calling all HuffPost superfans!
Sign up for membership to become a founding member and help shape HuffPost's next chapter