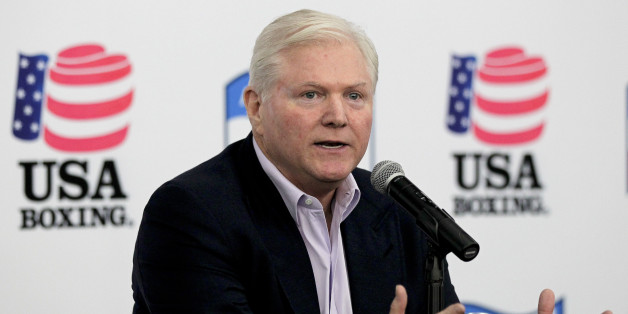 A who's who of Hollywood, music and politics gathered last night at the Skirball Cultural Center in Los Angeles to celebrate the life of Michael King, the much-beloved syndication king behind wildly successful shows like Wheel of Fortune, Jeopardy, The Oprah Winfrey Show, Roseanne and Dr. Phil. King passed away suddenly March 27 at age 67 from complications of pneumonia.
Former President Bill Clinton, Oprah Winfrey, Norman Lear, Elton John, Whoopi Goldberg and Sugar Ray Leonard, among others, remembered King as an "intellectual" but "street-smart" businessman, an outsized personality, a generous philanthropist and exceptionally kind and devoted friend, brother, husband, father and uncle. Kenny G, Michael Bolton and David Foster performed at the invitation-only event, held by King's wife, Jena and children Ali, Audrey, Teddy and Jesse.
As Clinton remarked later in the program, referencing a poem by William Wordsworth, King's "last best hope of his great good life were the unforgettable acts of kindness, love and laughter. We are all here because we basked in his embrace."
White floral arrangements and candles in tall glass votives set an elegant and peaceful scene as bagpipes welcomed 400-plus guests, including Bobby Kennedy Jr., Sylvester Stallone and Jennifer Flavin, Don Henley and Joe Walsh from The Eagles, Netflix's Ted Sarandos, producer Lawrence Bender and actors Tommy Chong, Paul Reiser and Lorraine Bracco.
A bagpipe rendition of "Amazing Grace" marked the start of the service, after which Monsignor Lloyd Torgerson from St. Monica's Church in Santa Monica, California, led those gathered in prayer.
King's children then came on stage, the oldest three giving emotional, at times tearful, speeches about their love for their dad -- and his love for them. Eldest daughter and singer Ali said King was "the funniest person I know." Son Teddy, a student at the University of Southern California, called his father his "best friend." Teenage daughter Audrey welcomed guests and spoke on behalf of her mother, who was seated in the audience, then read two searing poems she wrote herself, leaving many attendees in tears.
In one, titled "Poem For My Mom," she wrote:
A love so intangible, is that much
More alluring-
That much more passionate.
When you feel the cold wind
Just know it is him kissing your neck,
Teasing your senses,
Reminding you
He loves you.
Teddy introduced the former president with an anecdote of a trip he took with his dad and Clinton to South Africa, where the trio had gone to do charity work and visit Nelson Mandela. A known jokester, King impersonated Clinton, who had fallen asleep in the jeep. The account elicited laughs from the audience.
"Teddy, thanks for that wonderful story, I would far rather be impersonated by your father than anyone I can think of," Clinton began, to laughter. "I will say this: We have this vast King clan here, and we had the bagpipers playing, and I thought, 'It is so Michael King, ending with a flourish, an invasion of the Skirball Center by the Irish Catholics.'"
Clinton continued on a serious note in light of the Charleston shooting on June 18.
"Everywhere in the world is bedeviled by people who are the opposite of Michael King. People who think all that matters is our differences," Clinton said. "We have more refugees than any time since World War II. It was a terrible, terrible thing that happened in South Carolina yesterday. Michael King is the polar opposite of all that."
Robert, King's brother and partner in King World Productions, followed the former president's remarks, saying his younger brother "would not want us to mourn his death; he'd want us to celebrate." Older brother Richie offered a few, heartbroken words about the loss of a national treasure, his business partner and his best friend of 67 years. "That's all I can say," he said, choking back tears.
Kenny G performed, dedicating his song, "Innocence," to the family. And tributes, tears and laughter continued.
Collaborator and producer Jeff Wald joked, "I was worried about going on after President Clinton -- then I realized I couldn't do worse than George Bush."
Producer Norman Lear panned, "There are people all over this town who would die to put a crowd like this together." Confessing that he had thought King was Jewish throughout their 30-year friendship until just before the memorial service, Lear said, "Jewish. Irish. It doesn't matter. Michael was the definition of the word 'mensch.'"
The speeches were interspersed by video tributes from those unable to attend, including Elton John, Whoopi Goldberg and Sugar Ray Leonard. In hers, Oprah Winfrey offered her condolences and shared photos and memories of King. "Here was a man who really knew how to live. He didn't just live big -- he lived huge," she said.
Major philanthropists to many causes, King and his wife donated to friend, lawyer and speaker Robert Shapiro's foundation to combat drug addiction, and to Ted Danson and Mary Steenburgen's Oceana foundation, the largest ocean-conservation charity in the world.
"I really felt Michael got to experience the joy of what it means to be human," Danson said. "He got to love and be loved."
The event concluded with musical performances by Michael Bolton and producer David Foster, who sent the crowd off on a buoyant note: "Let's do this right. Everybody get up, scream, shout, and stomp your feet so wherever he is, he can hear us right now."
REAL LIFE. REAL NEWS. REAL VOICES.
Help us tell more of the stories that matter from voices that too often remain unheard.