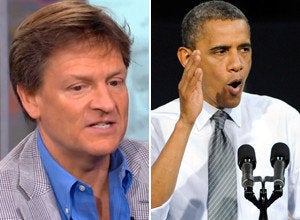 By Chris Rovzar, Vanity Fair; photographs by Hannah Thomson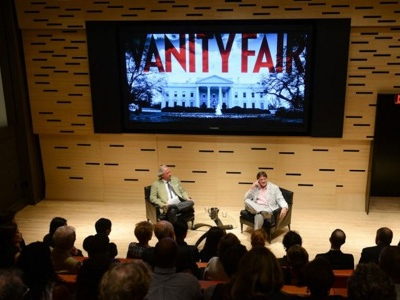 Graydon Carter and Michael Lewis.
"This went down very oddly," Michael Lewis told a crowd at Lincoln Center Film Society on Tuesday night, explaining the genesis of his epic Vanity Fair profile on President Barack Obama. The access he was granted for the piece, which appears in the October issue of the magazine, was long-term and unprecedented. The author of Moneyball and The Big Short spent from January to June tailing, interviewing, and even playing basketball with POTUS. The project started when Lewis had some time between books, and asked himself: "What would I like to do?" Before long, he realized he'd like to "spend time hanging out with Obama and see what being president is like." No small order.
In a talk moderated by Vanity Fair editor Graydon Carter, Lewis explained that he called up White House press secretary Jay Carney and made his proposal, which he knew was a long shot. Carney eventually called him back and said, "We'd really like to do this."
"Who's we?" Lewis asked, startled.
"He'd really like to do this," Carney replied, indicating Obama.
"How does everybody else feel about it?" Lewis pressed.
"Nobody else wants to do it."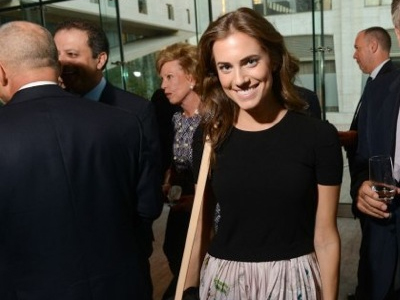 Allison Williams at the event.
And so began months of interactions with Obama and his team, during which Lewis saw how the president leads by surveying his trusted advisers but also pursuing his own convictions with confidence and aggression (a no-compromise approach Lewis also saw reflected on the basketball court). "I would essentially spend a great deal of time loitering near him," Lewis told the crowd on Tuesday night. "When he had 35 to 40 minutes, he would sit down and talk to me... Air Force One is one of those places in his life where sometimes he has time and no one knows he has time. One time he came and woke me up -- I was sleeping in the back of the plane, and there he was, shaking me!"
Simple chitchat wasn't enough to get meaningful insight into the president's life, Lewis quickly learned, so he began playing "games" with the president. He'd ask Obama to give him advice on how to be president. Or he'd ask him to imagine having a day off and share what he'd do with it. (Come up to New York with his daughters and make fun of pictures at the Museum of Modern Art.) Then Lewis went to the basketball court to see how Obama played a real game--alongside former college players who pulled no punches. Lewis details this encounter closely in his Vanity Fair piece.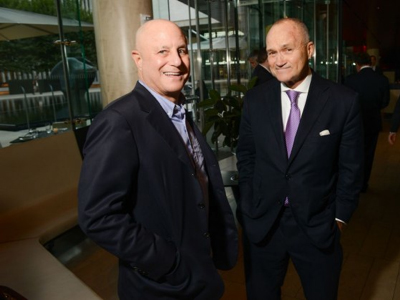 Ron Perelman and Ray Kelly at the event.
"It was a game that looked roughly like an N.C.A.A. tournament game," Lewis told Carter, emphasizing that Obama did not attempt to take a star role among such stronger players. He wants his teammates and opponents to play as hard as they want to -- not to take it easy on the president. Still, Lewis said, Obama had skills. "It shows you how much of a fuckup he must've been" back in high school to have not distinguished himself notably on the court, he noted. "There's no way he wouldn't have started on a high-school basketball team -- he's that good."
"You see in other aspects of his life, including being president, he plays a very long game," Lewis explained. "He gets himself into the right place ... He's almost sniper-like." Obama's team tends to win these amateur matches, apparently "because his team takes fewer shots because they're afraid of being yelled at by the president."
The game, Lewis said, represents an overarching yearning in the president's life. "He clearly longs for that normalcy, being one of the guys," he explained. "One of the recurring emotions around Obama, which he clearly feels, is this lust for normalcy."
To read about what else the president does to keep his life normal, including visits to the one place in the White House where he and Michelle feel like they can escape the attention and cares of the world, read Michael Lewis's article "Obama's Way," in the October issue of Vanity Fair.
Related
Popular in the Community