Porn magnate and lesbian, gay, bisexual and transgender rights activist Michael Lucas is dead set on showing the world just how terrible it is to be gay in his native country.
"I want to bring attention to what is happening in Russia and I want the conversation to last longer than the span of the [Sochi] Olympics," the Moscow-born Lucas, CEO and founder of New York's largest gay adult film company, Lucas Entertainment, told The Huffington Post via email this week. "There was a lot of attention prior to the games, and that attention must continue. The world has seen bits and pieces, but we don't have the full picture of what the LGBT community in Russia is like, and what it is going through."
Last week he released a powerful trailer for the upcoming film, "Campaign of Hate: Russia and Gay Propaganda." In it, several members of the country's LGBT community are seen speaking out about their experiences in Vladimir Putin's Russia.
"Yes, I was beaten," says one man, staring into the camera. "It's very difficult to accept yourself for who you are." (Watch the trailer in the video above.)
Lucas, an award-winning porn director who released his first documentary film (about the LGBT community in Israel) in 2012, says it's been his longtime "dream" to create a film about gay rights in Russia.
"Ever since my years as a confused gay child in the former Soviet Union, it has been my dream to show the world what it is like to belong to the LGBT community in my former homeland," he said in his email. "And the recent anti-gay legislation and activity there have made this a more urgent project than ever."
Lucas, who renounced his Russian citizenship several years ago, says he's glad that he got to film his documentary before the anti-gay laws were enacted. "I think it would be nearly impossible for me to make this film now," he said.
Still, that doesn't mean that the filming process was without its own challenges.
"I was … dealing with blatant, old-fashioned homophobia," Lucas told the HuffPost. "It was hard to keep my cool while interviewing random people in the streets of Moscow, including Russian women who told me that gays adopted children in order to sexually molest them."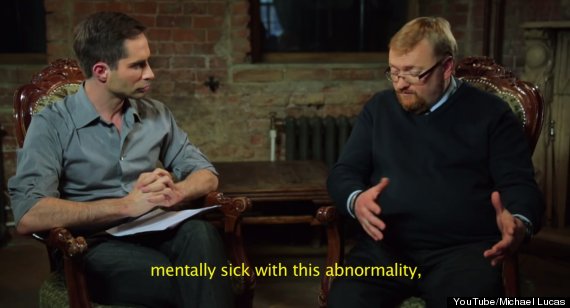 Michael Lucas chatting with Russian politician Vitaly Milonov in "Campaign of Hate: Russia and Gay Propaganda."
Lucas added that interviewing Russian politician Vitaly Milonov, a member of the legislative assembly of Saint Petersburg who is seen in the trailer calling homosexuality an "abnormality," was particularly challenging.
"It wasn't easy to get [Milonov] to sit down with me for an interview. I had to lie that I was an independent journalist from American TV; he was not about to give an interview to a gay man working on a film like mine," Lucas said. "It was also a real challenge for me not to leap up and strangle him during our conversation. I am not someone who keeps quiet easily, and he was spewing such vile, homophobic lies that my hands were shaking."
According to Lucas, the film will likely be released in April. He says he's planning on sending it out to film festivals and to do some publicity for the documentary, but he insists he will not wait for too long before releasing it.
"The most important thing to me is that as many people as possible have a chance to see it soon," he said. "I don't need the awards."
Before You Go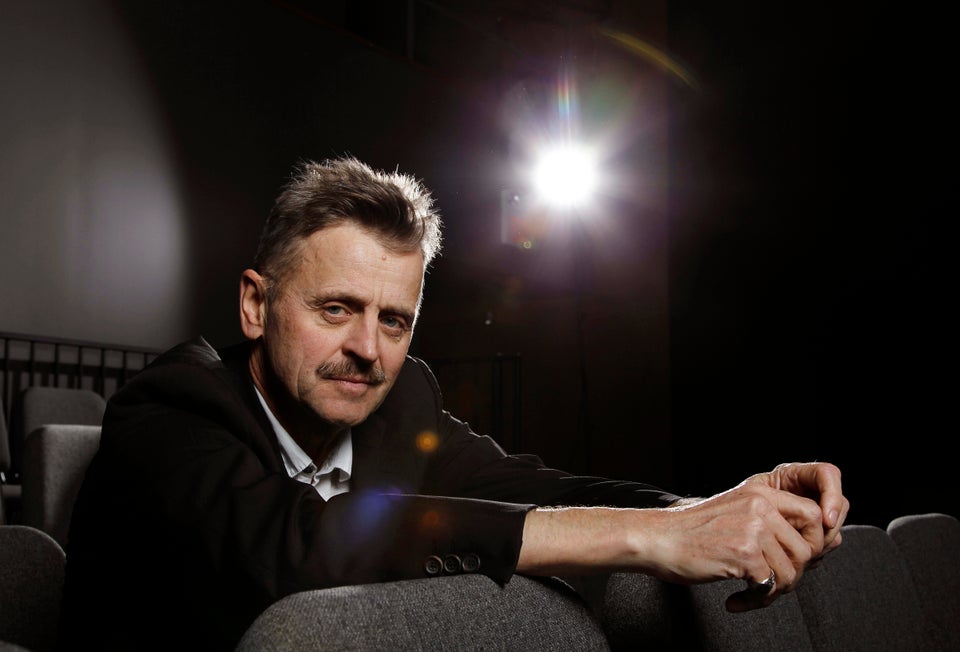 Stars Sound Off On Russia's Anti-Gay Law
Popular in the Community