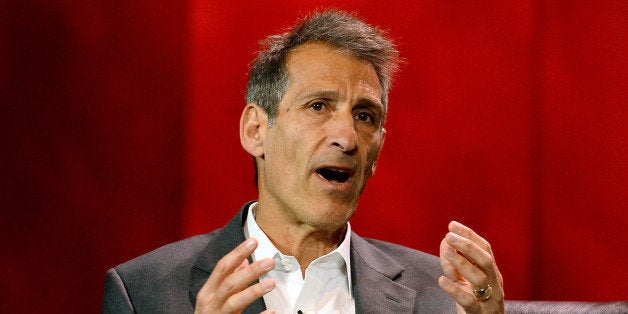 "I think actually the unfortunate part is in this instance the president, the press and the public are mistaken as to what actually happened," Lynton said in an interview with CNN's Fareed Zakaria. "We do not own movie theaters. We cannot determine whether or not a movie will be played in movie theaters. So, to sort of rehearse for a moment the sequence of events, we experienced the worst cyber-attack in American history and persevered for three and a half weeks under enormous stress and enormous difficulty. All with the effort of trying to keep our business up and running and get the movie out to the public."
"The movie theaters came to us one by one over the course of a very short period of time -- we were very surprised by it -- and announced that they would not carry the movie," Lynton told CNN. "At that point in time we had no alternative to not proceed with a theatrical release on the 25th of December. [...] We have not caved. We have not given in. We have persevered. And we have not backed down."
Lynton noted the requests for a video-on-demand release of "The Interview," but he said no major VOD distributors have stepped forward. "We don't have that direct interface with the American public, so we need to go through an intermediary to do that," he said.
Lynton's full interview airs tonight on "Anderson Cooper 360."
Sony Pictures also released a statement about "The Interview" in conjunction with Lynton's interview:
Sony Pictures Entertainment is and always has been strongly committed to the First Amendment. For more than three weeks, despite brutal intrusions into our company and our employees' personal lives, we maintained our focus on one goal: getting the film The Interview released. Free expression should never be suppressed by threats and extortion.

The decision not to move forward with the December 25 theatrical release of The Interview was made as a result of the majority of the nation's theater owners choosing not to screen the film. This was their decision.

Let us be clear –- the only decision that we have made with respect to release of the film was not to release it on Christmas Day in theaters, after the theater owners declined to show it. Without theaters, we could not release it in the theaters on Christmas Day. We had no choice.

After that decision, we immediately began actively surveying alternatives to enable us to release the movie on a different platform. It is still our hope that anyone who wants to see this movie will get the opportunity to do so.
Calling all HuffPost superfans!
Sign up for membership to become a founding member and help shape HuffPost's next chapter
BEFORE YOU GO
PHOTO GALLERY
"The Interview" Premiere