When we last checked the finances of the biggest Illinois political committees two months ago, Gov. Bruce Rauner and the Republicans he supports appeared poised to enjoy a huge fundraising advantage over their Democratic counterparts in 2016 Illinois General Assembly races.
Rauner's own candidate committee, Citizens for Rauner, had $19.6 million on hand and Turnaround Illinois, an independent expenditure committee he controls and which is dedicated to helping Republican candidates, had $2.6 million.
Among the Top 10 biggest political committees statewide, they held the No. 1 and No. 4 positions, respectively. Democratic Majority, a fund controlled by House Speaker Michael J. Madigan, made the list at No. 10 with $1.5 million while Senate President John Cullerton's Senate Democratic Victory Fund was No. 7 with $1.7 million.
These figures are important because Illinois campaign finance law, while limiting amounts that individuals can donate in each election, allows candidates and political parties wide latitude in sharing their wealth among each other.
Rauner's donation of $10 million to his own campaign fund on New Year's Eve 2014 was a signal of his commitment to follow his own election victory with help for Republicans seeking seats in the Democrat-controlled Legislature.
As 2015 came to a close, though, Madigan made a fundraising surge that, while not coming close to Rauner's $19.6 million, showed that the financial race leading up to November had just begun.
In December, four political committees chaired by Madigan -- Democratic Majority, Democratic Party of Illinois, Friends of Michael J. Madigan and 13th Ward Democratic Org -- raised $3.4 million. Together, their funds now total $9.1 million.
Madigan does not have the vast personal fortune that Rauner has accessed freely to bolster his fund (Rauner put $38 million of his own money into his election campaign), but his control of four political committees allows him to seek multiple contributions from the same donors in the March primary and November general elections.
Rauner's most frequent targets in his Turnaround Agenda -- unions and trial lawyers -- have been especially active in supporting Madigan's committees. The Chicago Tribune reported that "(m)ore than 68 percent of the political money that moved to Madigan in 2015 came from organized labor, trial lawyers and law firms."
As those donors mobilized, they helped Madigan gain fundraising momentum in the final month of 2015. Here's a look: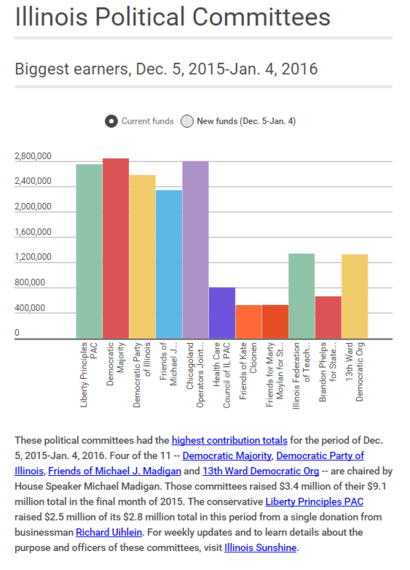 REAL LIFE. REAL NEWS. REAL VOICES.
Help us tell more of the stories that matter from voices that too often remain unheard.