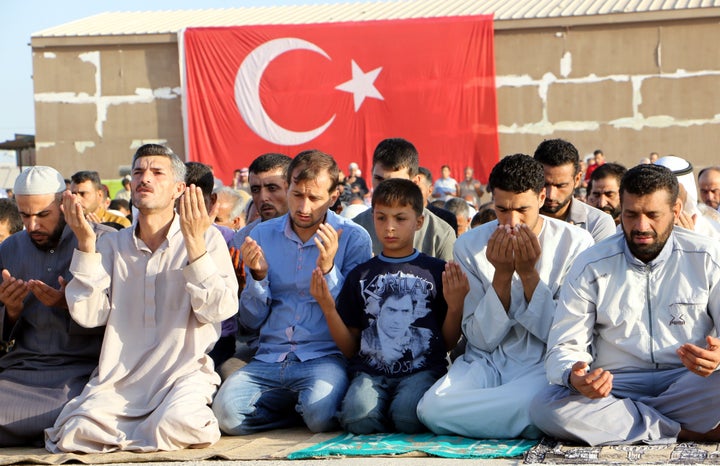 WASHINGTON -- Christian groups that work with refugees are strongly opposed to a proposal that would in effect put Iraqi and Syrian Christians ahead of Muslims for resettlement in the U.S., even if they are also victims of persecution.
Ten House Republicans have signed on to a bill introduced this month by House Homeland Security Chairman Michael McCaul (R-Texas) that, among other things, instructs the government to prioritize religious minorities from Syria and Iraq for refugee status. The Obama administration plans to admit 10,000 Syrian refugees in the 2016 fiscal year, which begins on Thursday.
As western countries determine how many people to take in from the Middle East amid an ongoing Syrian refugee crisis, the religious provision in McCaul's proposal points to a key point of tension: the fact that most Syrians are Muslim.
This has been specifically highlighted by some leaders, such as Hungarian Prime Minister Viktor Orban, who said admitting more refugees could take away Europe's Christian identity.
U.S. politicians who oppose accepting more Syrian refugees have been less explicitly focused on religion, but contend that it would harm national security because some of those accepted could be potential terrorists. In announcing the legislation, the congressman did not mention any religion specifically, but instead focused on the "threat posed by inadequate security screening procedures for refugees seeking entry into the United States," including members of the Islamic State.
Even though McCaul's bill doesn't mention any faiths by name, its aim to prioritize resettling religious minorities from Syria and Iraq would have the effect of excluding Muslims.
"We're worried that this is part of a trend of anti-Muslim bigotry infecting the world response to this humanitarian crisis, and it's a crisis that's affecting Syrians of all religious and ethnic backgrounds," Catherine Orsborn, director of an interfaith coalition campaign called Shoulder to Shoulder, said. "And we've heard particularly inflammatory and fear-mongering language that's directed explicitly at Muslim Syrian refugees."
Refugee resettlement already includes people persecuted for their religion. But it includes many others as well -- those who have a "well-founded fear of being persecuted for reasons of race, religion, nationality, membership of a particular social group or political opinion," according to the 1951 Refugee Convention.
None of the critics of McCaul's bill oppose allowing persecuted religious minorities to resettle. But they say it would be unjust to prioritize those individuals, rather than relying on a long-established practice meant to help the most vulnerable, some of whom are not religious minorities.
"Syrian Christians should continue to be resettled in the United States. But they are no more deserving of life, safety and resettlement than our sisters and brothers who practice Islam and other faiths," Rev. Ron Degges, president of the Christian group Disciples Home Missions, said at a Monday press conference.
Rep. Zoe Lofgren (D-Calif.), who has called for the U.S. to take in 100,000 Syrians and 100,000 other refugees in addition, said the entire bill "is poorly thought out" and would cause the entire refugee admittance system to shut down. She said she didn't want to assume what a colleague might be thinking, but that the general implication that Christians should get priority was troubling.
"Some have suggested that only Christians should be allowed in the country as refugees," Lofgren said. "That is un-American and it's contradicted by our over 200 years of history. I would hope we would not go there."
David Miliband, president and CEO of the International Rescue Committee, said it was "very, very important" that refugee status be based on need and a non-discriminatory process.
"Obviously, if there are persecuted minorities of any kind, then they should be recognized in the refugee resettlement system, but equally, there's a nondiscrimination principle built into the heart of the system as well," he said before testifying before the Senate Foreign Relations Committee on Tuesday.
A spokesman for McCaul did not respond to The Huffington Post's request for comment on opposition to the bill.
GOP presidential candidate Donald Trump claimed in July that Christian Syrians "cannot come into this country," while Muslims "can come in so easily." Although the number of Christian refugees who have been admitted to the U.S. as refugees is far smaller than the number of Muslim Syrians resettled, that largely aligns with the country's demographics: Muslims account for 87 percent of the population and just 10 percent are Christian, according to the CIA World Factbook. In Iraq, 99 percent of the population is Muslim and only 0.8 percent of the population is Christian, and the refugees who resettle in the U.S. are mostly, but not exclusively, Muslim.
Other provisions of McCaul's bill could keep even Christian refugees out, according to critics. It requires the House and Senate to give affirmative approval before refugees are allowed into the U.S. and allows Congress to block the president's resettlement proposals. The bill would also require "new security assurances," according to a press release, and ask the Government Accountability Office to review security gaps in the screening process, which already takes 18 to 24 months.
"Protecting Christians would be a laudable goal, but if you look at the rest of the bill, that doesn't seem to be what the intent of this legislation is completely," said Melanie Nezer, vice president for policy and advocacy, at HIAS, a Jewish nonprofit that protects refugees. "In part yes, but if you take the bill as a whole it looks like it's going to actually keep any refugees from arriving, so that doesn't help Christian refugees, or anybody."
Popular in the Community