WASHINGTON ― A day before a scheduled vote on the House GOP's health care bill, Rep. Michael McCaul (R-Texas), who chairs the House Committee on Homeland Security, is saying he is undecided on the proposal ― a sign of just how deep opposition in the conference runs.
A spokesman for McCaul's office on Wednesday confirmed to The Huffington Post that McCaul is undecided on the bill.
A committee chairman voting against his party's legislative agenda, particularly on a bill of this stature, indicates how toxic even the most loyal members find this legislation. Right-wing voters are castigating the measure as "Obamacare 2.0" or "Obamacare-Lite," and conservatives in Congress have all the cover they need to oppose the legislation, despite the aggressive lobbying by President Donald Trump.
McCaul's move to "undecided" helps clarify the politics. There should be no doubt that the conservative position on the bill is to oppose it, regardless of what Trump says. If McCaul were to target Sen. Ted Cruz (R-Texas) in a Republican Senate primary, it would be difficult to get to his right if McCaul had supported a bill the conservative media is slamming as a betrayal.
Throughout his presidential campaign, Trump received enthusiastic support from Breitbart News and the Drudge Report, two media outlets that help shape opinion on the right. Both have criticized the bill by House Speaker Paul Ryan (R-Wis.), which is scheduled for a vote Thursday ― though it may be pulled if support is too anemic.
Just a day before the vote, for instance, Breitbart is playing its coverage of the titanic showdown far down on its home page, and there the headlines are negative. Unusually for Breitbart, they even have a story up that leans positively toward none other than House Minority Leader Nancy Pelosi (D-Calif).
"I assumed Breitbart would come along. But they and Drudge remain opposed. Hard to get there with the conservative media not there," said one GOP operative who had expected greater success on the health care legislation.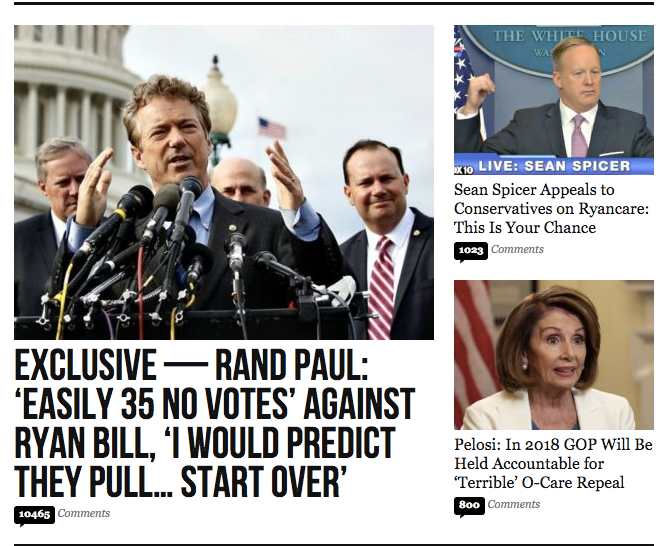 The Drudge Report on Wednesday also featured links to critical coverage of the bill.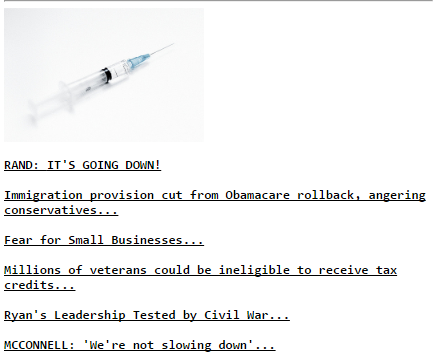 Republicans can only afford to lose 21 votes in the House, and as of midday Wednesday, at least 28 House Republicans were extremely likely to oppose the bill. Those 28 have the support of not just the conservative media, but also outside conservative groups like the Kochs, the Club for Growth and Heritage, all of which have opposed Trump and Ryan's effort.
Below is a list of where people stand as of now, based on public statements and HuffPost's reporting.
This list has been updated as of 12:00 p.m. Wednesday.
Members extremely likely to be against (28): Justin Amash (R-Mich.), Rod Blum (R-Iowa), Dave Brat (R-Va.), Mo Brooks (R-Ala.), Ken Buck (R-Colo.), Ted Budd (R-N.C.), Warren Davidson (R-Ohio), Ron DeSantis (R-Fla.), Scott DesJarlais (R-Tenn.), Jeff Duncan (R-S.C.), Tom Garrett (R-Va.), Louie Gohmert (R-Texas), Paul Gosar (R-Ariz.), Andy Harris (R-Md.), Jody Hice (R-Ga.), Mike Johnson (R-La.), Walter Jones (R-N.C.), Jim Jordan (R-Ohio), Steve King (R-Iowa), Raul Labrador (R-Idaho), Leonard Lance (R-N.J.), Thomas Massie (R-Ky.), Mark Meadows (R-N.C.), Scott Perry (R-Pa.), Bill Posey (R-Fla.), Mark Sanford (R-S.C.), Randy Weber (R-Texas), Ted Yoho (R-Fla.).
Members leaning against (14): Mark Amodei (R-Nev.), Lou Barletta (R-Pa.), Andy Biggs (R-Ariz.), Rick Crawford (R-Ark.), Charlie Dent (R-Pa.), Dan Donovan (R-N.Y.), Brian Fitzpatrick (R-Pa.), Trent Franks (R-Ariz.), John Katko (R-N.Y.), Alex Mooney (R-W.Va.), Ileana Ros-Lehtinen (R-Fla.), Glenn Thompson (R-Pa.), Daniel Webster (R-Fla.), Rob Wittman (R-Va.).
Undecided members (6): Brian Babin (R-Texas), Joe Barton (R-Texas), Jim Bridenstine (R-Okla.), Ryan Costello (R-Pa.), Michael McCaul (R-Texas), Steve Pearce (R-N.M.).
REAL LIFE. REAL NEWS. REAL VOICES.
Help us tell more of the stories that matter from voices that too often remain unheard.