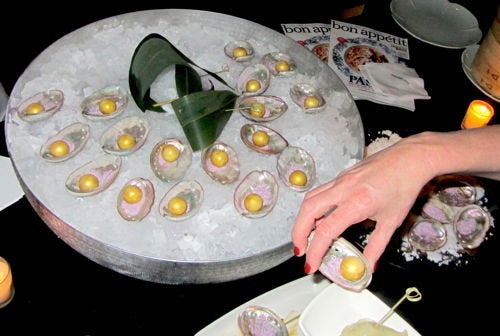 Dining in Las Vegas used to be about wolfing down all the pancakes and mashed potatoes you could eat amidst bright lights, clown art and sticky linoleum before heading back out to the slot machines. These days, it's about dizzying luxury, unbelievably exotic ingredients (dragonfruit! wild boar!), globe-spanning diversity, eye-popping artisanry and sky-high standards (sometimes with prices to match). You can still find lime Jell-O on the Strip, but you're more likely to see scenes like this: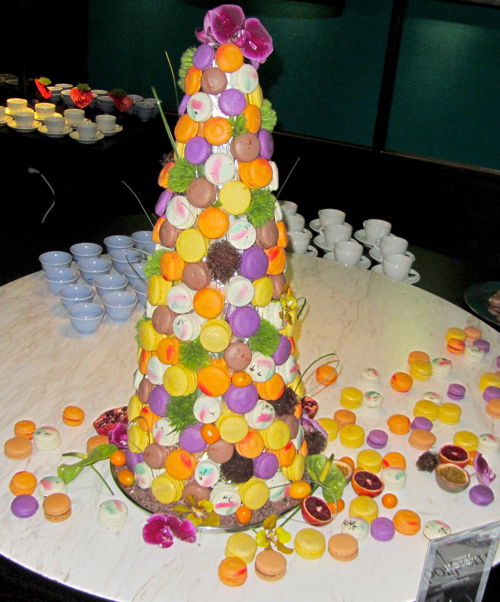 I interviewed celebrity chef Michael Mina last week about cooking and dining in Las Vegas, where he has a Michelin-starred restaurant in the Bellagio casino-hotel.
"I believe what makes cooking in Las Vegas different from cooking in most other cities are the guests that dine with you in Las Vegas," Mina told me. "Our guests in Las Vegas love to try new things and they tend to be more adventurous eaters. It gives me -- and other chefs in Las Vegas -- the opportunity to expand our menus, try new recipes and offer dishes that we may not otherwise include on our menus in other cities. It's a super-fun city to cook for."
We connected when Mina visited San Francisco's uproariously edgy new Hakkasan restaurant for a party previewing Vegas Uncork'd, the annual star-studded food-and-drink extravaganza cofounded by Bon Appetit magazine and the LV Convention and Tourist Authority; this year's VU is set for May 9-12 with dozens of events at top resorts involving celebrity chefs and restaurateurs including Mina, Gordon Ramsay, Alain Ducasse, Joel Robuchon, Julián Serrano, Mary Sue Milliken, Rick Moonen, Charlie Palmer, Ho Chee Boon, Francois Payard and more. Some of these attended the Hakkasan party, which was meant to showcase the resplendent -- and fluorescent -- new horizons in Las Vegas food and drink.
The preceding photographs (depicting chocolate-covered parfait balls, a tower of French macarons and a chef slicing Peking duck) were taken at that party, as was this one of the bustling, pork-belly-and-Amaro-downing crowd: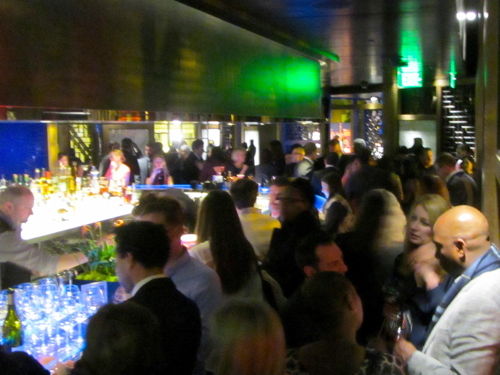 "Guests love to be 'wowed' in Las Vegas," Mina continued. "They enjoy and embrace new tastes, new flavors and they come to expect the unexpected in Las Vegas. It keeps us on our toes and always creating new and exciting dishes for our Las Vegas guests."
At the party, Mina paired his GoGo Yubari whiskey cocktails with Japanese wagyu beef. Hell's Kitchen winner and Gordon Ramsay Steak head chef Christina Wilson served that restaurant's popular sticky toffee pudding. Milliken unveiled her spicy Tamarind Chinchón Margarita. Palmer served juicy, domestically sourced oysters with green apple-cucumber dressing. Serrano's red sangria was paired with Peking duck (as seen above) and Tsar Nicoulai "Reserve" Caviar. Hakkasan's Chef Ho Chee Boon -- who has also helmed the original Michelin-starred Hakkasan in London -- prepared dim sum, such as these charmers watched over by a wasabi Buddha: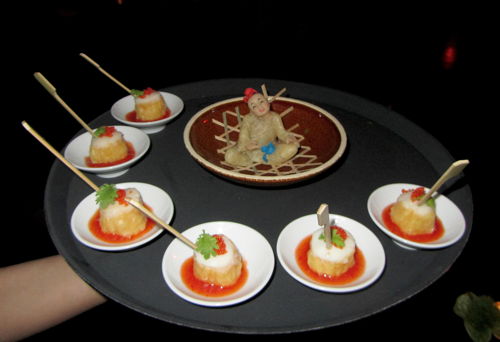 Meanwhile, the guys from Verve Coffee Roasters brewed sweet hot jasmine-flavored cocktails made with espresso, pear foam and ganache: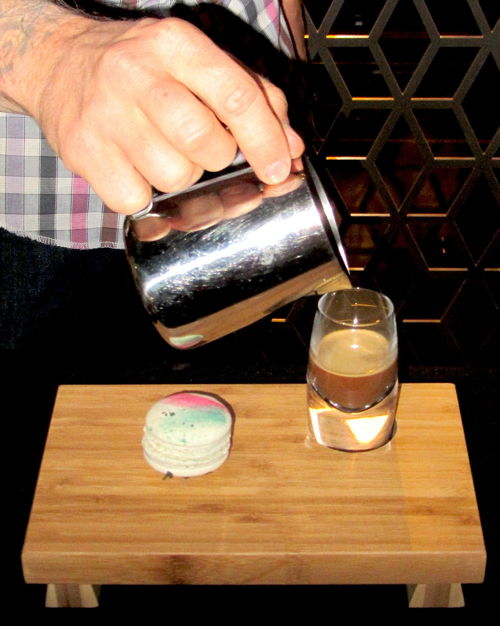 Top Chef Las Vegas judge Rick Moonen, whose rm seafood restaurant in the Strip's Mandalay Bay hotel-casino is a sustainable-seafood mecca, also offered me his insights on current Las Vegas cuisine.
"Las Vegas gets more national culinary press than most areas of the country because we have a such a high concentration of celebrated chefs and hospitality innovators. You can't stagnate in Las Vegas," Moonen told me. "Cooking in Las Vegas needs to be current and reinvented constantly."
And why? Because that desert oasis attracts not just penny-poker-playing pancake-wolfers but opinionated eaters from all over the world: the kind of people who might savor a Smoking Negroni -- made at Hakkasan that night with gin, vermouth, Campari and Grand Marnier Smoke Infusion, as you can see here: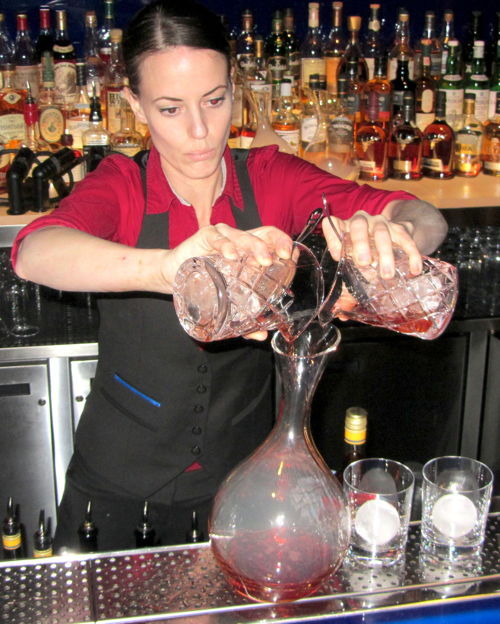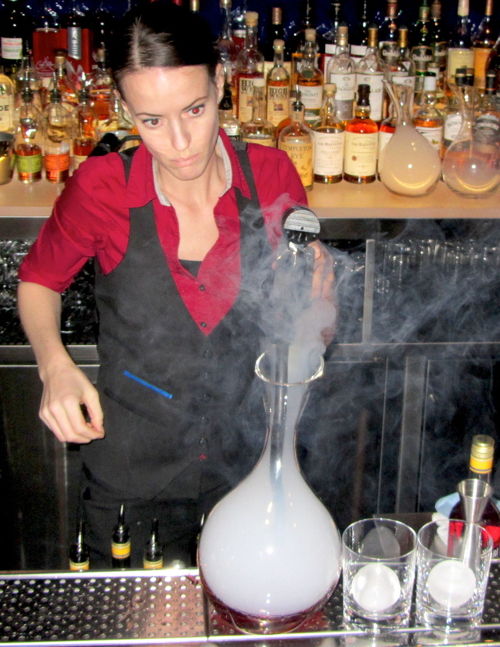 "Diners in Las Vegas are more sophisticated now than they were in the past," Moonen mused. "They are looking for innovation in delicious homey comfort food, not just luxury ingredients.

"Fine dining is becoming a thing of the past, except for the Michelin three-star restaurants. Dining is redefining itself in more creative and entertaining venues. ...
"Decadent cheap buffets to attract gamblers are becoming extinct. Buffets really have evolved; the food products are better and design is important too. The industry is making great strides in becoming more sustainable in the products it cooks and serves and, as a result, the general public has become more educated in the products they consume."
All photographs by Kristan Lawson, used with permission.