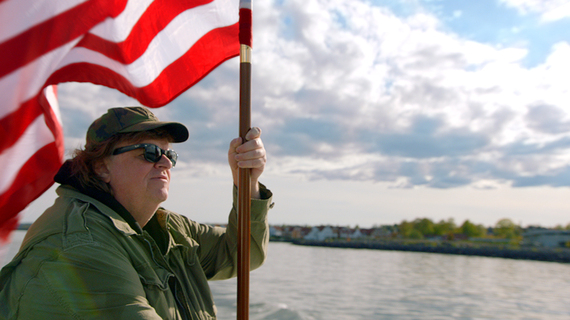 Coinciding with the upcoming release of his latest film in seven years, Where To Invade Next, Academy Award winner Michael Moore has announced the creation of the "Hammer & Chisel Awards" to honor "individuals who have, in their own unique and courageous way, made America a better place for all. The Hammer & Chisel recipients "symbolize the many unknown, unsung Americans who are currently working to undo injustice, expose the truth and make life better for the working class and working poor in our country," according to Moore.
The very first Hammer & Chisel Award was presented on, Tuesday, December 8th, on Capitol Hill by Michael Moore to D.C. resident Bertrand Olotara. Olotara is an immigrant from the Congo, a single father of five, with two college degrees and over $89,000 of student debt from a private University. Olotara works on Capitol Hill as a US Senate cook but still struggles to feed his family on his US Senate wage of $12 an hour. He is also forced to work a second job at Whole Foods.
Olotara bravely penned an op-ed in the Guardian in April of 2015 to bring national attention to this issue and later joined his fellow Capitol Hill workers in a strike demanding fair wages and the right to unionize. As a representative of the bravery in speaking up and standing out, The Hammer & Chisel Award presentation came on the heels of the sixth organized strike of Senate Cafeteria workers, attended by Olotara and organized by Good Jobs Nation. As the first recipient of the award, Olotara will pen the first op-ed in a blog series with the Huffington Post, which features Moore and other six Hammer and Chisel awardees. The series will kick off on December 14th.
Moore explains the origins of the Awards: "This idea came to me while filming at the Berlin Wall during the making of 'Where To Invade Next.' It was 25 years after I had stood at that very spot one night back in 1989 with my friends and a small group of people, each of us armed with only a hammer and a chisel, decided to help tear down this symbol of an insane Cold War that had turned our democracy over to the military-industrial complex President Eisenhower had warned us about. The wall was also a symbol of fear, a fear that had gripped both the West and the East. It was time for it to come down. The people I've selected to receive the Hammer & Chisel Awards embody the idea that great change often begins with one small action."
About Where To Invade Next
Where To Invade Next has been generating considerable Oscar buzz and premiered to raves and standing ovations at the 2015 Toronto International Film Festival and New York Film Festival. It most recently won the Founder's Award and the Audience Choice Award at Chicago International Film Festival and the prestigious audience award at the Hamptons International Film Festival. The film screened as the Philadelphia Film Festival's Closing Night Film and was the L.A.-AFI Fest Gala event in Los Angeles.
Where To Invade Next is a rollicking, hilarious and subversive comedy in which Moore, playing the role of "invader," lands in one country after another to steal good ideas and spirit them back to the USA. The creator of "Fahrenheit 9/11" and "Bowling for Columbine" is back with this side-splitting and eye-opening call to arms. It is, as Israel Horwitz said recently, "simply his best film ever."
Where To Invade Next will open in New York and Los Angeles on December 23rd from the distribution team of Tom Quinn, Jason Janego and
Related
Popular in the Community