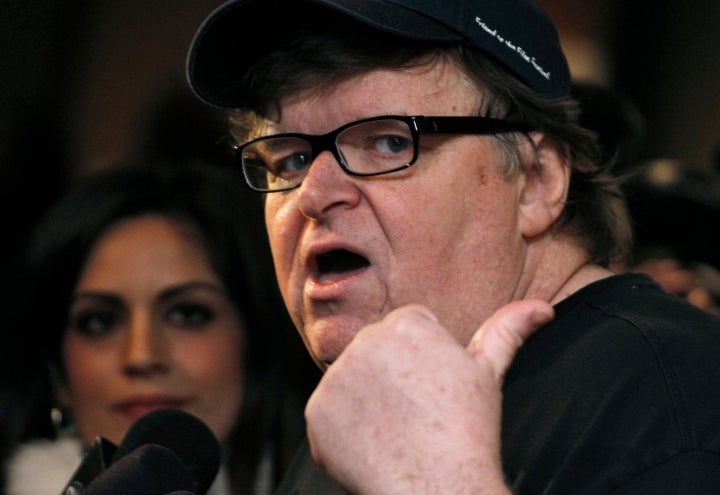 Last year, Michael Moore surprised fans when he announced he'd been making a "secret film" about then-presidential candidate Donald Trump, which he released shortly before the November election.
"Michael Moore in TrumpLand," however, has been described more as a "love letter" to Democratic hopeful Hillary Clinton than an excoriating profile of her GOP opponent. Maybe Moore's upcoming Broadway show will give Trump critics the incendiary takedown they've been waiting for.
Moore will indeed make his Broadway debut this summer, in a limited-run production titled "The Terms of My Surrender." And he's teasing the show as sufficiently Trump-critical: "Can a Broadway show take down a sitting President?" a poster reads.
A slightly longer description of the "theatrical work" provides a little more color:
In a time like no other in American history, and with a sense of urgency like never-before, Michael Moore comes to Broadway for the first time in an exhilarating, subversive one-man show guaranteed to take audiences on a ride through the United States of Insanity, explaining once and for all how the f*** we got here, and where best to dine before crossing with the Von Trapp family over the Canadian border.
Moore will act out the "The Terms of My Surrender" ― a flexibly scripted one-man show, with the potential for guests, that's not quite stand-up comedy or a play ― eight times a week for 12 weeks, beginning with previews in July. The performances will take place, as a press release makes clear, "blocks from Trump Tower" at the Belasco Theatre. 
Like "TrumpLand," Moore has indicated that "My Surrender" will be about more than just our current president. (Though he stands by the question on the poster, quipping to the NYT: "Can something like this unravel an unhinged man? I think that discombobulation might be our most effective path to undoing his presidency.") 
"I think what the world needs right now is Michael Moore standing on a Broadway stage, sharing his hilarious stories and incendiary political perspective" the show's director, Tony Award-winner Michael Mayer, noted in the show's release, "creating the kind of dialogue that can only happen in the theater."
REAL LIFE. REAL NEWS. REAL VOICES.
Help us tell more of the stories that matter from voices that too often remain unheard.