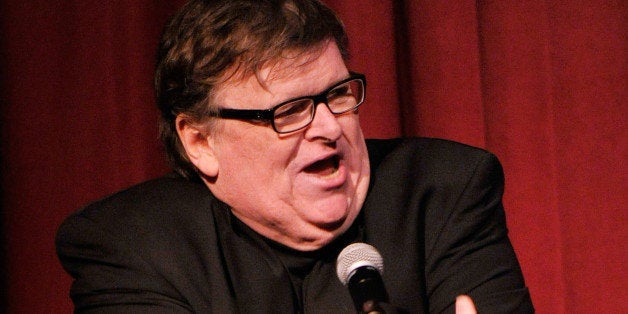 The war between Michael Moore and Buzzfeed continued on Tuesday.
Moore accused BuzzFeed of lying about the circumstances and of being "snookered" by the anonymous LAX official who told the site that Burnat was merely asked to provide routine documentation and was quickly released — a far cry from what Burnat said were threats that he would be deported back to Palestine. The initial headline on the BuzzFeed piece also wondered if the whole thing had just been a "publicity stunt."
Other media figures pilloried BuzzFeed, and the site did issue a correction about the number of sources it had for the allegations. Later on Tuesday, though, things took another twist, when BuzzFeed posted a second story about Burnat's detention.
This time, reporter Tessa Stuart quoted from logs that, she said, showed that Burnat was detained for just 23 minutes — rather than the 90 or so that Moore estimated. "While there is nothing in the log to contradict Burnat's account or his gratitude to Moore for leaping to his aid, the document does suggest that Moore overstated, at least, the length of the incident," Stuart wrote.
On Tuesday night, Moore responded, both in an interview with The Atlantic Wire and in a post on his own website. He said that BuzzFeed had failed to note that there were several stages of interrogation that Burnat would have gone through:
If the government officials are telling the truth – that Emad was held at the "secondary" area for exactly 23 minutes, does that mean they were held for 23 minutes total? No. He was first detained while in line at the Customs desk. Then he was moved to an initial interrogation area. When that was done, he was moved to the "secondary" interrogation room. Did the unnamed government officials give Buzzfeed documentation for the total time Emad and his family were held in these three areas? Nope. Just the final area, where they kept him for those 23 minutes.
Moore also said that BuzzFeed's sources were producing multiple accounts of the same event:
In article #1, Emad couldn't produce what the Homeland Security officers wanted to see "on the spot," so he was sent to the "secondary inspection area." In version #2, he could produce it on the spot, because it was on his smart phone. So…why was he sent to the secondary inspection area at all?
Moore did say to The Atlantic Wire that Burnat was probably held for about an hour, rather than 90 minutes. This caused BuzzFeed to declare a victory of sorts. It posted an update saying that Moore "confirmed to The Atlantic Wire Tuesday that he had exaggerated the timeline," though it did not respond to his other points.
Burnat also spoke to The Atlantic Wire. He said that, although he was "definitely" held for more than 23 minutes, he thought BuzzFeed had missed the point.
"I don't understand why I'm being asked whether it was 23 minutes (it definitely was not) or more. That is the wrong question, and I think Americans should be proud that there are people like Michael Moore and so many others I met in L.A., who are willing to ask the right question: Why was I held in the first place?"
Calling all HuffPost superfans!
Sign up for membership to become a founding member and help shape HuffPost's next chapter
BEFORE YOU GO
PHOTO GALLERY
2013 Oscars Red Carpet