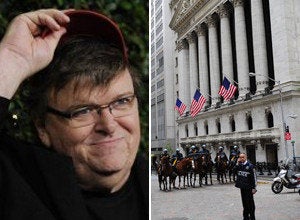 The New York Stock Exchange attempted to bar Michael Moore from filming an interview in front of its headquarters on Monday.
Moore tweeted about the affair on Sunday and Monday, saying that CNBC had canceled a planned interview about the Occupy Wall Street movement in front of the stock exchange because it had been told Moore was not allowed to stand on the sidewalk.
Moore also spoke about the NYSE's ban on Monday's "Democracy Now." He professed anger at the attempt to prevent him from standing on a street.
"They don't own, the New York Stock Exchange doesn't own the streets of New York," he said. "Or at least supposedly they don't." Moore also said that this is not his first run-in with the NYSE over a CNBC interview: a few years ago, he was scheduled to appear from the network's booth inside the building, but the NYSE demanded that he do the interview outside.
Eventually, Moore agreed to film the interview at Broadway and Wall Street, just north of the NYSE headquarters. He tweeted that he eventually got the CNBC cameras to follow him down to the Wall Street entrance of the stock exchange. During the interview, he asked CNBC to do their "job" and report on income inequality. Below, see a series of tweets about the controversy from Moore, as well as video of his CNBC and "Democracy Now" interviews.
Calling all HuffPost superfans!
Sign up for membership to become a founding member and help shape HuffPost's next chapter