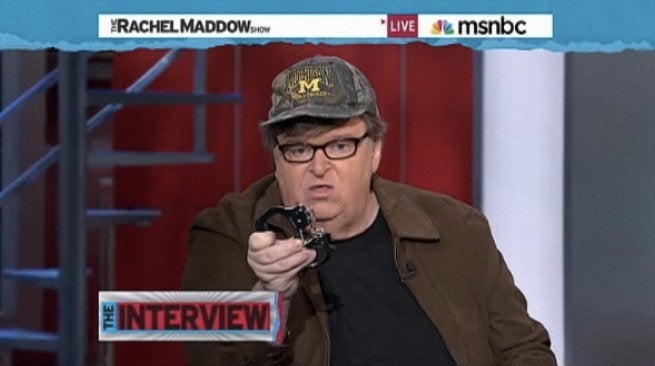 On her Wednesday show, Rachel Maddow and filmmaker Michael Moore both agreed that Wisconsin Gov. Scott Walker and the state's Republicans will lose what Moore called a "class war" being waged against the working class.
The two were reacting to Wednesday's sudden passage of a measure in the Wisconsin Senate to strip public employees of their collective bargaining rights--something only accomplished through an unheard-of parliamentary maneuver.
Before bringing Moore on, Maddow said that the Wisconsin Republicans had awoken a "dragon." And she sent a message to the Democrats as well. "When people who have to work for a living are directly attacked...they fight back," she said. "And they are expecting the Democratic Party to stand with them."
Moore then came on the show. He told people to go to Madison right away. "This is war," he said. "This is a class war."
He also expressed optimism about the outcome of the Wisconsin fight. "Everything has turned in favor of the working people," he said.
Maddow said that the "political brittleness" of what Walker and other Republicans were attempting was working against them."All it takes is some political pushback against that and it collapses," she said.
Moore then echoed the speech he gave in Madison last weekend, which drew widespread attention.
"Wisconsin's not broke," he said. "America isn't broke. The money's just not in the people's hands. It's in the hands of the rich, the people who committed these crimes and got away with it." He held up a pair of handcuffs and looked at the camera.
"I'd like anybody who works on Wall Street, anybody who works for the banks, just take a look at this," he said. "This is what's coming. This is what's coming for you. Because the people are going to demand justice, they're going to demand that your ass is in jail."
WATCH:
Related
Popular in the Community