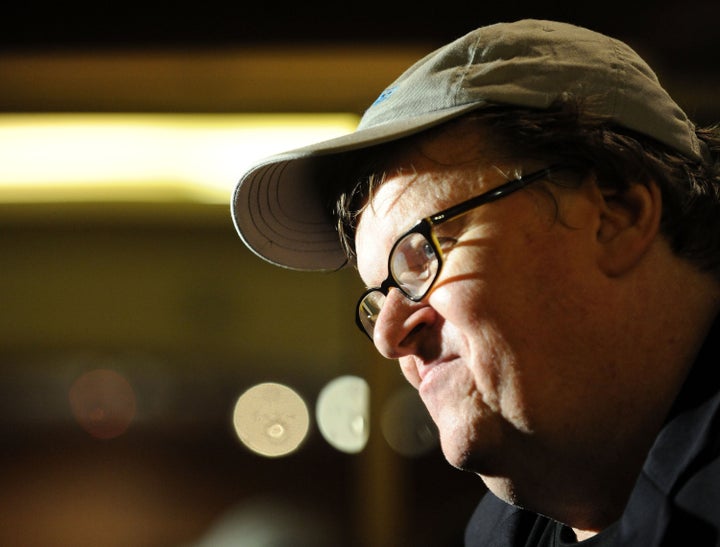 In a joint op-ed in the New York Times, filmmakers Michael Moore and Oliver Stone hailed WikiLeaks chief Julian Assange and said he is being persecuted by the United States.
Assange has been holed up in the embassy since June, when he took sanctuary there to avoid extradition to Sweden. He is wanted in that country to face arrest and questioning over allegations of sexual assault, but has said he thinks he could be transfered to the United States, where he could stand trial for leaking classified information through WikiLeaks. Last week, he was formally granted political asylum by Ecuador, but the British government refused to recognize it and warned that he would not be given safe passage to leave the country. The UK also dangled the possibility that it could forcibly enter the Ecuadorean embassy to arrest him.
On Sunday, Assange appeared on the balcony of the embassy and said that he was the victim of an American "witch hunt."
"Ecuador has acted in accordance with important principles of international human rights," they wrote. "Indeed, nothing could demonstrate the appropriateness of Ecuador's action more than the British government's threat to violate a sacrosanct principle of diplomatic relations and invade the embassy to arrest Mr. Assange."
Speaking about the rape allegations, the directors said that "Swedish authorities have traveled to other countries to conduct interrogations when needed, and the WikiLeaks founder has made clear his willingness to be questioned in London." They also noted Ecuador's willingness to let Assange go to Sweden if it received a pledge that he would not then be sent to the US. Ecuador's foreign minister has said he fears Assange could get the death penalty if he were sent to America, though Sweden has laws banning extradition in such circumstances. It is not clear what designs the US has on Assange, but the Sydney Morning Herald has published documents showing Australian officials in Washington saying that "the US investigation into possible criminal conduct by Mr Assange has been ongoing for more than a year."
A lawyer for the women who have accused Assange of sexually assaulting them called the notion that he would be sent to America "absurd," saying that he needs to "face justice" in Sweden.
But Stone and Moore rejected that argument in their op-ed, saying that it seemed clear that the UK and Sweden intended to get Assange to the US.
"If Mr. Assange is extradited to the United States, the consequences will reverberate for years around the world," they wrote. "Mr. Assange is not an American citizen, and none of his actions have taken place on American soil. If the United States can prosecute a journalist in these circumstances, the governments of Russia or China could, by the same logic, demand that foreign reporters anywhere on earth be extradited for violating their laws. The setting of such a precedent should deeply concern everyone, admirers of WikiLeaks or not."
REAL LIFE. REAL NEWS. REAL VOICES.
Help us tell more of the stories that matter from voices that too often remain unheard.
BEFORE YOU GO
PHOTO GALLERY
Julian Assange