"How the fuck did this happen?" Michael Moore asked within the first few seconds of taking the stage at New York's Belasco Theatre on Tuesday night.
The subject of his question was not lost on anyone. President Donald Trump's face projected behind the documentary filmmaker as he spoke was evidence enough: The "this" he talked about encompassed Trump's election and the barrage of executive orders, failed reforms and inscrutable tweets that have come to define his administration. Moore's audience, a crowd of sympathetic Broadway patrons, reacted immediately with a roar of applause.
"Beats me," Moore added, and the applause grew louder.
"The Terms of My Surrender," the one-man show Moore announced earlier this year, had been shrouded in mystery in the weeks leading up to its official opening Thursday. Moore teased the show in The New York Times in July, promising not to "lecture people." Instead, he wanted "to tell stories that will make audiences feel better about this fractured nation." 
A tagline for the show pushed the hype further, though: "Can a Broadway show bring down a sitting president?"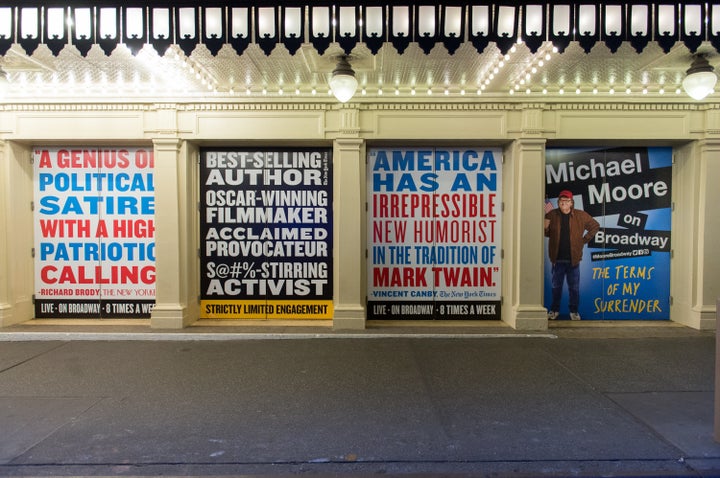 The much-anticipated production that followed was formatted, at times, like a rally for still-grieving Hillary Clinton supporters, beginning and ending with Moore decrying the president's authority and pleading with audience members to "do your part" in the wake of what was, in Moore's eyes, such a monumental mistake of an election.
At one point in his introduction, Moore motioned toward an empty balcony marked by American flag bunting. The balcony is reserved for the president, he explained, should he take Moore up on the open invitation he extended to him. "Hillary should be in that box," he lamented.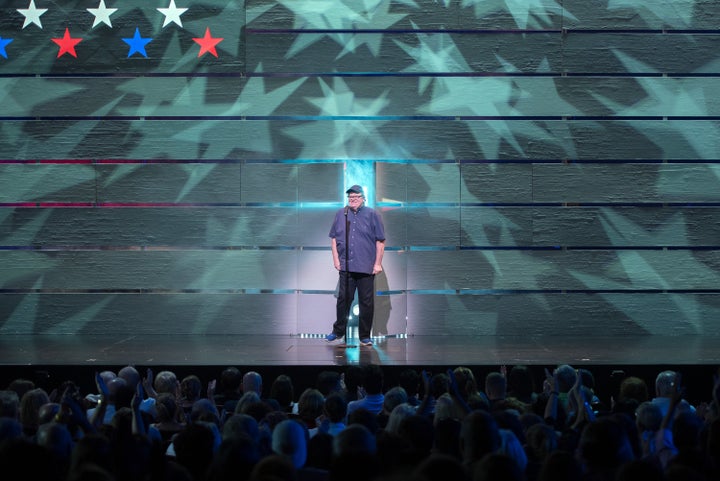 "We all live in Flint now," he explained to audiences Tuesday, positioning Rick Snyder's governance in Michigan as "the prologue to Trump's America." Trump is "poisoning this culture," he added, before calling for the end of his presidency, Mike Pence's vice presidency and the existence of the Electoral College, as well as a return to kindness and compassion.
"I refuse to live in Trump's America," he concluded. 
Yet the show didn't end there. As Moore promised, he was not out to make audiences feel worse about their predicament. In fact, he was willing to make dad jokes about the TSA, hold a mock game show between audience members-turned-contestants and slip on a red-sequined baseball cap, all in the name of feeling better. It was a mixed bag of attractions that only seemed to delight the already left-leaning crowd before him, eager to commiserate with like-minded individuals miles and miles away from the real Flint. 
And, yes, in case you were wondering, Moore managed to both sing and dance on the Belasco stage. Whatever you were expecting from the man who brought "Bowling for Columbine" and "Fahrenheit 9/11″ to life, "Surrender" is probably not that, but it is Broadway after all.
REAL LIFE. REAL NEWS. REAL VOICES.
Help us tell more of the stories that matter from voices that too often remain unheard.
BEFORE YOU GO
PHOTO GALLERY
Tony Awards 2017