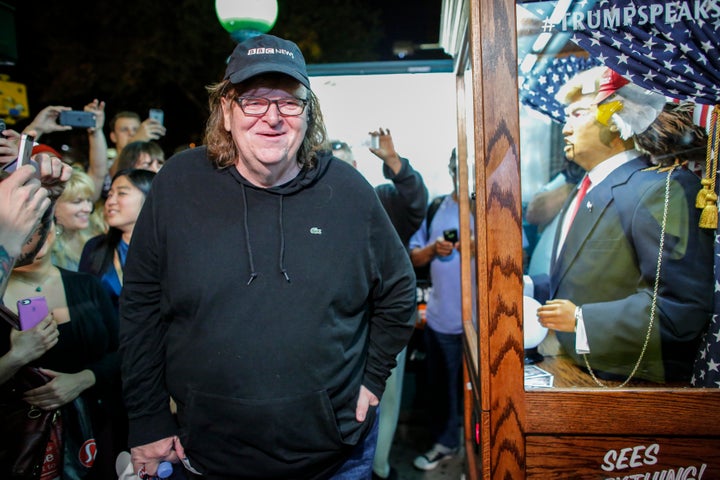 As a 62-year-old straight, white man who lives in a state with a Republican governor, Michael Moore fits squarely within the demographic of Donald Trump supporters. (You know, if you knew nothing else about him.) His surprise new documentary, "Michael Moore in TrumpLand," though, is nothing short of a love letter to Hillary Clinton. 
While we've seen Clinton's opponent stand at podiums all over the country bellowing hateful rhetoric throughout the election season, "TrumpLand" shows Moore at a podium of his own in a conservative Midwest town, bellowing a message of unity. Adopting the cadence of an evangelical preacher, an outsider come from someplace else to spread his political gospel, Moore ends with a call to action: It's OK to hate Clinton, but you need to vote for her. 
"You can see at the beginning there's a lot apprehension in the room," Moore said after a recent screening of the film, which will soon be available online.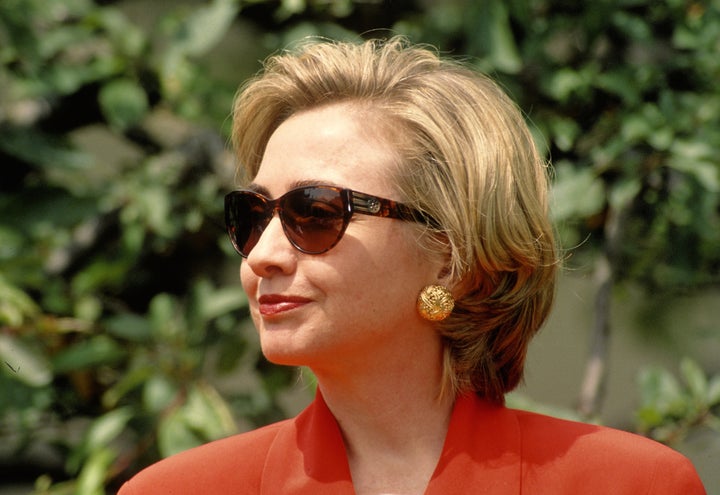 "TrumpLand" opens on Ohio residents talking about the November election. One voter, a man in a tank top, claimed to prefer Trump because "he didn't get it handed down to him like [Clinton did] from her parents." A shot outside a theater revealed its marquee: Trump Voters Welcome.
"This is about reaching out to the people. I live in Michigan, and so, I know. I know. You see Trump signs everywhere. It's astounding," Moore said.
Inside the theater, in front of a group with mixed political dispositions and ages in Wilmington, Ohio, he launches into his act, which is a sort of standup routine woven with heartfelt stories. Moore reveals the depth of his respect for Clinton while trying also to spread it on a stage lined with black-and-white photos of her younger days. 
Surprisingly, the filmmaker's topical jokes seem to land among the crowd. As a satirical representation of Trump's past comments, Moore has Mexican (or "Mexican-looking") audience members, who had been segregated in an upper tier of seats, surrounded by a prop wall. Also-segregated Muslim (or "Muslim-looking") audience members were placed under "drone surveillance." Joking that white men at Trump rallies sound like "dying dinosaurs," he makes an exaggerated sad-dinosaur noise and skewers American men's stubborn refusal to cede the leadership roles they've historically held. Not long ago, women couldn't hold property, Moore reminds the crow. America hasn't been capital-G "Great" for a lot of people over its 240 years.  
One of the more unexpected moments comes when the filmmaker screens a clip from the time of President Bill Clinton's impeachment hearings. Trump, then in his 40s, is asked whether he has any dating advice for Hillary. In a softer tone of voice than we've heard him use to refer to any Clinton recently, Trump kindly says she doesn't need his advice and predicts the couple's marriage will survive. It's an olive branch to the Trump sympathizers in the room, a warm image of the candidate in the days before he would think to call her a "nasty woman" on a national stage.
"TrumpLand" doesn't do much for voters looking to be swayed by hard facts. But, for those who oppose the Democratic candidate due to a vague sense of dislike and disgust, Moore paints an image of a woman who has continued to work hard for issues despite decades of often sexist reaction by voters and media.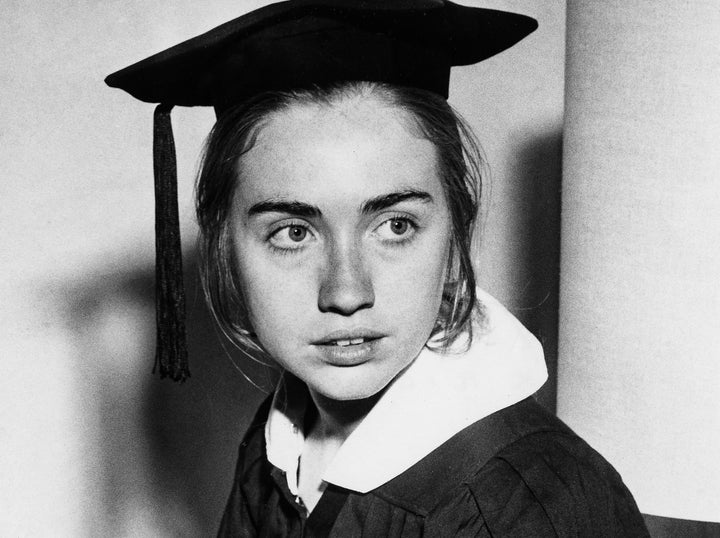 "It doesn't get acknowledged, if you were an early feminist, what you put up with and what you went through," Moore said. 
Before and after the Ohio performance, the filmmaker's crew polled audience members. While the performance may not have convinced every Trump supporter to vote for Clinton in November, he says that some were swayed to third parties ― although his goal was to win undecided voters and Bernie Sanders supporters over to Clinton's side.
But Moore's support for the Democratic nominee hinges on whether she will make good on her campaign promises. If she doesn't, he joked after the screening, we might see him running for president in the next election on a platform of universal remote controls.
Kanye-Moore 2020, anyone?
Correction: An earlier version of this article misstated the name of the Ohio town visited by Moore. It's Wilmington, not Bloomington.
Calling all HuffPost superfans!
Sign up for membership to become a founding member and help shape HuffPost's next chapter
BEFORE YOU GO
PHOTO GALLERY
Hillary Clinton Was Every Woman