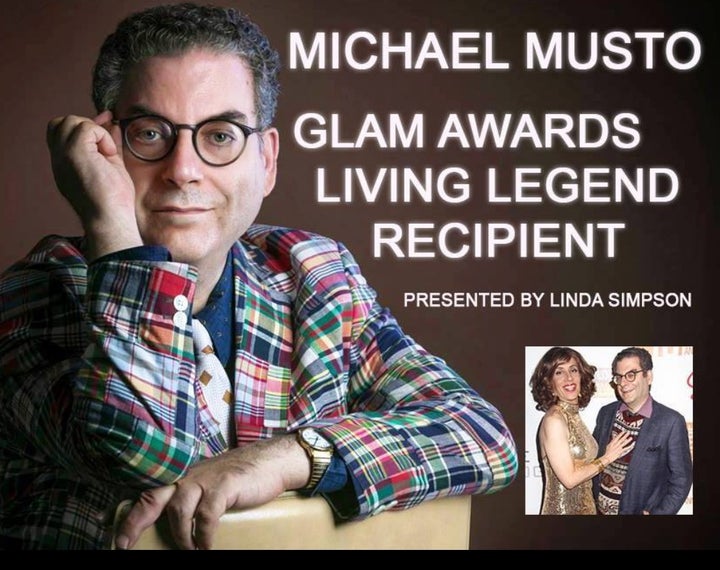 Congratulations Michael! The iconic journalist, author, actor, recording artist, TV/radio personality and Nightlife performer Michael Musto will be honored this year on January 21 at The 19th Annual Glam Awards, as the "Glam Awards Living Legend Recipient".
In my book there is no one more deserving. Musto has orbited the orgasmic confines of New York's effervescent Nightlife since the days of studio 54 until the present, in the most candid and fabulous way possible. Aside from writing for The Village Voice for nearly 30 years, his columns have appeared in The New York Times, Out, The Advocate, Paper Magazine, to name a small few, and his literary presence is currently appearing in NewNowNext.com.
Celebrating nearly every Nightlife event known to New York, raging war on homophobia, and supporting every queen who ever painted, as well as never forgetting to give credit to someone praiseworthy. Coined by The Advocate "as both historian and spokesman for the gay community", Michael has earned this award with his heart and soul...not to mention he has won the Glam Award for Best Blogger, seven times....
Merry Christmas, Happy New Year....
I hate the holidays because it's a time of forced merriment and it's also a time where everything shuts down, and I have to keep delivering my deadlines.....you know how that is?
So congratulations on your lifetime award....again, how many have you re dived thus far?
Enough for a lifetime. I feel like Lauren Bacall at this point....but alive.
What does this particular Award mean to you?
Well, it's a great honor because the Glam Awards is always your Nightlife peers and Cherry Jubilee personally chose me for this. I've had a long-time relationship with the Glam Awards, I co-hosted three times, I won a bunch of times .....
Like a thousand times....
Not as much as Meryl Streep...
The Awards itself are always a sort of family reunion of the LBGT Nightlife community. It's one of the times of the year we're we get everyone together in the same room. It's a great electrical feeling.
How many times have you actually won the Glam Award?
Seven, but who's counting. One time I tied with Bunny. It's like when Barbra Streisand tied with Catherine Hepburn.
Aside from this, what have you been up to?
My current column is with NewNowNext.com, it's a weekly column that comes out on Monday usually, and it's called: "Musto Unfiltered". It's similar to the columns I've done through the years, interviews, reports, reviews, and things like that. It's MTV's, Viacom and Logo's LGBT site, so it's one of the top LGBT sites. I interviewed people like Margaret Gomez, Jacqui Hoffman, Drew Droege, I review Broadway plays, and do all kinds on commentary. I'm also one of the rotating co-host on "Theater Talk", the TV show. It airs usually on a Friday night on channel 13. Thats been fun, in fact we did a show on "Torch Song" were Susan Haskins and I interviewed Michael Urie, Harvey Fierstein and Moises Kaufman. We've done all kinds of interesting segments for them.
Are you planning anymore live performances?
Yes, but it's too early to announce. I did the "Duet" show for Club Cumming. We did two. The first one was a benefit for "SAGE", and the second one was for "Gays Against Guns". They were both very successful. It was fun for me to bring out the guest stars I performed with. It felt very comfortable, I felt like I was Carol Burnett and Friends.
Well I'm enjoying all of these projects, and out of the blue Cherry Jubilee presents me with this award. I don't know if it's saying, "are you ready to go away now"....
The Glam Awards are like the Gay Emmys, Grammys and Oscars all in one, so I think that's so cool.
Yes, it really is. Oprah is winning the Cecil B DeMille award at the Golden Globe Awards, so I guess I'm the new Oprah.
You've always been the new Oprah.
Yeah I've always been the new Oprah, even before Oprah was around....
Popular in the Community