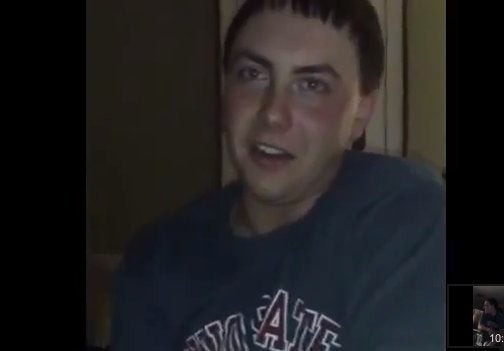 Michael Nodianos, the teenager seen joking about a 16-year-old's rape in a widely circulated video, is no longer a student at The Ohio State University.
The Huffington Post sought to clarify whether Nodianos left on his own accord or if he was expelled. OSU spokesperson Gayle Saunders would only comment that "the individual is no longer a student at The Ohio State University. As it relates to your specific question, the university is not at liberty to comment due to Family Educational Rights and Privacy Act (FERPA) regulations."
Ma'lik Richmond and Trenton Mays, both 16 years-old and members of the Steubenville High School football team, face sexual assault charges for allegedly raping a fellow 16-year-old student at party in August 2012, Reuters reports. Both Richmond and Mays will be tried as juveniles.
The people around Nodianos laugh, while a couple interject his remarks aren't funny. Nodianos is asked at one point what he would think if it was daughter being assaulted. "If that was my daughter, I wouldn't care. I would just let her be dead," Nodianos responded. "And is it really rape if you don't know if she wanted to or not? She might have wanted it. That might have been her final wish."
"Nothing in Ohio's criminal statutes makes it a crime for someone to ridicule a rape victim on a video or otherwise say horrible things about another person," the website states.
"It's a disgusting video," Abdalla said. "It's stupidity, but you can't arrest somebody for being stupid."
"There's no excuse or justification for the comments Michael made in the video and with some sober reflection he is ashamed and embarrassed to hear them himself," McNamara said. McNamara agreed the comments his client made in the video were "disgusting."
Nodianos, 18, hopes to return to college next year once the news about this case dies down, McNamara said. Nodianos has not been called as a witness in the case because he did not witness the reported rape, his attorney said.
Popular in the Community