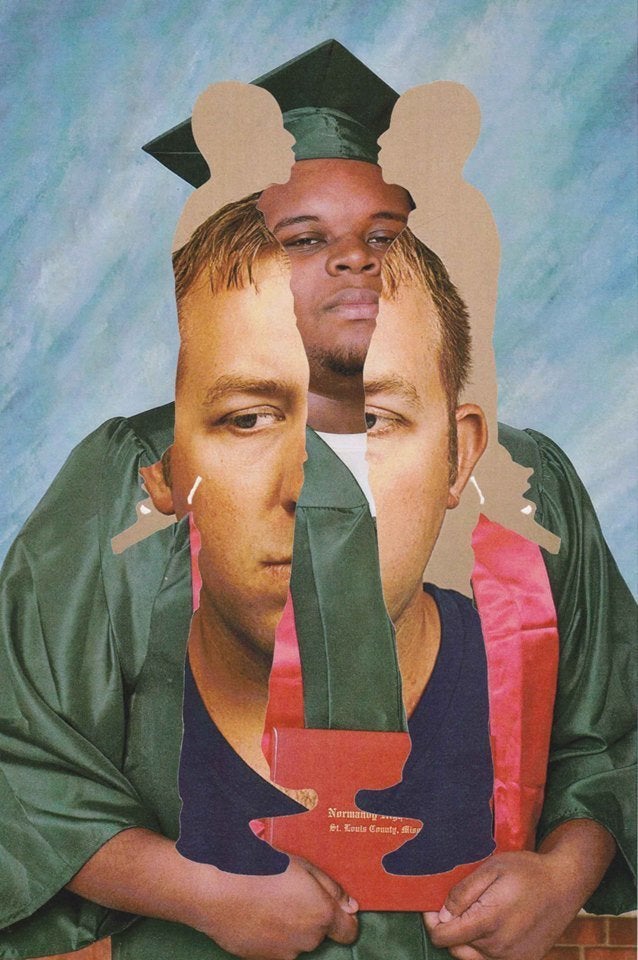 Contemporary artist Michael Paul Britto works in a variety of powerful media, including sculpture and video, but his collages cut the deepest.
Addressing the state of black males in America, Britto cuts and pastes the haunting images we've seen shared across mass media and social media into new and jarring formations. In the eerie amalgamation above, Britto juxtaposes images of Michael Brown with those of Darren Wilson, the police officer who killed him. Through the layered images, a silhouette appears of two identical figures staring each other in the face, guns hidden behind their backs. 
In his newest exhibition "Something in the Way of Things," Britto similarly assembled a remixed vision of American life that stands in stark contrast to the one we were promised. His vision is filled with brutality and silence, fear and ignorance. Britto incorporates glamorous images from advertisements and fashion editorials with disturbing images of KKK uniforms, guns and bodies falling through space. The ambiguity of the figures speaks to the unmanageable number of victims of violence, many of whom go unnamed and unseen.
We reached out to Britto in anticipation of his exhibition to learn more about his hopes for the show.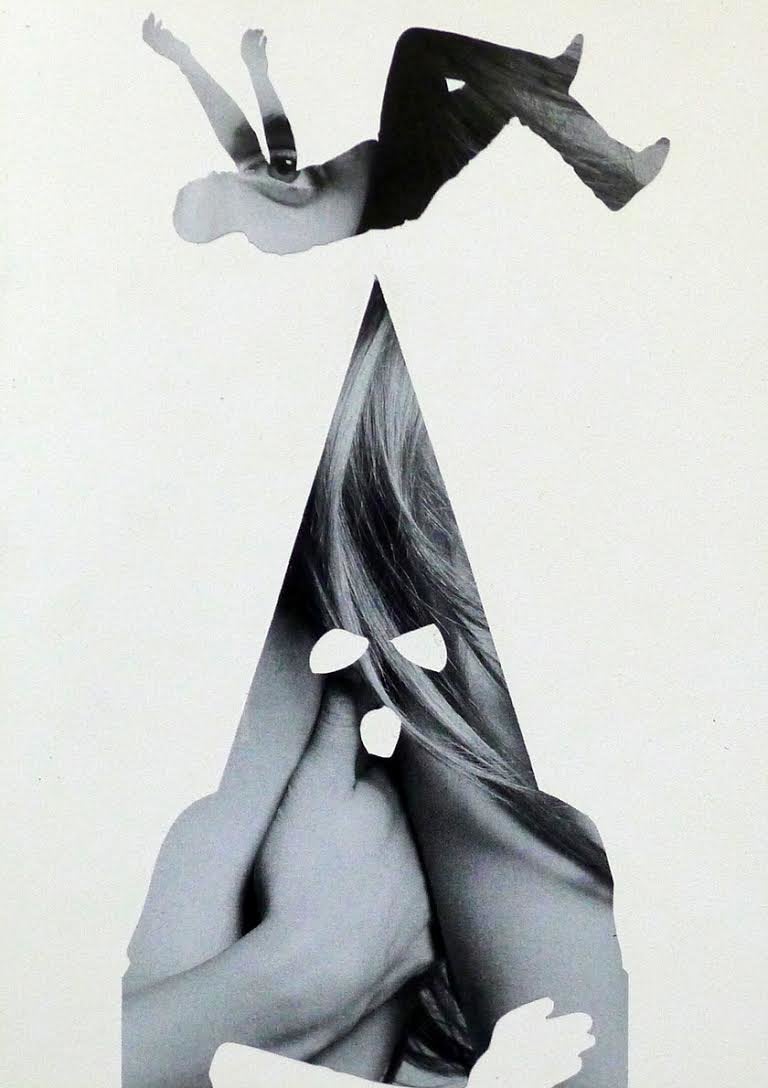 Let's start with the title of your exhibition, "Something in the Way of Things." How does your work in the show relate to Amiri Baraka's poem of the same name? 
The work in this exhibition shows some of the things getting in the way of things. Things like, alcoholism, police brutality, depression, and hopelessness. 
Was there a certain moment, event or streak of inspiration that propelled you to address the current state of blackness in America with your work? 
I became more aware of the state of blackness in America when I became a teaching artist and started working with young adults. I currently work at an alternative high school for overaged and under-credited young people on the Lower East Side of Manhattan. I also draw a lot from my own personal experiences of being a male of color in the United States of America. 
Can you expand on some of the misconceptions and assumptions spread by mass media you are trying to address in this exhibition? 
Mass media is really good at demonizing males of color, and reinforcing stereotypes. Nine times out of 10, if a crime is committed by a male of color, the news will let you know that the suspect or perpetrator was a black male. This is rarely the case with any other nationality. Also, with sports figures aside, the news very rarely celebrates black male achievements.    
The exhibition features a variety of media including collage. How do you see the medium of collage relating to the subject matter? 
I like the idea of taking something familiar and using it to respond or comment on a social issue. When It comes to my collages, the image that I use to cut my silhouettes from are in direct relation to the stance or posturing of the subject.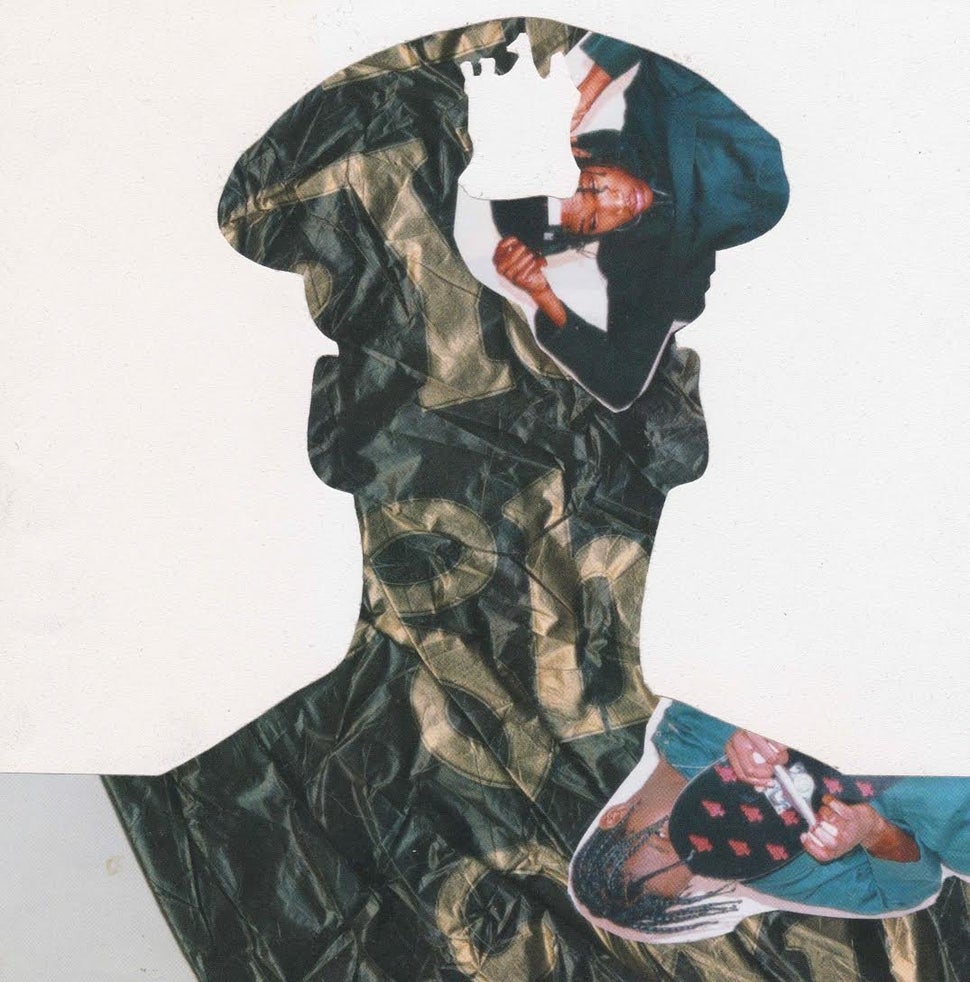 What do your images communicate that is not accessible through headlines, stories, written language or even video documentation? 
I feel like my images speak to a truth, or a true feeling. Many people don't like to discuss alcoholism, depression, drug addiction or feeling hopeless. Those are some of my truths, and I'm glad I have art to help me work through my experiences with many of those issues. 
What role do you think art plays in the current political moment? Do you think an artist has a responsibility to take on an activist role? 
I don't think art is playing a big enough role in our current political moment. We could be doing more. I believe an artist has the right to be as responsible as he or she wants to be, but for myself, I believe art should take on an activist role. I want my work to spark conversation and enlighten people.  
What do you hope to communicate through this exhibition? 
My hope for this exhibition is to give people who have experience with some of the issues addressed in my work hope, by letting them know they are not alone. And, to hopefully get others to be a little more empathetic to people who might be going through similar experiences expressed in the exhibition.
Calling all HuffPost superfans!
Sign up for membership to become a founding member and help shape HuffPost's next chapter